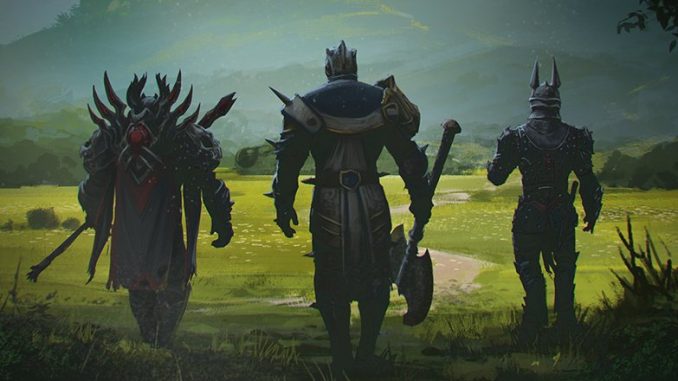 The newest SMITE Adventure is now available for console players!  The Trials of King Hercules is a game mode unlike any previous SMITE Adventures, putting players in a Player vs Environment situation akin to an RPG dungeon setting.  While the game mode was just released this week for XBox One and PS4, PC players were able to try out the game mode earlier.  Here at Esports Source HQ, we took an evening and played through the game mode with our clan (QU33N – say "Hi" if you see any of us in-game) and tried to collect as much loot and complete as many quests as possible.
How to Play
After entering the queue and picking their god, a team of three players will enter the dungeon where they will have 25 minutes to clear all of the objectives.  Players start at level 20 without any items, and clearing the enemy camps and defeating mini bosses will drop items and also gold for the players to spend in the Adventures store.  The loot stacks, so each time you run through the dungeon, you have a chance to improve your god's build with new items.  The dungeon gets more difficult the deeper you go, and it may take your party a few tries to make it to the final boss.
If a player dies while running through the dungeon, they will respawn at a checkpoint, but with a lower health and mana pool.  If the entire party wipes or runs out of time – the dungeon run is over and players get to keep the items they collected.
Team Composition
If you are unfamiliar with dungeon crawls, keep in mind that your team composition may be very helpful for your success.  Running with a tank (Warrior), Mage, and DPS is your best bet for clearing the dungeon without casualties.  A warrior with good minion clearance and a strong ult, a mage with powerful healing abilities and AOE damage, and an ADC that has some kind of AOE ability are all good choices.
The Trials of King Hercules Adventure bundle costs 900 gems (the in-game currency) and comes with an exclusive Vanguard Hercules skin, a dungeon stamp, a loading frame, a gold key, a music theme, and access to the Adventures store where players can spend the gold they collect during their dungeon run throughs.
Giveaway
To celebrate the new Adventure, we're giving away a special skin: Spectral Sword Ares, which can only be obtained via chests.
Enter the giveaway below, and good luck!  We'll pick and announce the winners (on Twitter and in the widget below) on June 21st, 2017.