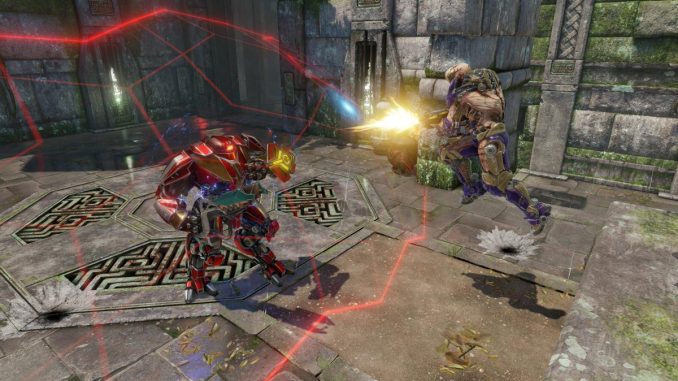 One of the many games showcased at E3 2017 is a title from an esports classic franchise primed for revival: Quake Champions.  Created by id Software and Saber Interactive and published by Bethesda, Quake Champions harkens back to the era the first Quake game ushered in as one of the first FPS games over 20 years ago.
The dark Quake storyline combined with multiplayer element from Quake Arena III makes this a game that may play well with both casual and competitive players.  As the name implies, in this iteration of Quake, there are Champions: warriors with unique abilities that add to the game's strategy.
Gameplay Review
Quake Champions has been available to play in closed beta sessions for several weeks, and we at Esports Source took some time to try out the game for ourselves.
The graphics in the beta version of the game were fairly polished, if not a little uninspiring.  We've played so many FPS games in destroyed, overgrown otherworldly landscapes infested by deadly robots or vicious aliens, and a change from that aesthetic would be nice to see.  That said, Quake Champions seems to be made for old fans of the game, and veteran players will likely appreciate the map construction, the obstacles to jump over or boost through, and the familiar and fun weapons.
The weapons range from melee, to fast machine guns, to slower but deadlier pulse rifles, to unwieldy but fun rocket launchers.  The bouncy, exo-aided movement will be recognized by veteran FPS players, especially those who are accustomed to boost jumping, wall running and other exosuit capabilities.  The competitive game modes are also familiar: Deathmatch, Team Deathmatch, Duel, and a team-mode called "Sacrifice" which is a combination of a Domination map with a Capture the Flag element.
The newer elements in Quake Champions are the aforementioned Champion characters who have active and passive abilities which affect their play styles.  The Champions also have their own styles and personalities, which may be appealing to some.  Players can choose a Champion to represent them, and then customize them to a certain degree to fit their own way of playing.
Price
The best part of the game is the price point: Free.  Quake Champions is available for all PC players with all maps, modes, and weapons unlocked and a free starter Ranger Champion.
Micro transactions are the name of the game with F2P games, so additional champions are available for individual purchase, or players can buy a Champions Pack which includes all present Champions and other exclusive items to be named later.  Other items include vanity items, weapons, and armor changes that are obtained via in-game loot boxes.  The boxes are earned by completing in-game objectives, or by using in-game currency (purchased with real money in the in-game store).
Overall
The Quake Champions beta experience was similar to other games currently on the market, but that's not necessarily a bad thing, given the Quake franchise's long history as an FPS title.  It's unclear whether the Quake community is still large enough to support an active esports scene for any significant period of time.  Nonetheless, a free, high quality FPS is welcome in an esports market currently dominated by games with outdated graphics (CS:GO) or top dollar price tags (Call of Duty, Halo, Overwatch), so there is potential to interest players who may be new to FPS games or just want to try to compete in a new title.
A Quake Champions World Championship with a $1,000,000 prize pool is already in the works for 2017, so we should see how much esports interest this title holds after that competition.
You can participate in the Quake Champions Closed Beta now by visiting the Quake website.
Photos courtesy of Bethesda Entertainment.