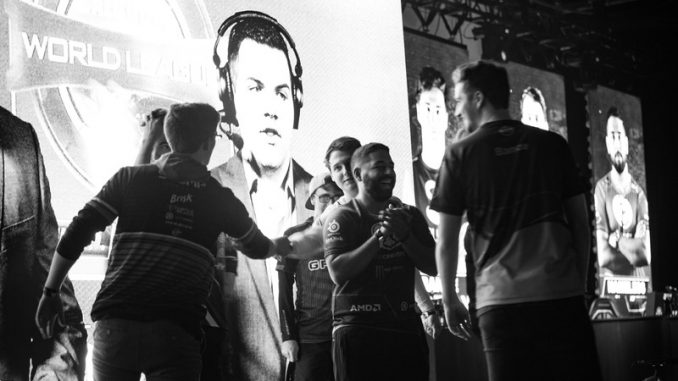 It's that time of year again: rostermania.  The Call of Duty esports community hasn't seen earth-shattering incredibly significant roster changes among teams at the top of the ranks since the early days of Advanced Warfare (2015), so the anticipated roster changes and transfers could be explosive this time around.
FaZe Clan, eUnited, and Team EnVyUs are all teams that are expected to announce changes to their lineups.  FaZe (Attach, ZooMaa, Clayster, Enable) have been together since the world championship Denial team broke up, and Attach and Clayster attached themselves to the Red Militia.  The team was touted as the "OpTic-killers" and they had a hot streak of tournament wins at the end of the Advanced Warfare season.  After their initial success, FaZe struggled, always looking like a top team but rarely producing the results that the team members and the fans wanted.
Prior to CWL Anaheim, the team allegedly had some business dealings that fell through before the roster lock for that tournament (according to MLG caster Chris Puckett):
Meanwhile, eUnited have had very public and very obvious roster problems over the past couple of months.  The team struggled in the Stage 1 Playoffs, Gunless benched himself after being denied a transfer request while other teammates sniped away at him on Twitter.  It will be interesting to see who eUnited are able to trade Gunless for, as he is still a very hot prospect for any top Call of Duty team, despite his out-of-game issues.
The reigning World Champions Team EnVyUs have been in free-fall mode for months, with a top 24 finish at MLG Anaheim being the lowest placing at a major LAN for the organization as a whole.  The "champs curse" has been in effect for the team of JKap, Slasher, Apathy and John for quite some time, and it would be shocking if the team didn't make some significant changes before the next stage of the Call of Duty World League.
There are other teams that could be involved in this mix, making it all a bit spicier.  If OpTic Gaming makes a change to their supposed god squad nearly every other team in the league is sure also be affected.
We at Esports Source are keeping an eye on the action as the pros meme the day away on Twitter and tease with roster rumors and trolls.  We'll post any official moves below on our Rostermania list.
If there are no moves made before the lock just enjoy our reference list of pro Call of Duty teams.
The Stage 2 Roster Lock is at 6pm EST on Friday, June 23rd.
Feature image courtesy of MLG
---
*Stage 1 rosters lists before CWL Anaheim
**Changes are in bold
OpTic Gaming
Stage One: Scump, Crimsix, Karma, F0rmaL
Stage Two: Scump, Crimsix, Karma, F0rmaL
Luminosity Gaming
Stage One: Classic, Octane, Saints, Slacked
Stage Two: Classic, Octane, Saints, Slacked
eUnited
Stage One: Arcitys, Gunless, Prestinni, Silly
Stage Two: Arcitys, Clayster, Prestinni, Silly
Enigma 6
Stage One: General, Kade, MRuiz, Proto
Stage Two: General, Kade, Royalty, Proto
FaZe Clan
Stage One: Clayster, Enable, Attach, ZooMaa
Stage Two: Gunless, Enable, Attach, ZooMaa
Evil Geniuses
Stage One: Havok, Nagafen, Studyy, NAMELESS
Stage Two: Havok, Nagafen, Parasite, NAMELESS
Cloud9
Stage One: Assault, ACHES, Lacefield, Ricky
Stage Two: Assault, ACHES, Priest, Xotic
Team EnVyUs
Stage One: JKap, Slasher, Apathy, John
Stage Two: JKap, Slasher, Apathy, John
Rise Nation
Stage One: Loony, Aqua, Faccento, FeLonY
Stage Two: Loony, Aqua, Faccento, FeLonY
BitterSweet Gaming (TBA)
Relegation: SpaceLy, Maux, Llamagod, Lacefield
Stage Two: SpaceLy, Maux, Llamagod, Lacefield
Splyce
Stage One: Bance, Jurd, MadCat, Zer0
Stage Two: Bance, Jurd, MadCat, Zer0
Epsilon
Stage One: Dqvee, Vortex, Hawqeh, Joshh
Stage Two: Dqvee, Vortex, Hawqeh, Joshh
Red Reserve
Stage One: Joee, Urban, Seany, Rated
Stage Two: Joee, Urban, Seany, Rated
Elevate
Stage One: Zed, Watson, Reedy, Desiree
Stage Two: Zed, Watson, Reedy, Desiree
Fnatic
Stage One: Tommey, Skrapz, SunnyB, wuskin
Stage Two: Tommey, Skrapz, SunnyB, wuskin
Mindfreak
Stage One: BuZZO, Shockz, Fighta, Denz
Stage Two: BuZZO, Shockz, Fighta, Denz