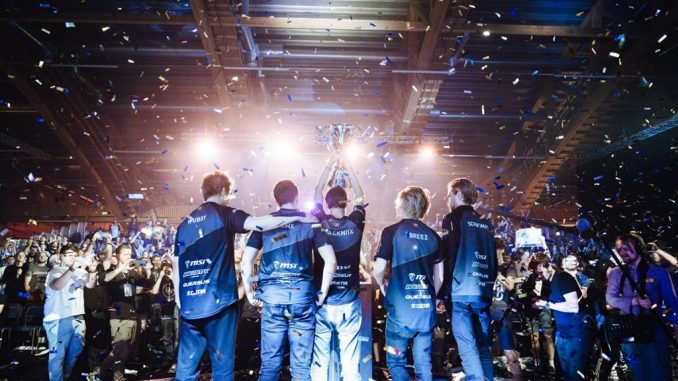 The EU team takes out an intimidating Team Dignitas to win.
After eight days of competition in the Heroes Global Championship (HGC)'s Mid-Season Brawl, Fnatic defeated their HGC Europe arch rival Team Dignitas.  The team won the Grand Finals 4 – 3.   Fnatic won $100,000 of a $250,000 prize pool and the Mid-Season Brawl Trophy at DreamHack Summer 2017.
The victory was a tough one, as Fnatic managed to take second place in their group during the first stage of the competition.  The placing put them in the upper bracket of the double elimination Stage Two Phoenix bracket.  In the second stage, Fnatic destroyed China's eStar Gaming and then narrowly defeated Team Dignitas 3 – 2.
Dignitas had a longer road to the Grand Finals; fighting their way through the late stages of the Loser's Bracket to meet Fnatic again in the Finals.  Team Dignitas started out hot, winning the first two game of the series, but Fnatic regained composure and won the next pair of games.
Team Dignitas staged a major comeback in the fifth game to tie the series 3 – 3, but in the end Fnatic was the better team and won the series.
HGC Mid-Season Brawl Results 
1st Place: Fnatic (EU) – $100,000
2nd Place: Team Dignitas (EU)  – $50,000
3rd Place: L5 (KR) – $20,000
4th Place: MVP Black (KR) – $20,000
5-6th Place: Roll 20 Esports (NA) and eStar Gaming (CN) – $10,000
7th-8th Place: Tempo Storm (NA) and Nomia (ANZ) – $10,000
9th and 10th Place: Deadly Kittens (SEA) and Soul Torturers (TW) – $5,000
11th and 12th Place: Super Perfect Team (CN) and RED Canids (LATAM) – $5,000
The second phase of the HGC begins on Friday, June 23rd and it's another step on the long journey to the HGC Finals and its one million dollar prize pool at Blizzcon 2017.
Photo courtesy of Abraham Engelmark/Blizzard.