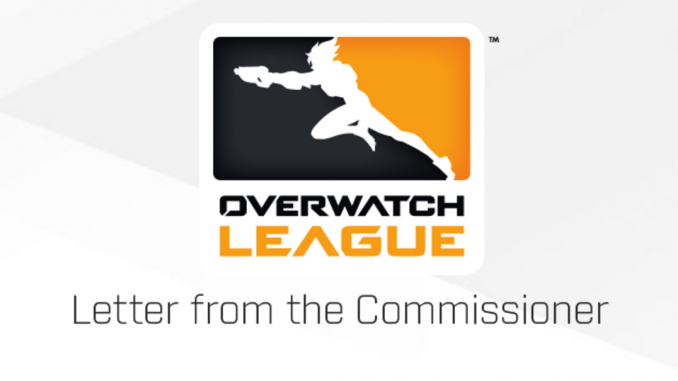 Today another step was taken toward the formation of a professional Overwatch League, as Commissioner Nate Nanzer sent out a letter to players and the press detailing the next steps in the League process.
In the letter, Nanzer notes the creation of Overwatch Contenders in North America and Europe and the Overwatch Open Division to bring in new talent and get more players ready to compete at the high level of play already seen in China, Korea, and the Asia-Pacific region. Nanzer then follows this with information about Scouting Reports compiled by the Overwatch League.
These reports will be based on surveys sent to some of the top players around the world asking, among other things, if they would be interested in playing in the League.
"We know that you are excited for the launch of the Overwatch League, and believe me, we're right there with you. We're all itching to see which competitors will make it to the next level as rosters full of world-class players are meticulously crafted." – Nate Nanzer, Commissioner
The players included in the survey had the following qualifications:
A top-500 finish in Competitive Play (based on Skill Rating) in Overwatch Seasons 3 or 4 for any region
A playoff finish in recent high-caliber tournaments such as APEX Season 2 or Premier Series 2017 Spring, or an invitation to Pacific Championship 2017 Season 1
Other distinguishing qualifications indicative of top-tier talent, including but not limited to membership on an established professional Overwatch team
Team owners can expect to receive survey results in the future with the findings from the League so they can begin to build their teams and League play can commence.
The letter did not include a projected time period for the survey collection and analysis, or a start date for the Overwatch League.
---
Meanwhile, the group stages of Overwatch Contenders Season Zero are complete, and playoffs will begin on July 1st.
The top two teams from each region's four groups will compete in the upcoming playoff tournament.  Eight European teams have already secured their spots in Season One later this year, but eight North American teams still have to fight for their places in the upcoming season.
Playoff Matches:
Europe
EUNITED vs. MOVISTAR RIDERS
SINGULARITY vs. LASER KITTENZ
123 vs. REST IN PYJAMAS
MISFITS vs. BAZOOKA PUPPIEZ
North America
IMMORTALS vs. FAZE CLAN
LG EVIL vs. KUNGARNA
RENEGADES vs. FNRGFE
TEAM LIQUID vs. ENVISION
Check out the bracket here and watch the action live on Twitch on July 1st.