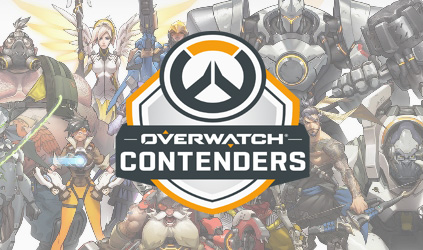 While the Overwatch esports community waits for news about the pro Overwatch league, Blizzard have opened up a new path to going pro: Overwatch Contenders.  Registration for "Season Zero" in what are essentially "minor leagues" in North America and Europe for Overwatch esports is underway.
The leagues will be open to all players and competitions will be online-only.  In North America, Season Zero's top six teams will be joined by members of Intel-backed APEX league participants Envy and Rogue.  The eight teams will compete in a six week long tournament to determine which four teams will advance to a $50,000 LAN playoff tournament.
The top eight European teams from Overwatch Contenders Season Zero will also have a six-week season.  The top four teams will move on to play for part of the $50,000 prize pool in an offline playoff tournament.
Overwatch Contenders Season 0 Schedule:
May 22: NA & EU team registration opens
June 2: NA team registration closes
June 3-4: NA Open Qualifier
June 9: EU team registration closes
June 10-11: EU Open Qualifier
June 17: EU Group Stage
June 18: NA Group Stage
June 24: EU Group Stage
June 25: NA Group Stage
July 1: EU Playoffs (Quarterfinals, Semifinals and Finals)
July 2: NA Playoffs (Quarterfinals, Semifinals and Finals)
Overwatch Contenders Registration
In a press release, Blizzard explained the Contenders leagues are an effort to bring more competition to the Western Overwatch scene, as players in other regions showed off their skills at the Overwatch APEX in South Korea, the Overwatch Pacific Championship in the Asia-Pacific region, and the Overwatch Premier Series in China.
There are also more opportunities coming for amateur Overwatch players, as Blizzard also announced the Overwatch Open Division: a series of tournaments in regions around the world that will offer Masters-level players a path to Overwatch Contenders in 2018.