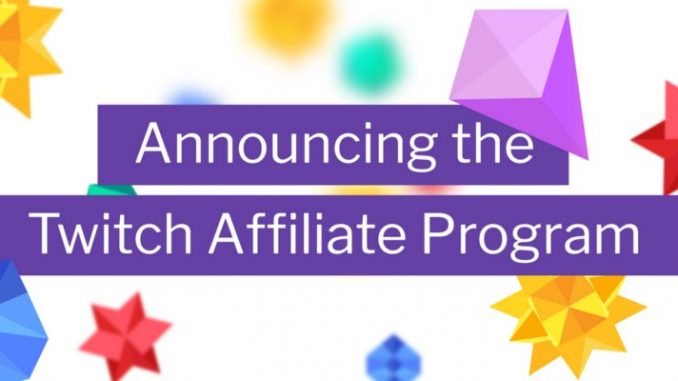 This week the first round of invites are going out for the new Twitch Affiliate Program.  Whether you stream for four hundred viewers or your four best friends, there's now a way for you to make money while gaming – even without the coveted sub button and purple hoodie.  The Twitch Affiliate Program allows non-partnered streamers to earn revenue without having a treasured subscription button on their profile.  In a blog post about the program, Twitch says the change will allow "tens of thousands" of non-partnered streamers to earn revenue through streaming.
Many pro gamers rely on streaming and video views as a primary or secondary source of income.  Without organizational or sponsored support, approval for the potentially lucrative Twitch Partnership program can stall.  The Affiliate Program, while not as expansive as the Partner Program, is a stop-gap measure to give streamers incentives to keep working to build their audiences and become eligible for Partnership.
The current Twitch Partner requirements are somewhat vague, only requiring "an established and steadily growing audience and chat, a regular broadcast schedule of at least 3 times a week, content that that conforms to [Twitch] Rules of Conduct, Terms of Service and DMCA Guidelines".
It's generally understood that Twitch Partners must have a substantial following, and a streamer's fit for that role as essentially a contract employee is determined at the discretion of the company.
It's the same case for the invite-only Affiliate program, though Twitch is more explicit about the requirements for inclusion:
At least 500 total minutes broadcast in the last 30 days
At least 7 unique broadcast days in the last 30 days
An average of 3 concurrent viewers or more over the last 30 days
At least 50 Followers
Twitch Affiliates will be able to encourage their audience to cheer in the chat with "Bits" the Twitch currency that allows viewers in the chat to donate various sums of money to a streamer (and Twitch/Amazon takes a percentage of the transaction).  Unlike subscriptions or Paypal donations, Twitch Bits can be earned by watching ads in a pop-out player, allowing viewers without credit card access to donate, and protecting streamers from fraudulent and costly chargebacks.
In the coming months, Twitch also plans to make a subscription model available for affiliates (currently the Partner subscriptions range from $4.99-24.99/month, with Twitch taking up to half of that fee).
You can see a detailed plan and FAQ about the Twitch Affiliate Program on the official blog.