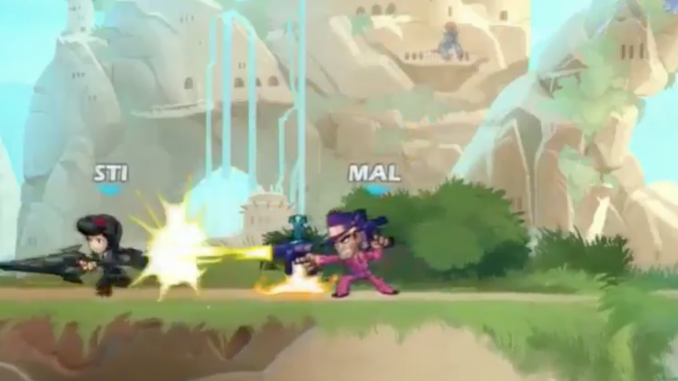 The first ever S-tier tournament on the Brawlhalla Circuit netted two players a cool $1500 each for their efforts at the Stream.Me Brawlhalla Legends Series.
Over 500 North American players signed up for the 1-v-1 tournament over the weekend, but Zack "Boomie" Bielamowicz was the player to come out on top over Flashpoint's Noel Rosario.
Congratulations to @Boomienator for winning the @StreamMe Legend Series NA 1v1 Tournament! Tune in tomorrow at 11am ET for the EU 1v1! pic.twitter.com/zP2oubCxTL

— Brawlhalla (@Brawlhalla) April 22, 2017
In EU's Grand Finals, number one ranked Malte "Maltimum" Olofsson faced Yassine "Stimpy" Sami in the Grand Final.  The pair went all the way to a Game 5 in the Winner's Finals, and Maltimum won that battle when Stimpy missed a ground pound and a key chance to move on to the final.  Stimpy tmanaged to get past Finland's Tommy "TB" Remander in the Loser's Bracket Final to meet Maltimum again in the Grand Finals.
The first match was as unpredictable as their Winner's Final, as Stimpy won 3-1, resetting the Grand Finals.  The second match was a bit more one-sided, and Stimpy came away with a 3-0 sweep and the first place win.
Congratulations to @realStimpy for winning the @StreamMe Legend Series EU 1v1 Tournament! Down in WF, up from LF, reset the bracket and won! pic.twitter.com/rHWiIAvsRu

— Brawlhalla (@Brawlhalla) April 23, 2017

In addition to the prize money, the S-tier tournament awarded the players 200 points for first place, putting them closer to qualifying for the Brawlhalla World Championship at BCX.
Brawlhalla All Legends Pack Giveaway
We've teamed up with Brawlhalla to give you access to all current and future legends in the game with a Steam code for an All Legends Pack (retail $19.99).  Enter with
Enter with valid information below for a chance to win!