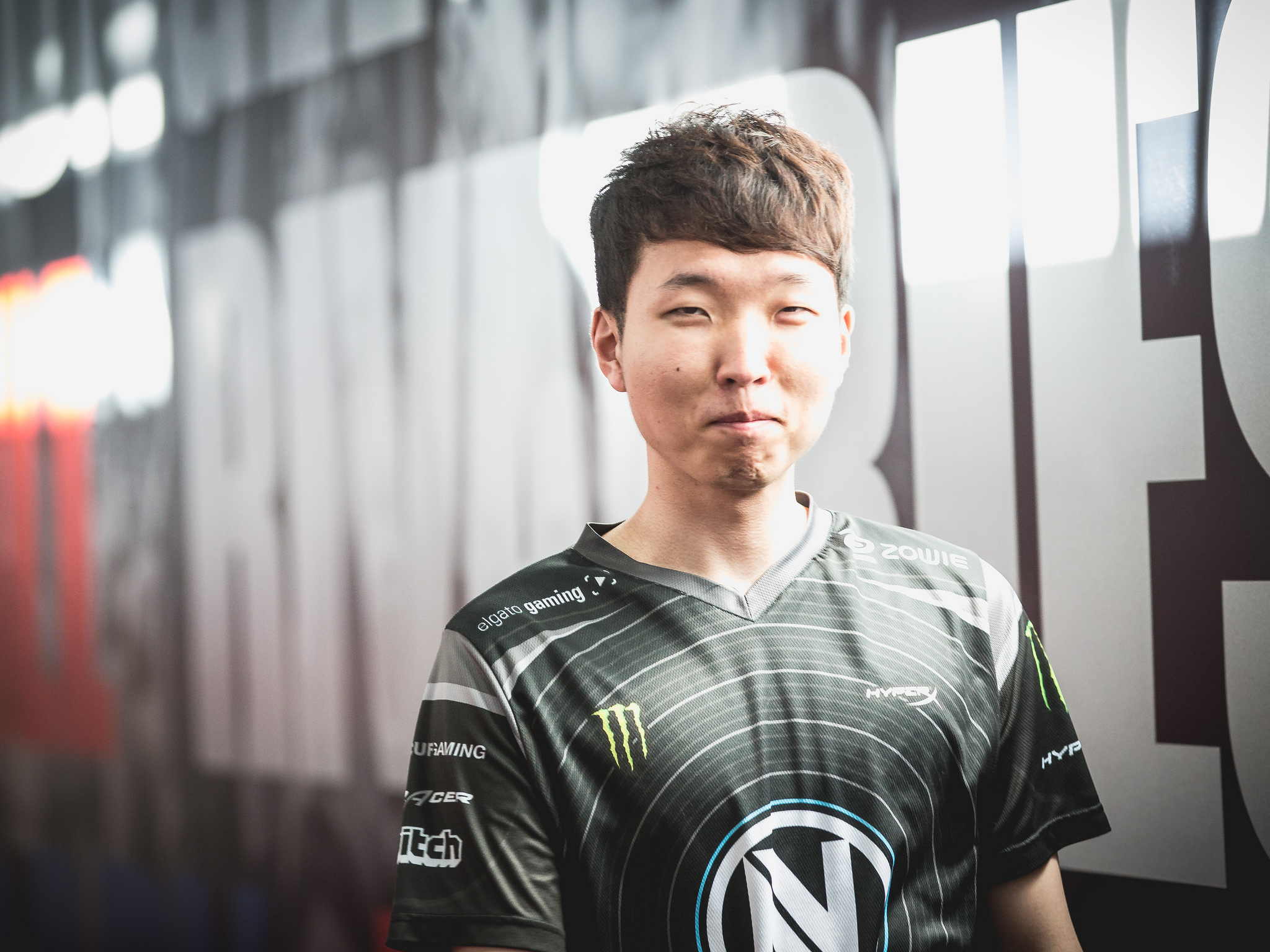 The "Boys in Blue" outlast Gold Coin United in a five-game thriller.
by Andrew Salazar, Contributor
Team EnVyUs needed all 5 games to earn a return into North American League Championship Series, defeating Gold Coin United 3-2 on Sunday.  The final battle was a rematch to end the 2017 NA LCS Summer Promotion Tournament.  EnVyUs began the tournament with a disappointing 1-3 match loss versus GCU on Friday, leading some fans to suspect the team would be relegated to the North American Challenger Series by the end of the weekend.  However, GCU failed to defeat Team Liquid in Saturday's winner's match, and EnVyUs rallied to defeat eUnited 3-1 on Saturday, putting them in prime position to claw their way back into the top league.
Team EnVyUs will join tournament winner Team Liquid in the NA LCS, while Gold Coin United will spend another split in the NA Challenger Series.  It's a disappointing outcome for the previously impressive GCU; they were one game away from LCS birth on two different occasions during this tournament.  But once again, even with veterans Hong "MadLife" Min-gi and Kim "Fenix" Jae-hun, GCU seemed to lack the poise and experience needed to overcome the pressure of a full five-game series.
Game One
The first game began at a faster pace than Friday's match, with several kills quickly traded between the two teams.  However, Team EnVyUs made a monumental misplay by attempting to "base race" GCU by pushing into the team's base while a Baron-empowered GCU attempted the same.  GCU claimed two inhibitors along with their turrets, while EnVyUs only managed to destroy a single inhibitor turret.  Armed with two lanes of super minion waves, GCU easily destroyed the third and final inhibitor before collapsing onto EnVyUs's nexus.
.@GoldCoinUnited defeat @TeamEnVyUs in game one and take a 1-0 series lead! #NALCS pic.twitter.com/ZwgA11IGY5

— lolesports (@lolesports) April 2, 2017
Game Two
EnVyUs's jungler Nam "LirA" Tae-yoo was all over the map in game 2.  Within the first 10 minutes of the game, LirA had managed to generate three kills on GCU's top and mid lanes.  Fenix missed several crucial skill shots on Noh "Ninja" Geon-woo, and GCU's Lucas "Santorin" Tao Kilmer Larson's attempts at a gank were constantly foiled by LirA's presence.  EnVyUs were able to claim game two with ease and even up the score after just 31 minutes. 
Game Three
LirA continued to dominate the map in game 3, providing early leads to both EnVyUs's top and bottom lanes.  EnVyUs's bottom lane duo of Apollo "Apollo" Price and Nickolas "Hakuho" Surgent had been fairly quiet so far in this tournament, but they were on point with several crucial skill shots throughout this game.  Apollo is notorious for his signature Ziggs play, but after this series, it's become evident that Varus is a comfort pick for him as well.
As Game 3 began to snowball out of control,  GCU was forced into desperate Baron attempt. It ended disastrously, and EnVyUs cleaned up all five members of GCU in a game-winning ace.
.@GoldCoinUnited go for Baron, but @TeamEnVyUs collapse for the ace and the game three victory! #NALCSpic.twitter.com/bBpknmbeqY

— lolesports (@lolesports) April 2, 2017
Game Four
Signs of strain ahead of the fourth game, as GCU's Fenix was caught on camera with his face buried in his hands.  A win here and his team would still have a chance to make it to the NA LCS.  A loss, and those dreams would be buried for another split.
Despite the pressure, Gold Coin United came out swinging in game 4.  A cross map play featured Solo with an impressive one versus two outplay in top lane:
.@Midfenix gets first blood in the mid lane while @GCUSolo picks up a kill in a top lane 1v2! #NALCS pic.twitter.com/SX5A1Oxbvn

— lolesports (@lolesports) April 2, 2017
However, GCU began a series of sloppy plays around the map, and Seraph punished these hard using Camille's Hextech Ultimatum.  With GCU's lead effectively gone, the game ground to a halt, and a stalemate formed as each team attempted to gain some sort of footing around the map.  GCU began to prioritize warding around Baron Nashor and Elder Dragon, allowing them to force EnVyUs into awkward engages into fog of war.  A crucial pick by Fenix onto Hakuho broke the game wide open for GCU, giving them the victory and pushing the series to game 5.
Game 5
While LirA has been excellent at securing First Blood kills for his team all season, an incredibly risky invade instead gave GCU's Apollo First Blood instead.  The bigger surprise: poor play by GCU's star mid-laner Fenix in the final game.  Time after time, the visibly rattled Fenix's poor positioning was punished by Ninja and Lira, which led to a devastating 0-4-0 score.  
After a short five-on-five standoff at GCU's bottom inhibitor, LirA made an incredible dive behind GCU, using Lee Sin's Dragon Rage to once again punish Fenix's positioning.  He was kicked into the entire EnVyUs squad, leaving EnVyUs to pounce on both Fenix's Orianna and GCU's LCS aspirations.
 The EnVyUs squad quickly destroyed GCU's bottom inhibitor and rotated to take an uncontested Baron Nashor. With a 17k gold lead, Baron-empowered minions, and uninhibited super minions collecting in the bottom lane, EnVyUs stormed GCU's base for the final time, taking down the nexus and earning a hard-fought return into the North American LCS.
.@TeamEnVyUs defeat @GoldCoinUnited in game five and earn their spot in the 2017 #NALCS Summer Split! pic.twitter.com/Q8zHJmr5YZ

— lolesports (@lolesports) April 2, 2017
Photos courtesy of Riot Games, videos from @lolesports