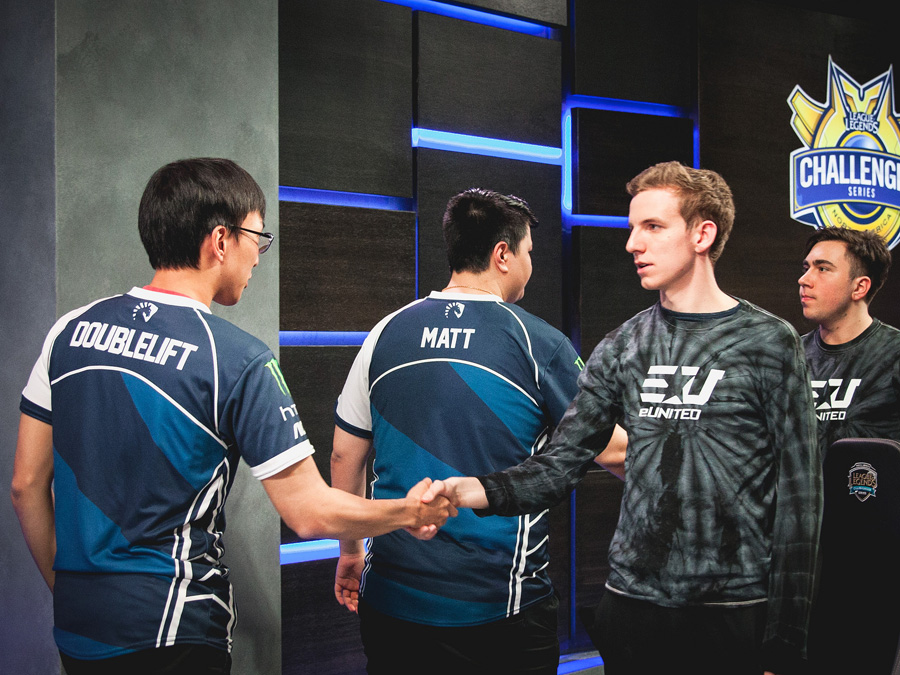 Liquid, Gold Coin United Cash In On Day One of North American LCS Promotion Tournament
by Andrew Salazar, Contributor
Team Liquid and Gold Coin United defeated their respective opponents eUnited and Team EnVyUs on Day One of the NA LCS Promotion tournament and will face off in a battle between former teammates in the winner's match tomorrow.
Team Liquid v eUnited
While Team Liquid looked shaky in game 1, they followed with three dominating performances in a row, looking very confident in their win versus eUnited.  Unfortunately for Team EnVyUs, Lira could not generate early gold leads on a consistent basis, GCU made targeted bans of Apollo "Apollo" Price's Ziggs pick, and GCU simply managed to perform better during key 5-on-5 team fights.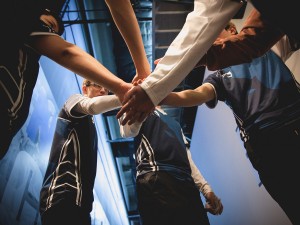 In the first game between Team Liquid and eUnited, eUnited took early advantages across the board.  While first blood went to eUnited's jungler Berk "Gilius" Demir with a well-executed counter-gank in the top lane, eUnited's support Tristan "Zeyzal" Stidam punished an early aggressive flash by blah Matt "Matt" Elento in the bottom lane.  As the game continued, Zeyzal continued to land impressive Grasping Roots to set up Eric "Licorice" Ritchie for devastating Rumble "Equalizer" plays in the mid-game.  It seemed as though Team Liquid could not help being caught out again and again, and eUnited after 55 minutes, Team Liquid finally succumbed to eUnited's insurmountable lead.  However, it felt as though Team Liquid dragged the game out longer than was possible, considering eUnited's gold lead.  Even as eUnited took down the nexus, it began to feel like momentum was shifting.
The remaining three games are three versions of the same story. Each game began with Kim "Reignover" Yeu-jin taking an early lead, and he used that lead to dominate each and every game thereafter.  Team Liquid as a whole showed a high-level of seasoned playmaking and execution, which only served to spotlight the greenness of eUnited's forced objectives plays and subpar positioning.  Matthew "Deftly" Chen, ADC for eUnited, showed nerves on stage, as he consistently missed key Enchanted Crystal Arrows throughout the match in Team Liquid's win.
Team EnVyUS v Gold Coin United
Team EnVyUs had some uncharacteristically slow starts in their match loss to Gold Coin United. nV is a team that is notorious for generating early game leads, but that rarely occurred today. Without those early leads, combined with the target ban of Apollo "Apollo" Price's signature Ziggs pick, NV seemed to be unable to perform the front-to-back team fighting as well as GCU for the entire match.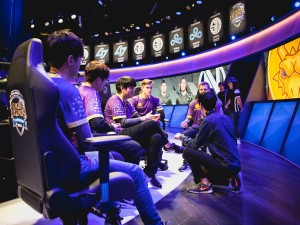 In game 1, there were no kills for either team until nV's star jungler Nam "Lira" Tae-yoo executed a first blood on GCU's top laner, Colin "Solo" Earnest, at the 14-minute mark.  However, it was actually Solo who stood out as the key playmaker in the rest of the low-kill game.  He was a menace to Apollo during team fights, acted as an unkillable tank, and true to his namesake managed to massively outplay his opponents with a kill during a 3-on-1 dive by nV. After an impressive 1-on-1 by GCU's Kim "Fenix" Jae-hun on NV's Noh "Ninja" Geon-woo, a desperate engage by nV's Shin "Seraph" Woo-yeong allowed GCU to generate an insurmountable lead and a victory in game 1.
Team EnVyUs looked more in form during Game 2.  Both Seraph and Lira managed to generate large gold leads early versus their GCU counterparts, and nV used this lead to force a 37 minute Baron play that was too difficult for the under farmed GCU to contest.  GCU showed signs of life with a narrow gain during a chaotic Elder Dragon fight, but an ill-advised Baron attempt led to a massacre of the backline by Seraph's terrifying Renekton, and nV evened the match score up to 1-1.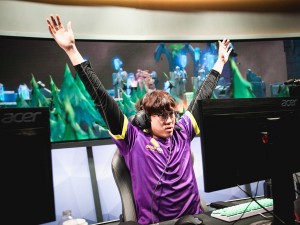 Game 3 was a nailbiter, as in spite of GCU's early 2 kill lead during a 3-on-3 jungle skirmish in nV's jungle, neither team could generate a substantial gold lead. However, once GCU won two crucial late game team fights, it became clear that nV was simply not able to team fight and execute at the same level as GCU in this series.  Game 4 began with a crucial missed opportunity for first blood by Lira, and an early dive by Lira was matched by a return kill on Lucas "Santorin" Tao Kilmer Larson Rengar.  As the game continued, nV's skirmishing began to fall apart at the seams, and Gold Coin United began to generate small, but consistent advantages.  GCU took down Baron at the 31-minute mark, and in spite of losing some team members during that objective, used that Baron to make a final push and advance to face Team Liquid in tomorrow's winner's match of the NA LCS Promotion tournament.
Team EnVyUs and eUnited will face relegation on Saturday during the loser's match of the NA LCS Promotion tournament.
Photos courtesy of Riot Games