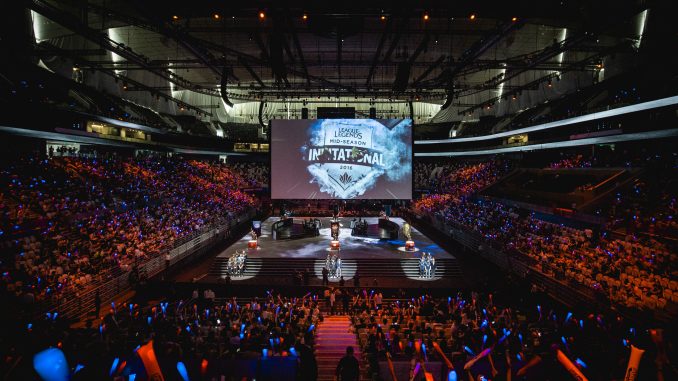 The 2017 Mid-Season Invitational begins Friday, April 28th and continues through May 21st.  Thirteen teams will head to Brazil to face off for a minimum $1,000,000 prize pool and the chance to crown both their team and their region as the best in the world.
This year's MSI has a plethora of prizes up for grabs.  For starters, the regional seeding for the 2017 World Championship will be determined by the results of MSI, as explained here.   In addition, MSI will feature a massive prize pool:  $250,000 as well as 25% of the sales of the Conqueror Karma and Conqueror ward skin that occur between April 24-May 24, guaranteed to be a minimum total prize pool of $1,000,000.
| | |
| --- | --- |
| Place | % of Prize Pool |
| 1st | 40% |
| 2nd | 20% |
| 3rd/4th | 10% each |
| 5th/6th | 5% each |
| 7th | 2.5% each |
| 8th/9th | 1.5% each |
| 10th/11th | 1.25% each |
| 12th/13th | 1% each |
This year's MSI will also introduce the new "play-in stage" in Sao Paulo, Brazil.  Eight teams from the BR, CIS, JPN, LAN, LAS, OCE, SEA & TUR regions have been split into two groups and will face teams in their respective groups in a best-of-1 double round robin.
| | |
| --- | --- |
| Group A | Group B |
| RED Canids (BR) | Virtus.pro (CIS) |
| LG Dire Wolves (OCE) | Lyon Gaming (LAN) |
| BAU SuperMassive (TUR) | GIGABYTE Marines (SEA) |
| Rampage (JPN) | Isurus Gaming (LAS) |

The winner of each group will advance to a round two matchup with either the LMS champion Flash Wolves or the NA LCS Champion Team SoloMid.  The winners of these round two matches will advance to the group stage, while the losers will face off in round three to determine the third and final group stage qualifier.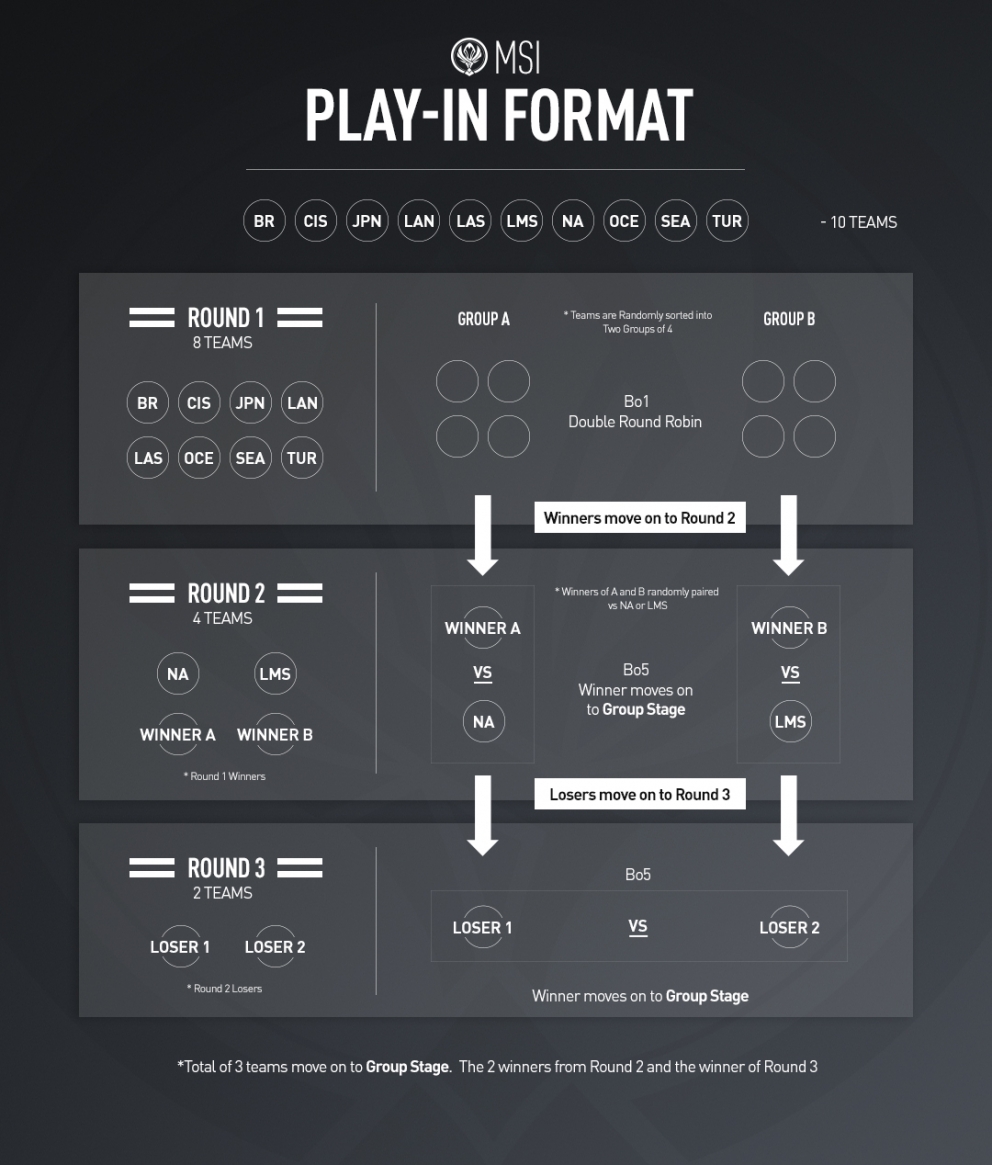 These teams will join champions from China, Europe, and Korea in Rio de Janeiro for the group stage, with all six teams playing a best-of-1 double round robin allowing each team to play each other twice.  The top four teams will advance to the knockout stage where they will playoff in a best-of-5 bracket to determine the final placements and MSI champion.
You can find the full MSI schedule here.
Play-In Stage Schedule
Note: All dates and times are in Brazilian Standard Time (BRT).  
Match times listed below are estimates pending previous game length.
Round One
Day 1 – Friday, April 28
RED Canids vs. LG Dire Wolves – 3:00 PM
BAU SuperMassive vs. Rampage – 4:00 PM
RED Canids vs. Rampage – 5:00 PM
BAU SuperMassive vs. LG Dire Wolves – 6:00 PM
LG Dire Wolves vs. Rampage – 7:00 PM
BAU SuperMassive vs. RED Canids – 8:00 PM
Day 2 – Saturday, April 29
Virtus.pro vs. Lyon Gaming – 3:00 PM
GIGABYTE Marines vs. Isurus Gaming – 4:00 PM
Virtus.pro vs. Isurus Gaming – 5:00 PM
GIGABYTE Marines vs. Lyon Gaming – 6:00 PM
Lyon Gaming vs. Isurus Gaming – 7:00 PM
GIGABYTE Marines vs. Virtus.pro – 8:00 PM
Day 3 – Sunday, April 30
Rampage vs. RED Canids – 3:00 PM
LG Dire Wolves vs. BAU SuperMassive – 4:00 PM
Rampage vs. BAU SuperMassive – 5:00 PM
LG Dire Wolves vs. RED Canids – 6:00 PM
RED Canids vs. BAU SuperMassive – 7:00 PM
Rampage vs. LG Dire Wolves – 8:00 PM
Day 4 – Monday, May 1
Isurus Gaming vs. Virtus.pro – 3:00 PM
Lyon Gaming vs. GIGABYTE Marines – 4:00 PM
Isurus Gaming vs. GIGABYTE Marines – 5:00 PM
Lyon Gaming vs. Virtus.pro – 6:00 PM
Virtus.pro vs. GIGABYTE Marines – 7:00 PM
Isurus Gaming vs. Lyon Gaming – 8:00 PM
Round Two
Day 1 – Wednesday, May 3rd
Team SoloMid vs. GIGABYTE Marines – 3:00 PM
Day 2 – Thursday, May 4th
Flash Wolves vs. BAU SuperMassive – 3:00 PM
Round Three – Saturday, May 6th
Group Stage Schedule
Day 1 – Wednesday, May 10:
Opening Ceremony – 3:00 PM
Europe vs. Korea – 3:30 PM
China vs. Play-In C – 4:30 PM
Play-In A vs. Play-In B – 5:30 PM
Play-In C vs. Europe – 6:30 PM
Korea vs. Play-In A – 7:30 PM
Play-In B vs. China – 8:30 PM
Day 2 – Thursday, May 11
Korea vs. Play-In B – 3:00 PM
Play-In A vs. Play-In C – 4:00 PM
Europe vs. China – 5:00 PM
Play-In C vs. Play-In B – 6:00 PM
Play-In A vs. Europe – 7:00 PM
China vs. Korea – 8:00 PM
Day 3 – Friday, May 12
Europe vs. Play-In B – 3:00 PM
Korea vs. Play-In C – 4:00 PM
Play-In A vs. China – 5:00 PM
Europe vs. Play-In C – 6:00 PM
Play-In A vs. Korea – 7:00 PM
China vs. Play-In B – 8:00 PM
Day 4 – Saturday, May 13
Play-In C vs. Korea – 3:00 PM
Play-In B vs. Play-In A – 4:00 PM
China vs. Europe – 5:00 PM
Europe vs. Play-In A – 6:00 PM
Play-In B vs. Korea – 7:00 PM
Play-In C vs. China – 8:00 PM
Day 5 – Sunday, May 14
Korea vs. Europe – 3:00 PM
Play-In B vs. Play-In C – 4:00 PM
China vs. Play-In A – 5:00 PM
Play-In B vs. Europe – 6:00 PM
Play-In C vs. Play-In A  – 7:00 PM
Korea vs. China – 8:00 PM
Knockout Stages
Semifinals
Day One – Friday, May 19
Day Two – Saturday, May 20
Finals
Day 1 – Sunday, May 21
Photos courtesy of Riot Games
The Source's 2017 MSI Hub