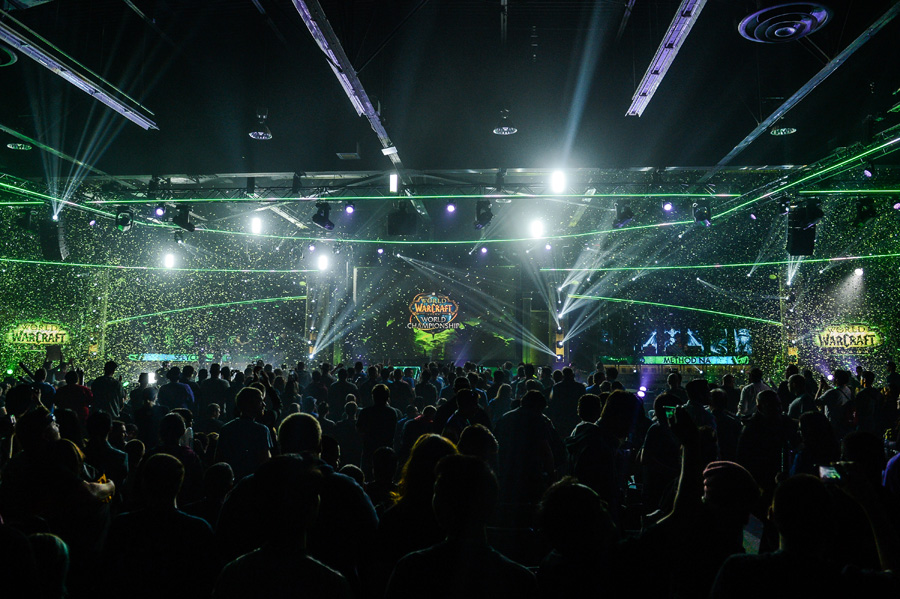 Changes are coming to one of the biggest arena gaming events of the year, the World of Warcraft Arena World Championship.  Blizzard Entertainment has announced plans to give players more opportunities to compete in 2017, as well as larger prize pools.  All in all, it's a restructuring of the rules for arena play and it could lead to more opportunities for newer players to break into the scene.
New Additions
The first change is the addition of open signups for tournaments in 2017: anyone can play without a minimum Arena Rating.  This could increase the talent pool in the WoW Arena scene and also allow for some well established teams to scout new players and shake up their rosters without losing their chance to play at a tournament.  With the influx of new players, more qualification competitions will be held throughout the year.
All Top 8 competitions (quarterfinals) will be broadcast live, giving teams and players a chance to show off their skills, and also allowing players to build a fanbase which will support the esport as a whole.
The North America and Europe regions will have five qualifier competitions this year where players can earn points.  The point system goes toward a roster swaps for the teams.  Teams get one free roster change during the qualification process, and all other roster changes will cost the team 50% of their points.  Each of the five qualifier competitions will have a $6,000 prize pool.Point Distribution (for North America and Europe):


| | | | | | |
| --- | --- | --- | --- | --- | --- |
| Finish | 1st | 2nd | 3rd | 4th | 5th/6th |
| Online Arena Cup | 160 pts | 80 pts | 36 pts | 20 pts | 12 pts |
| Approved Community Events | 40 pts | 20 pts | 12 pts | 8 pts | N/A |
Major regional events will all be LAN competitions.  12 teams will qualify at their respective regional events, and each tournament will offer a $100,000 prize pool.

World of Warcraft Arena World Championship Finals

12 teams will qualify for the World of Warcraft Arena World Championship Finals

Latin America (1) and China (2) now have their own World of Warcraft Arena World Championship Finals spots

The World of Warcraft Arena World Championship will boast a prize pool of $280,000
The Road to World Championship Finals: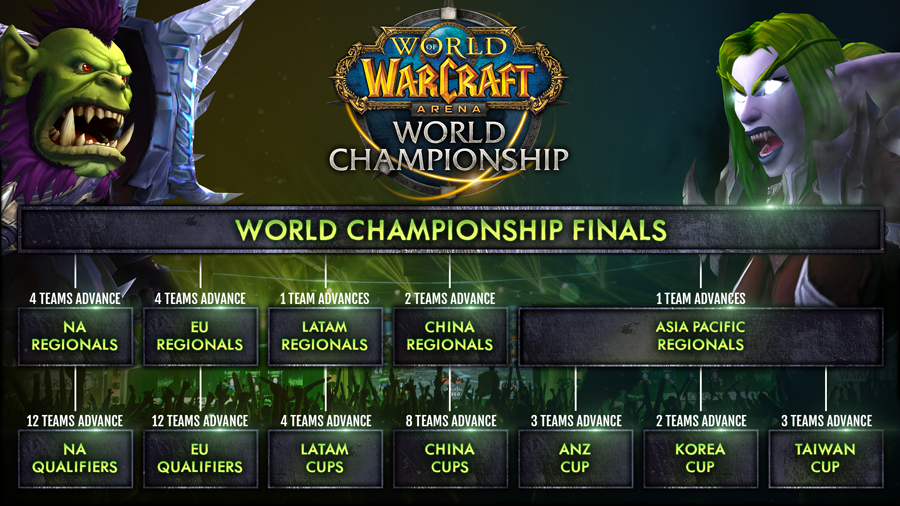 Blizzcon 2017 will be November 3rd and 4th.  The dates for the qualifying competitions listed above have not been disclosed as of press time.
 Photo/infographic courtesy of Blizzard Entertainment