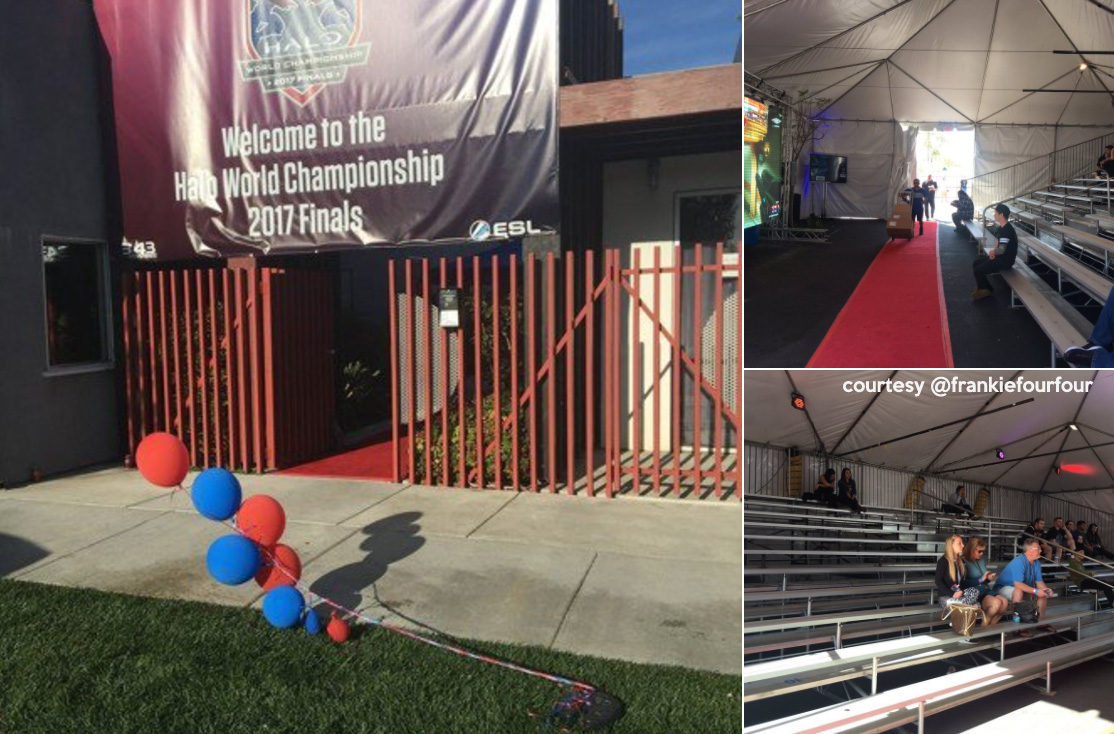 The Halo World Championship is going on right now in Burbank, California and though the stream production from ESL is high quality and the games have been excellent, the setup for the event is unexpectedly spartan.
OpTic Gaming owner Hector Rodriguez expressed his shock on Saturday upon arriving at the venue for the first time:
Just got to HALO WORLD CHAMPIONSHIPS 2017, I'm in disbelief.

— Hector Rodriguez (@optich3cz) March 25, 2017
Soon after, the reaction was explained: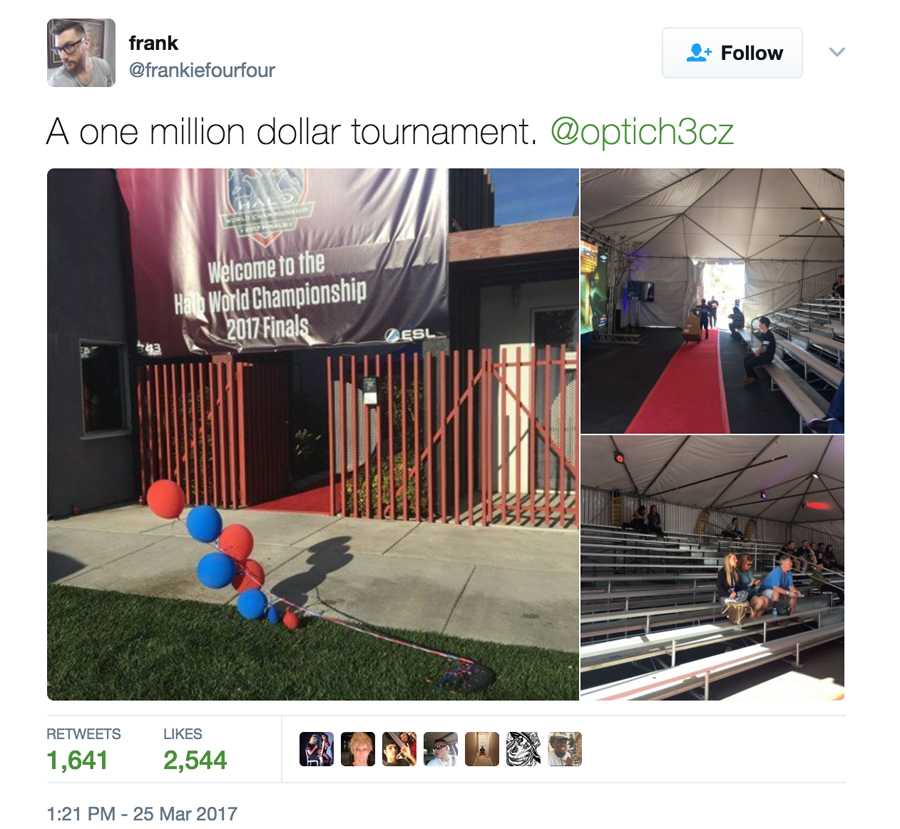 These images from Twitter user @frankiefourfour show an entrance to the venue at ESL America Campus where this million dollar tournament is being held, as well as a viewing area for non-VIPs.  The partially deflated balloons drifting in the wind sums up the scene, and complements the looks on the faces of the few spectators on the outdoor bleachers.
While it's not uncommon for league events and tournaments to take place in a small studio, in a year where esports is taking a lot of the spotlight in the wider gaming industry, it's an odd choice to hold the World Championship tournament for an esports title with a 16 year history in what appears to be a small, partially outdoor setting.  In contrast, the 2016 World Championships for Vainglory, a mobile MOBA released in 2014, were in the historic TCL Chinese Theatre in Hollywood.
As the images circulated on Twitter, fans, personalities and players from other esports chimed in:
@optich3cz "Bravo stream" pic.twitter.com/HQJd3fZ5HC

— Odah (@Shjio55) March 25, 2017
I love esports ? pic.twitter.com/oKESp4YxG0

— Marcel Feldkamp (@MarcelFeldkamp) March 25, 2017
Please tell me this is a hoax https://t.co/eYjvmEKmgr

— Hungrybox (@LiquidHbox) March 25, 2017
@LiquidHbox even the balloons look sad

— AGeNt (@AGeNtl0l) March 25, 2017
@frankiefourfour@optich3cz this can't be real LOL

— Ian Porter (@OpTic_Crimsix) March 25, 2017
Imagine if MLG had both COD and Halo same Venue same weekend like they did before! CROWDS WOULD BE MASSIVE! Sprinkle GOW and holy f.

— Hector Rodriguez (@optich3cz) March 25, 2017
On Twitter, some fans took offense at the venue criticism, saying fans were not getting the full picture from the above tweets:
Here are non-cherry-picked photos from #HaloWC. pic.twitter.com/aSDX8bF9Wm

— Greenskull @ #HaloWC (@Greenskull) March 25, 2017
Greenskull's photos show the many fans and cosplayers at the event, showing that Halo is alive and well as an esport, but the photos also highlight the shocking size of the venue.   It is unusual in 2017 to see the main stage of a championship tournament for any well established esport held in a small studio with a separate, outdoor viewing area for paying spectators.
The Halo World Championships feature 12 of the top teams from around the world competing for a $500,000 grand prize.  The tournament concludes on March 26th.