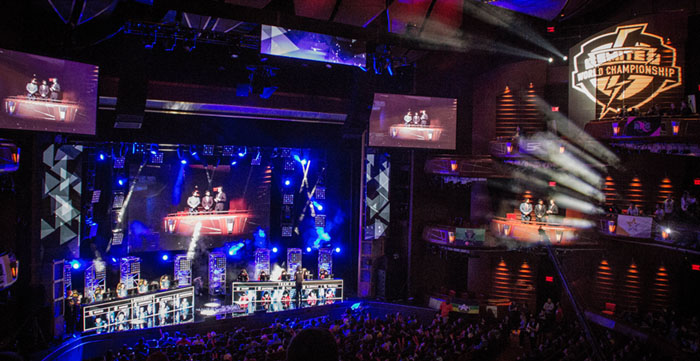 Season Four of the SMITE PC Pro Leagues in North America and Europe are heading for a bye week, so it's a good time to look back on what's happened thus far in the new competitive SMITE season.
New Teams
Following the often hectic and sometimes thrilling Rosterpocalypse in both the North American and European regions, several new teams emerged from the destruction.  North American team "In Memory of Gabe" is currently without organizational backing, and the team name refers to the death of a much memed dog.  The team is made up of the old COG Red duo of Eonic and Snoopy, while Whlarus, Hurriwind, and former console player Cynosure round out the rest of the squad.  One of the downsides to the these esports roster shuffles is finding an organization willing to finance a team of unknown players or players that may leave for another opportunity at any time when rosters are unlocked.  In Memory of Gabe is currently third in the league behind a slightly revamped Luminosity (they added Baskin back to their lineup in the off-season), and Season Three's surprise success story Team Eager.
Another new name on the NA side is eUnited, an FPS organization that bought out Enemy's team and spot in the league (they share owners).  The team is currently in fourth place.
On the EU side, new team Valance Squad is currently topping the table with a 3-1-0 record.  In the off-season, captain Lawbster broke away from his longtime playing partners and teamed up with Xaliea and Funballer to recruit BigManTingz and Cherryo for his squad.
Early Surprises
Two time world champions NRG have not changed their roster since its formation in 2015, but right now the team is going in to the bye week with a lackluster 1-2-1 record and currently languishing in fourth place in the EU standings.  Over in North America, SoaR Gaming are having a rough time of it, as the team of veteran players (Vetium, Jigz, andinster, and Homiefe) continues to search for a full-time 5th member during the season, the team currently has an 0-0-3 record.
Current Standings
North America
Luminosity
Team Eager
In Memory of Gabe
eUnited
Noble Esports
Flash Point
Team Allegiance
SoaR Gaming
Europe
Valance Squad
Team Dignitas
Obey Alliance
Lion Guard Esports
NRG eSports
Elevate
CycloneGG
Sanguine Esports
---
The folks who created SMITE, Hi-Rez Studios, have added a feature called SMITE Adventures to the game for casual players.  The current in-game event features a 5-v-5 Capture the Flag competition as part of the god Nike's "Valley of Victory".  The event will be available on all platforms.  For PC users it runs from February 28th-March 28th.  Console users can play from March 17th through April 4th.
There will be additional adventures showcased in-game throughout 2017.

We're giving away bundle codes so you can get the full SMITE Adventure experience!  Winners will receive a code for a bundle with the Conqueror Nike skin, a Global Emote, and a Gold Key which is your ticket to a Limited Skin from the Gold Vault.
Enter below and we will draw winners on March 16th!