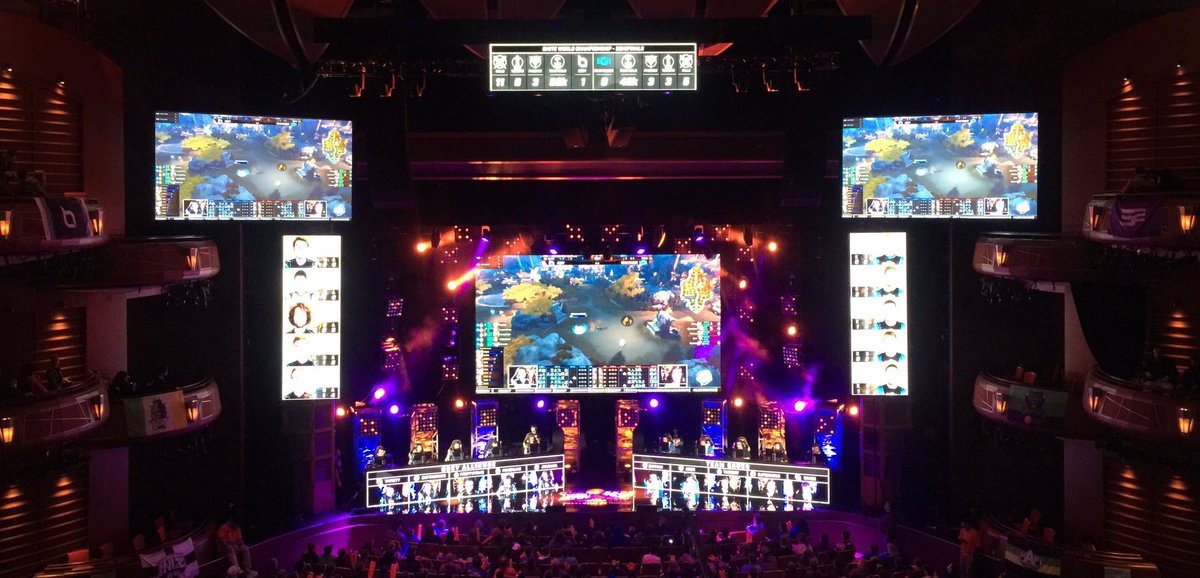 Once scrim partners, now enemies- NRG and Obey Alliance will face off tonight in the final of the 2017 SMITE World Championship.  It's an all-European final this time around, and considering that the two teams participating are the only EU teams in the entire competition, this is a pretty efficient result for the region.
ROAD TO THE FINAL
Day 1 of SMITE World Championships
Day 2 of SMITE World Championships
Day 3 of SMITE World Championships
These two teams play each other week in and week out, and it will be interesting to see if either team can pull off any surprises in tonight's best of five series to determine which team is the best.
Obey Alliance made it to the final by beating the number one North American seed Team Eager in a thrilling five game semifinal set.  For their part, the reigning World Champions NRG got the chance to defend their title by besting the North American Luminosity team with two former World Champions (John "BaRRaCCuDDa" Salter and Jeff Hindla) in another breathtaking five game match on Saturday night.
Obey Alliance looked in great form in their match against Team Eager, playing to their strategic strengths to take enemy objectives and leaning on a fine performance from their ADC Nate "Ataraxia" Mark.
NRG were a bit shaky when taking on Luminosity, and didn't look like the world beaters they appeared to be for much of Season 3.  Missed ults, some questionable decision making in team fights, and some shaky one on one battles marred their otherwise exciting and passionate performance.
I was bored so I made @AdaptingSMITE of @NRGgg a super saiyan after his win against @Luminosity. Good luck in the finals mate. pic.twitter.com/WgjfbzchyC

— [Rogue]MarioWrath (@Leafretv) January 8, 2017
This is the team that steamrolled over North America's Enemy squad in last year's final when they played under the Epsilon organization, and they will need to find that dominant form once again if they hope to take down their compatriots on Obey Alliance.
The friendly banter between the squads has already begun:
If you guys want us to take NRG down tonight then we're going to need to hear you ROAR! Let's make this an Obey crowd and avenge LG!

— Nate // Ataraxia (@ObeyAtaraxia) January 8, 2017

@ObeyAtaraxia wow. just wow.

— Dimi (@dimi_esports) January 8, 2017
@dimi_esports your guys are the smite villains bro

— Nate // Ataraxia (@ObeyAtaraxia) January 8, 2017
Ataraxia isn't wrong about the "villains" comment- NRG got a bit of flack on the SMITE subreddit for this bit of ribbing after last night's win:
Hey @Luminosity you dropped this L… Want it back? ggwp@SmitePro#HRX2017#SWC2017pic.twitter.com/P0ewS0odVi

— NRG @ #HRX2017 (@NRGgg) January 8, 2017
NRG captain Craig "iRaffer" Rathbone also casually said, "NA Sucks" in his interview after beating Alliance in their Quarterfinals match, and his infamous "Easy game, easy life" comment after beating Enemy in the final in 2016 will live on in SMITE history.
So who will make the crowd roar? The "adopted NA" team of Obey Alliance?  Or will NRG defend their title?
The live blog with Kim will start at 5pm EST when the match begins.  Join in the discussion by leaving a comment or tweeting to @esportssource!