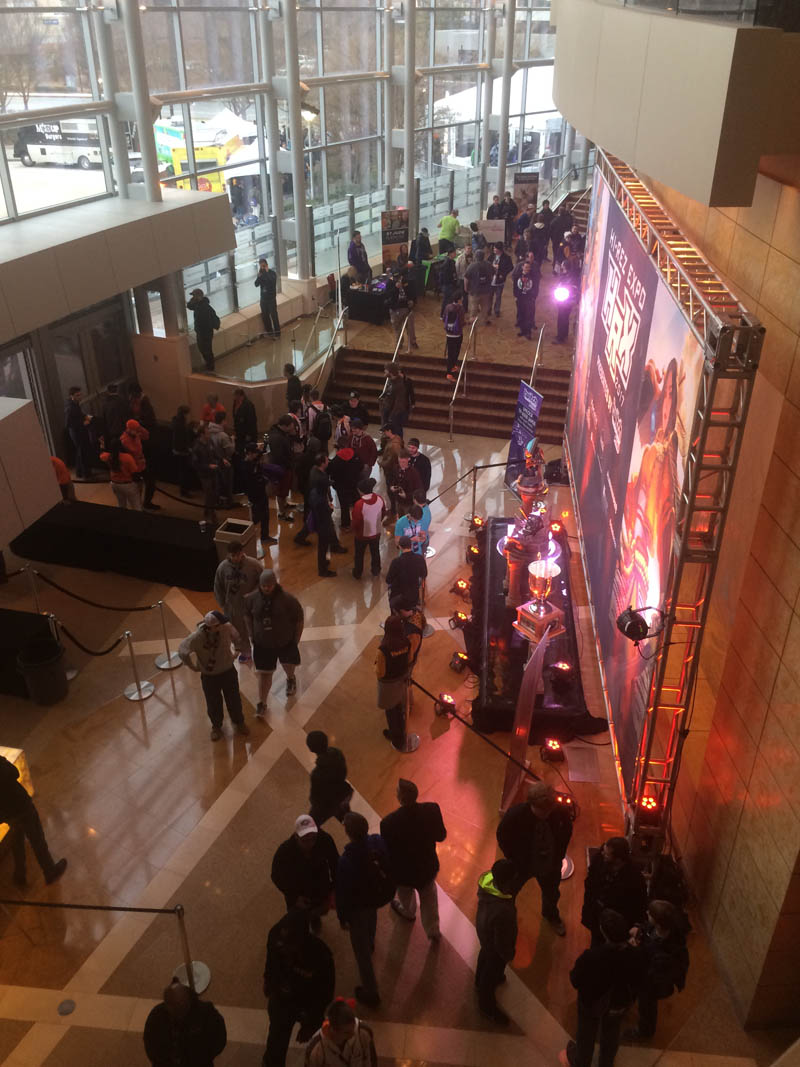 It's the second to last day of gaming at Cobb Energy Center just outside of Atlanta, GA where- if you didn't know- it snowed last night.  Kinda.  We were all hustled to hotels and told to stay off the roads, and that meant a lot of stir-crazy gamers were roaming the halls.  It also gave us all a little time to reflect on the trash talk from Friday's matches, and the aftermath.
TODAY play is delayed, but not abbreviated!   The matches for the first round of PC SMITE semifinals will kick off at around 1:30pm EST on main stage (broadcast on Twitch), with Paladins semifinals happening simultaneously on the HRX stage.  Doors open at noon, and myself and Photographer Matt will be there, shivering with wind chill and anticipation for two good SMITE series among four of the best teams in the world.
1:30pm Obey v Team Eager (Best of 5 series)
NRG v Luminosity Gaming (Best of 5 series)
The live blog will kick off in earnest at 1:30pm EST when the first match begins!
Watch live video from HiRezTV on www.twitch.tv
Semifinal #1: Obey 2 – 0 Team Eager, Game 3
…and things fall apart. Obey take the Gold Fury (13 min) after a team fight that saw djpernicus and TheBest fall, and they're ahead 4-3 on kills. EGR initiate another fight that results in a one for one trade and they continue to trail the EU squad.
PrettyPriMe's Ra isn't as effective as one would expect, and EGR's TheBest is doing a bit better with his Anubis.
EGR set up a trap and it works! (17 minutes) they take out three players when Divios was apparently caught out by CaptainTwig, who gave chase and suddenly found himself surrounded by the whole of EGR who went on to wreck him and all of the teammates who came to his aid.