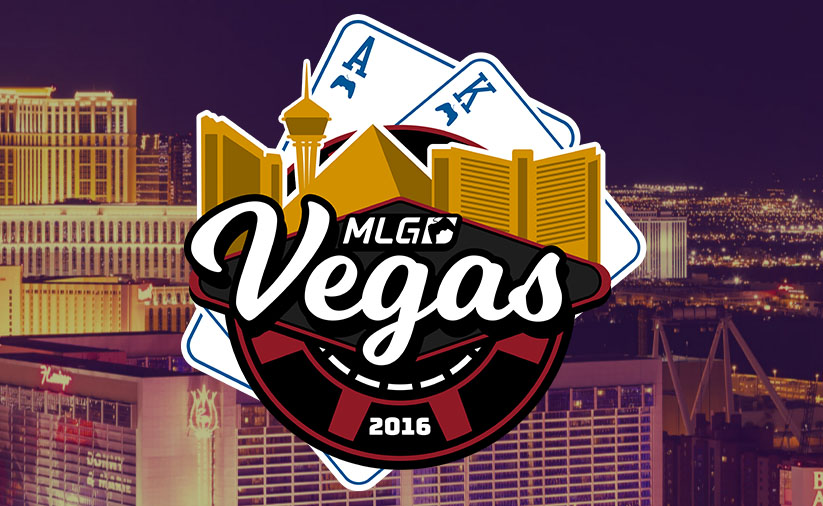 The Call of Duty World League kicks off its 2017 Infinite Warfare season with MLG Vegas, a LAN competition at the Mandalay Bay Hotel and Casino in Las Vegas, Nevada.  Top teams from around the world will be competing in intense open bracket and group stage competition all weekend.  Teams are vying for a share of the $100,000 prize pool, and will earn points that will help them qualify for 2017's Call of Duty World League Championships.
Over 160 teams are competing in the largest Call of Duty open bracket event to date.  The top four teams to make it out of Friday's open bracket will join the top North American teams in the group stages on Saturday.  Sunday, the teams that make it out of the group stages will compete to place in the money and earn the title of CWL Open Champions.
MLG.tv is back as broadcasting partner for the Call of Duty World League, and streams will also be broadcast on MLG's YouTube channel and the Playstation4 live event viewer.  It appears that Twitch will not be used for this particular competition.
LIVE STREAMS
FORMAT
Follow the Open Bracket progress here.
Open Bracket Loser's winners will move on to the Championship bracket.
Pool play feeds into double elimination Best of 5 winner and loser's Championship brackets.
Sunday Championship Matches
Grand Finals
Rise Nation 3 – 2 Cloud9
Losers Final
FaZe Clan 2 – 3 Cloud9
Winners Final
Cloud9 1 – 3 Rise Nation
Losers Round 6
FaZe 3 – 1 Allegiance
Losers Round 5
FaZe Clan 3 – 1 OpTic Gaming
Allegiance 3 – 2 Luminosity
Losers Round 4
OpTic Gaming 3 – 1 Enigma6
Evil Geniuses 0 – 3 Luminosity
Losers Round 3
Elevate 1 – 3 OpTic Gaming
Enigma6 3 – 0 Gosu Crew
Splyce 2 – 3 Evil Geniuses
Luminosity 3 – 1 Team EnVyUs
Saturday Championship Matches
Winners Semifinals
FaZe Clan 1 – 3 Rise Nation
Cloud9 3 – 2 Allegiance
Winners Bracket Round 1
FaZe Clan  3 – 1 Splyce
Rise Nation 3 – 2 Luminosity
Cloud9 3 – 2 Elevate
Allegiance 3 – 0 Enigma6
Losers Bracket Round 1
compLexity 3 – 0 Rogue
Gosu Crew 3 – 0 Lethal Gaming
Revenge 2 – 3 Infused
Team Kaliber 3 – 2 Pnda Gaming
Losers Round 2
OpTic Gaming 3 – 0 compLexity
Echo Fox 1 – 3 Gosu Crew
Evil Geniuses 3 – 2 Infused
Team EnVyUs 3 – 2 Team Kaliber
Saturday Pool Play 
Team EnVyUs 1 – 3 Elevate
Rise Nation 0 – 3 Enigma6
Cloud9 3 – 2 Splyce
Team Allegiance 1 – 3 Evil Geniuses
OpTic Gaming 0 – 3 Enigma6
FaZe Clan 3 – 1 Elevate
Team Kaliber 1 – 3 Splyce
compLexity 2 – 3 Evil Geniuses
Luminosity 3 – 0 Evil Geniuses
Echo Fox 2 – 3 Splyce
The Gosu Crew 0 – 3 Elevate
Team Revenge 0 – 3 Enigma6
Friday Pool Play Results
| Pool A | | Pool B | | Pool C | | Pool D | |
| --- | --- | --- | --- | --- | --- | --- | --- |
| Team EnVyUs | 1 – 1 | Rise Nation | 2 – 0 | Echo Fox | 1 – 1 | Allegiance | 2 – 0 |
| Gosu Crew | 1 – 1 | OpTic Gaming | 1 – 1 | Cloud9 | 1 – 1 | Luminosity | 1 – 1 |
| FaZe Clan | 1 – 1 | Team Revenge | 0 – 2 | Team Kaliber | 1 – 1 | compLexity | 0 – 2 |
| Open Bracket Team A | 0 – 0 | Open Bracket Team B | 0 – 0 | Open Bracket Team C | 0 – 0 | Open Bracket Team D | 0 – 0 |