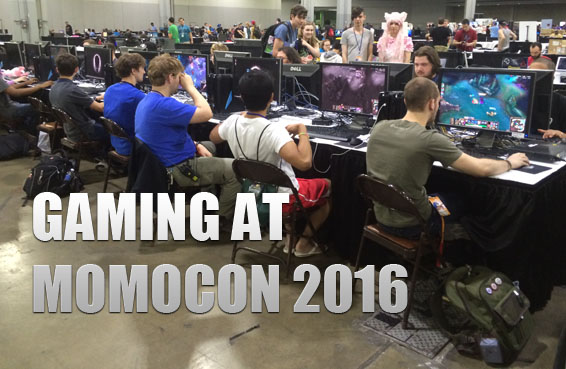 When I initially applied to cover the 2016 MomoCon competitive gaming events, I wasn't sure what to expect, but I went home with my ears ringing, my heart thumping, and my eyes opened to the many new and old arcade options on the market.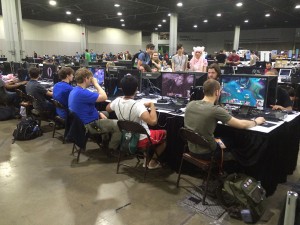 One side of the designated gaming hall was just for esports: a small League of Legends LAN setup, two viewing areas for fighting games tournaments, and loads of small stations where competitors could take on all manner of challengers throughout the weekend.  Most of the players were local players from the Atlanta area, hoping to win the cash prizes from the esports events that were in the hundreds of dollars.
Covering the event from the perspective of an eSports site, I'd expected to spend the majority of my time watching the competitive events- but a lack of big name players at the show and my own child-like love of bright colors and music led me across the room to the Arcade.
It was truly wonderful.  I'd not been in a proper arcade since I was a single-digit kid, so it was amazing to see people of all ages playing both new and old arcade games.  Dance Dance Revolution had people lined up for their chance to hold on to the bar and let their feet fly.  There were a lot of beat or melody-matching arcade games, each as all and as wide as a couple of human gamers.  While hanging at the arcade was a rite of passage for gamers of the 80's and early 90's, many of the people at MomoCon had never seen so many upright arcade games in one place, and it was indeed a sight to behold.
I spend the majority of my gaming time here- watching a different kind of competitive play- the kind most people associate with video games: laughing, joking, and sometimes utterly uncoordinated.  It would be nice to see a return to the arcade way of communal gaming.  While tabletop, card-based and RPG games have been seeing something of a resurgence in popularity in recent years, the mammoth sized arcade games are still a relic of the past, albeit a fun one.  The best place to still find arcade games?  The not always family-friendly video game bars that have been popping up in major cities around North America.  Here in ESS' headquarters of Atlanta, there are a few establishments including Battle and Brew and Dave and Busters, and they offer console, PC, and a few arcade games – but they also serve alcohol, and cater to a college-aged crowd.  Kid-friendly stand up games can still be found in some older movie theatre lobbies, though many of the ones I've hunted down since leaving the con feature dilapidated arcade units that are either unplugged, or badly damaged.
The upkeep on the behemoth arcade games is not exactly cheap, and those suckers use a lot of electricity to boot- so in a cost conscious gaming world, where personal gaming devices reign supreme, a return to the friendly (and not so friendly) arcade culture may be impractical and not cost efficient.  Luckily, at MomoCon, it looks like the old arcade kids (and the young ones too) can experience the excitement of beating your friend's high score in front of EVERYONE, only to be knocked off the board repeatedly.  It's good fun, one quarter at a time.