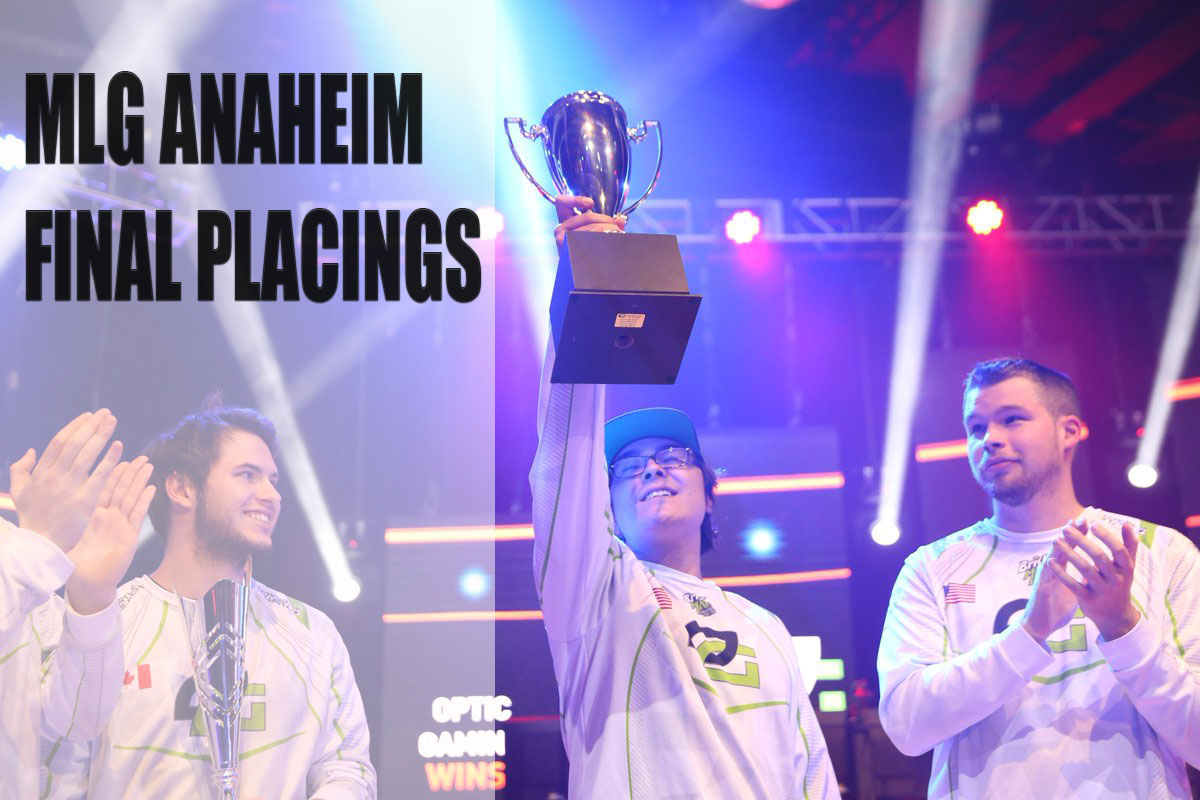 The Anaheim Open, billed as Major League Gaming's much anticipated return to the Call of Duty tournament circuit resulted in a slew of incredible team and individual performances.  The event featured a $100,000 prize pool, and the top 45 teams also took home valuable Pro Points to help qualify for Call of Duty World League Championships, which will happen at the CoD XP event in September.
OpTic Gaming came into the tournament as the obvious favorites as they top the NA Call of Duty World League table, and from the start of the tournament they looked unstoppable.  While the team is normally known for slow starts on Friday play at LAN events, they steamrolled through their opponents in Group A, and moved on to the Championship Winner's Bracket.  The team looked solid throughout their respawn maps, and looked seemingly invincible until the Grand Final.  They certainly didn't expect to play against Team eLevate, and when they beat them earlier in the day, Karma even said he didn't expect that team to get as far as they had.  eLevate seemingly took those words to heart, taking OpTic's first respawn map off of them to start the series by a very close 250 to 246.  They followed up by taking the S&D 6-5.  OpTic looked out of sorts during the first two maps, and made many small mistakes that would cost them dearly.  Team eLevate had a very tall order in beating OpTic in two Best of Five matches to win the tournament, and it seems OpTic underestimated their opponents and came out with sloppy, distracted plays.   OpTic began to bounce back with an overtime Uplink win and a dominant Capture the Flag performance, and they managed to force a game five S&D.
OpTic finally turned on their "normal" game mode, and finished off eLevate in the Search and Destroy, completing the reverse sweep to win 3-2.
IT'S ?.https://t.co/3bBejHNYvq #MLGAnaheim pic.twitter.com/zRxWdmkuGq

— CWL @ #MLGAnaheim (@CODWorldLeague) June 13, 2016
Rise Nation have been a quiet but deadly force to contend with throughout the Black Ops III game, and this tournament seemed like it would come down to a showdown between them and OpTic for LAN supremacy- but it was not to be.  The team fell to the dark horse that is Team eLevate in the Loser's Bracket, and had to settle for 3rd place.
A team that has struggled to find greatness throughout this game is FaZe Clan.  The team formed in response to OpTic Gaming's "dream team" in 2015, and they are currently the second longest running complete squad in North America, and third in the world.   The team was formed in Advanced Warfare, and they did well in the latter half of the season, taking events off of OpTic, and playing fast and aggressively in the air.  The pace and style of Black Ops III just hasn't seemed to gel with the team, despite having played the game for several months, and even more worryingly, the team seems to lack cohesion at key moments.  They collapsed in two 3-2 matches in Group C Pool Play against eLevate and Luminosity, sending them on a loser's bracket run.  The team struggled at time to beat their opponents in the lower bracket, seemingly pulling through by a combination of sheer determination and good luck to win a very tough 5 map set against Team Infused.  Ultimately, FaZe showed they still do not have what it takes to beat the top teams in the world, as they fell to Rise Nation, halting their triumphant run in 4th place.  For a team with such high expectations upon them, the ending is bittersweet.
High expectations were not something attributed to a team like Luminosity– just hovering above the relegation zone in 8th place in the Call of Duty North American World League- many fans and pundits alike would not have expected a long or successful run from this team.   The team capitalized on the slaying of Saints and some downright heroic efforts from Study (he dropped 53 kills during their Hardpoint against FaZe on Day One), and finished well in their group, making it to the Championship Winner's bracket.  The fun would stop quickly, as OpTic Gaming dispatched the team with a 3-1 win.  Luminosity then went through a Loser's Bracket run, taking down Dream Team and a very promising looking Team EnVyUs, before eventually falling 3-0 to the very good Rise Nation.  Overall it was a good showing for a team that has looked shaky at best online, and it's a good look at what power the team has when playing on LAN.
EU teams Splyce and Team Infused also had good runs at the event, with Team Infused being just one map away from a T4 finish at a North American major.  The top EU teams have hinted they can hang with their North American brethren all year, but this was their first time showing up during the Black Ops III cycle on American soil.  Despite being Call of Duty World League teams, all of the EU teams had to make their way through the Open Bracket in order to face the North American pros in the Championship bracket, so it meant very long days for all of the players. Infused's 5th/6th place finish is a good one, though their final Search and Destroy against FaZe may haunt them for some time.  EU juggernaut Millenium also made the trip overseas, but they were bounced from the tournament in the first round of the Championship Bracket by NA amateur team Kingdom eSports.
Most Impressive: OpTic Gaming.  They looked completely untouchable for most of the tournament.  Other teams will simply have to grind and work hard to try and beat them on LAN.  Formal won the MVP for the tournament, and his sniping was simply phenomenal.  Karma also put in an exceptional performance for the team, showing off his superior movement, and often making some game changing plays on SnD maps.
Your @CallofDuty #MLGAnaheim Open MVP, @OpTic_FormaL! pic.twitter.com/mWGkdnJ9lv

— MLG Anaheim Open (@MLG) June 13, 2016
Honorable Mention: In2ition.  The Open Bracket featured 96 teams, and In2ition were the 91st ranked team going into the tournament.  They made a phenomenal run through the Open Bracket and OB Loser's bracket to end up playing on Championship Sunday.  The team of unknown players lost to a team of veteran pro players, compLexity,  3-0, but it was still a commendable effort.
Least Impressive: Hundred Thieves.  The team did not win a map all weekend.  One of their players showed up late to their match on Saturday, delaying it by 20 minutes.  Their one unforgettable match was against Team Infused, and it is notable for the 22-0 uplink scoreline from their opponents.   The roster lock for Stage 2 is in place, so Nadeshot can't make any further changes to his team unless he chooses to use his sub, Johnny, in place of one of this weekend's players.
FINAL PLACEMENTS AND PRIZES
1st OpTic Gaming $40,000/ 2,500 Pro Points
2nd Team eLevate $24,000/ 1,500 Pro Points
3rd Rise Nation $16,000/ 1,100 Pro Points
4th FaZe Clan $8,000/ 900 Pro Points
5th/6th Luminosity Gaming $4,000/ 800 Pro Points
5th/6th Team Infused $4,000/ 800 Pro Points
7th/8th Team EnVyUs $2,000/ 700 Pro Points
7th/8th Cloud9 $2,000/ 700 Pro Points
The next Open event will be MLG Orlando in August.  The tournament will be structured much like MLG Anaheim, and it will also feature a $100k prize pool.