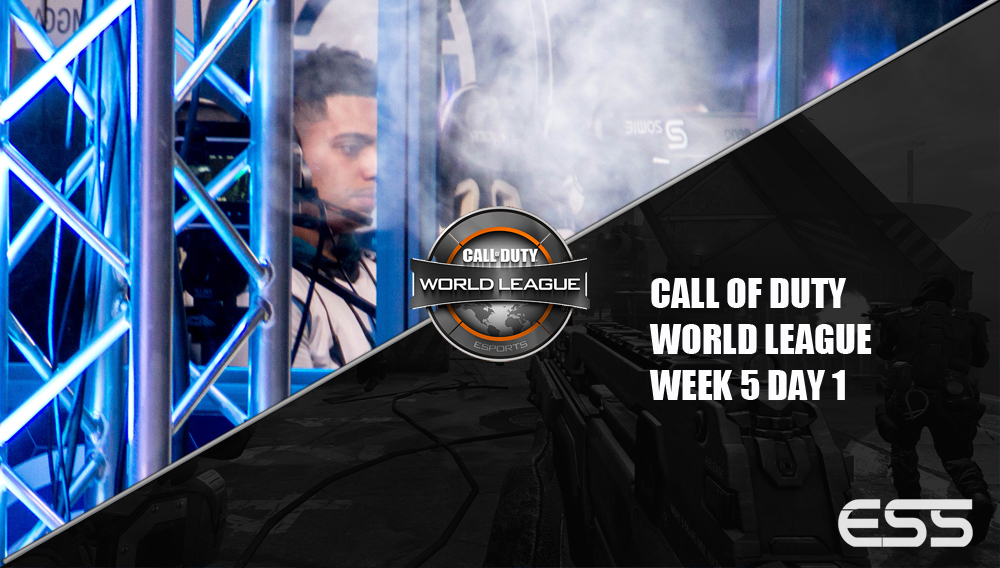 We're nearing the halfway point of Stage 2 of the Call of Duty World League, and there are still two unbeaten teams.   Orbit could blemish their perfect record against the fourth placed Team Immunity today, while HyperGames is going against a very good Infused squad who are hungry to prove their excellence.
On the opposite end of things, today is the day either Vitality or Team LDLC will win a match in Stage 2.  The bottom of the table teams play each other today, ensuring that one of them will have a tick in the win column after 5 weeks of matches.
Meanwhile in North America, we could see some upsets tonight.  Table toppers H2k could fall at the hands of an unpredictable FaZe, while Dream Team could slip up and lose to the dangerous Team EnVyUs.  Given the pedigrees of both FaZe and EnVy squads, it's strange now to mention them as underdogs, but the results are what they are.  A truly surprising upset would see plucky 100 Thieves taking down the tremendous teamwork of Rise Nation, or the unsteady Cloud9 somehow picking apart OpTic Gaming's relentless slaying and great team plays.  Anything is possible online, so tonight's matches should be exciting.
STANDINGS
ANZ REGION
| Place | Team | W | L | W% | MW | ML | MW% | WS |
| --- | --- | --- | --- | --- | --- | --- | --- | --- |
| 1st | Orbit GG | 8 | 0 | 100% | 24 | 4 | 86% | W8 |
| 2nd | Mindfreak | 6 | 2 | 75% | 20 | 10 | 67% | W1 |
| 3rd | The Chiefs eSports Club | 5 | 3 | 63% | 18 | 11 | 62% | L1 |
| 4th | Team Immunity | 5 | 3 | 63% | 18 | 14 | 56% | W4 |
| 5th | Plantronics Tainted Minds | 3 | 5 | 38% | 14 | 16 | 47% | L1 |
| 6th | Apotheon eSports | 2 | 6 | 25% | 10 | 19 | 34% | L3 |
| 7th | Plantronics Nv | 2 | 6 | 25% | 6 | 18 | 25% | W1 |
| 8th | eXcellence Gaming | 1 | 7 | 13% | 5 | 23 | 18% | L5 |
EU REGION
| Place | Team | W | L | W% | MW | ML | MW% | WS |
| --- | --- | --- | --- | --- | --- | --- | --- | --- |
| 1st | HyperGames Team | 7 | 0 | 100% | 21 | 9 | 70% | W7 |
| 2nd | Splyce | 7 | 1 | 88% | 22 | 9 | 71% | W3 |
| 3rd | Team infused | 5 | 2 | 71% | 17 | 10 | 63% | L1 |
| 4th | Millenium | 4 | 3 | 57% | 16 | 12 | 57% | W1 |
| 5th | Epsilon eSports | 4 | 3 | 57% | 14 | 11 | 56% | L2 |
| 6th | Supremacy | 4 | 4 | 50% | 13 | 15 | 46% | W3 |
| 7th | Giants Gaming | 3 | 4 | 43% | 12 | 16 | 43% | L1 |
| 8th | Exertus | 2 | 5 | 29% | 13 | 17 | 43% | L2 |
| 9th | Team LDLC | 0 | 6 | 0% | 4 | 18 | 18% | L6 |
| 10th | Team Vitality | 0 | 8 | 0% | 9 | 24 | 27% | L8 |
NA REGION
| Place | Team | W | L | W% | MW | ML | MW% | WS |
| --- | --- | --- | --- | --- | --- | --- | --- | --- |
| 1st | H2k-Gaming | 5 | 1 | 83% | 16 | 6 | 73% | W5 |
| 2nd | Dream Team | 5 | 1 | 83% | 15 | 11 | 58% | W5 |
| 3rd | FaZe Clan | 4 | 2 | 67% | 14 | 6 | 70% | W1 |
| 4th | Rise Nation | 4 | 2 | 67% | 16 | 8 | 67% | L1 |
| 5th | OpTic Gaming | 4 | 2 | 67% | 14 | 9 | 61% | W3 |
| 6th | Team EnVyUs | 3 | 3 | 50% | 11 | 11 | 50% | W1 |
| 7th | Team eLevate | 3 | 3 | 50% | 10 | 13 | 43% | W3 |
| 8th | Hundred Thieves | 2 | 4 | 33% | 10 | 15 | 40% | W1 |
| 9th | Cloud9 | 2 | 4 | 33% | 8 | 13 | 38% | L4 |
| 10th | Luminosity Gaming | 2 | 4 | 33% | 9 | 16 | 36% | L2 |
| 11th | Team SoloMid | 1 | 5 | 17% | 9 | 15 | 38% | L3 |
| 12th | compLexity | 1 | 5 | 17% | 7 | 16 | 30% | L5 |
SCORES/SCHEDULE
ANZ Region
Nv 0 – 3 Mindfreak
Orbit 3 – 1 Team Immunity
Apotheon Esports 1 – 3 Tainted Minds
Chiefs eSports Club 3 – 0 eXcellence
EU Region
Epsilon eSports 3 – 0 Giants Gaming
Supremacy 3 – 2 Exertus
Team LDLC 3 – 0 Vitality
Team Infused 1 – 3 HyperGames
100 Thieves 0 – 3 Rise Nation
Team eLevate 3 – 1 Luminosity Gaming
OpTic Gaming 3 – 1 Cloud9
FaZe Clan 3 – 1 H2K
Dream Team 0 – 3 Team EnVyUs