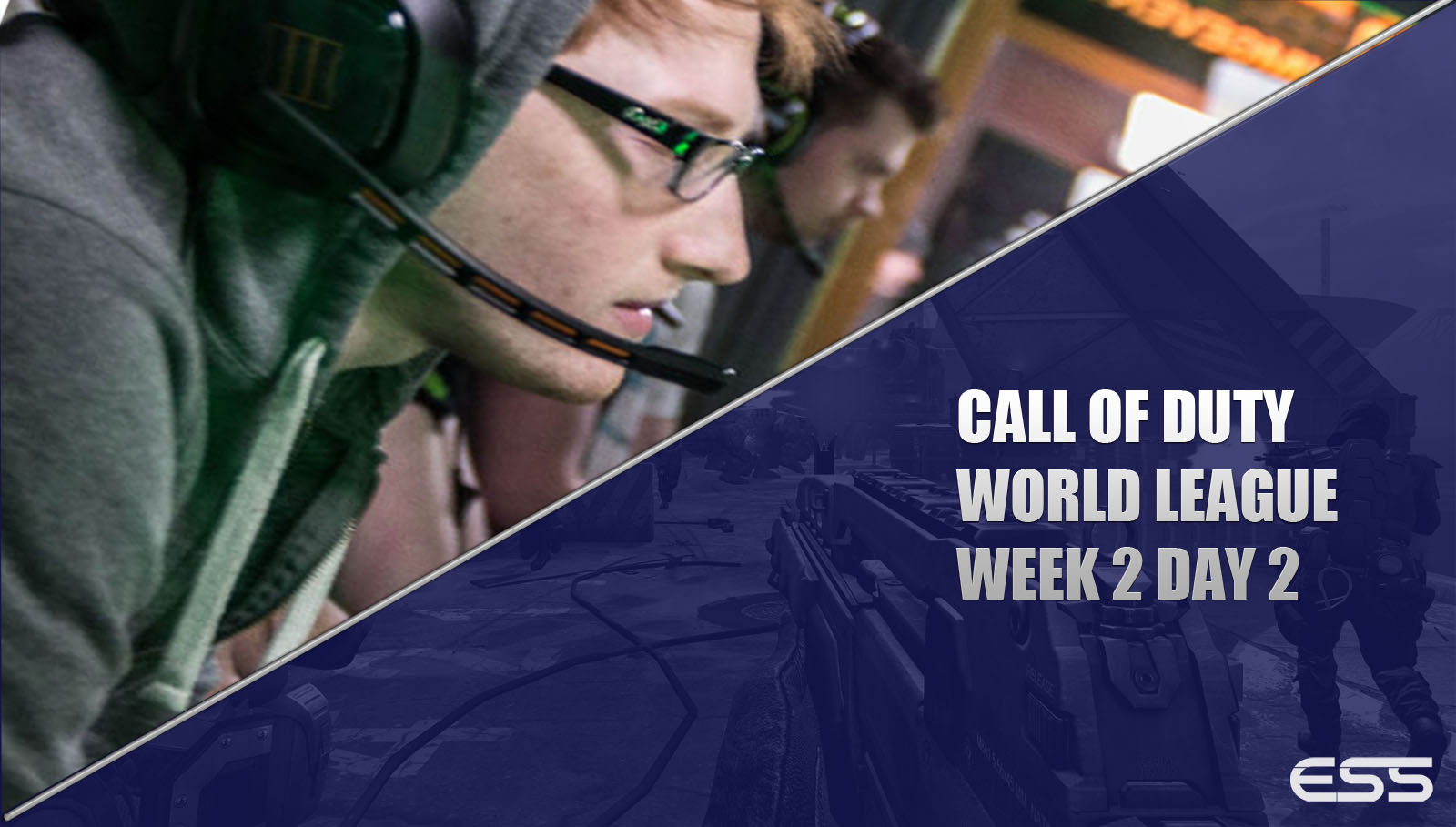 It's Day 5 of the Call of Duty World League, but it may as well be named "A Day of Redemption".
Previously in the Call of Duty World League…
Day 4 was riddled with surprises in every region, as Mindfreak finally not only lost a map, but they lost a match 3-1 to Orbit in the ANZ region.
In EU, Millenium looked disjointed and completely unlike the team that thrashed their opponents in the Stage One LAN Finals, as they fell to Giants Gaming 3-1.
North America became a total shambles for some of the top teams there, as first FaZe encountered host connection problems that had their players ice skating around the map:
Iceskating in CWL matches is fun LOL pic.twitter.com/wft6bZNIxt

— FaZe Clayster (@Clayster) April 27, 2016
FaZe lost their match 3-1 to Dream Team.
OpTic Gaming versus H2K (who was playing with Felo in place of a traveling Phizzurp) was equally unhinged, as Formal was repeatedly lagging out, and OpTic only barely managed to win the HP while playing 3v4.  The Search round went H2k's way, and on Uplink, OG eventually asked to forfeit because the lag issue was making the game unplayable.  OpTic Karma had a humorous take on the issue:
OPTIC FORMAL GOES HUGE! https://t.co/5bKzKvoOEy via @YouTube

— Damon B (@OpTic_DKarma) April 27, 2016
Currently the match is a 3-1 loss to Dream Team, but CWL officials have tweeted that the match is under review:
The games between @OpTicGaming and @H2KGG are under review. In the meantime, we will be moving on to the next match.

— Everett Coleman (@Small) April 27, 2016
We are investigating where the issue may have come from to understand if the difficulty in the @FaZeClan vs @DreamTeamGG match is related.

— Everett Coleman (@Small) April 27, 2016
Adding to the madness?  TSM, who struggled thus far in the league swept a hard charging EnVy squad who had looked like a top contender after the first week of play.  
---
So what will today have in store for the teams?  We'll see.  
eLevate have finally announced their new 4th- Felo, who previously played on the relegated Counter Logic Gaming team.
OpTic Gaming will play their match against eLevate with a sub in the form of the one, the only, captain Patrick Price (ACHES).  Hecz said he would never be on OpTic, but hey, times change.  ACHES is filling in for Formal who is traveling from his home in California to the OpTic Scuf House in Chicago.
STREAM: twitch.tv/callofduty
SCORES (Updated throughout the day)
ANZ Region
Mindfreak(2-1) 3 – 1 Chiefs eSports Club(3-0)
Team Immunity(1-2) 1 – 3 Apotheon Esports(0-3)
eXcellence(1-2) 0 – 3 OrbitGG(3-0)
Tainted Minds(1-2) 3 – 0 Nv(1-2)
EU Region
Splyce(3-0) 3 – 1 Team LDLC(0-2)
Team Infused(3-0) 3 – 2 Exertus(0-2)
Epsilon eSports(2-0) 3 – 0 Supremacy(1-2) (SR lagged out and forfeited last map)
HyperGames(2-0) 3 – 0 Giants Gaming(1-2)
NA Region
Dream Team (2-1) 3 – 2 compLexity Gaming (1-1)
100 Thieves (1-2) 0 – 3 FaZe Clan (2-1)
OpTic Gaming(1-2) 3 – 0 Team eLevate (0-2)
Cloud9(2-1) 1 – 3 Team EnVyUs (1-1)
Rise Nation (3-0) 2 – 3 Luminosity Gaming (1-2)