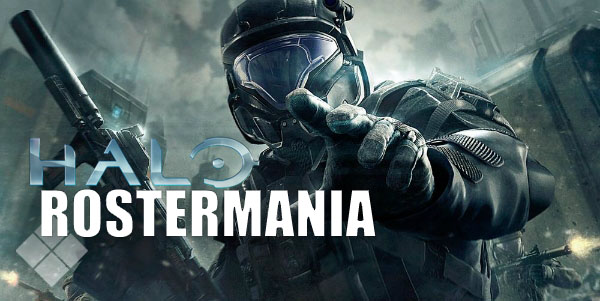 Players barely had time to leave the 2016 Halo World Championship venue before the familiar frenzy began: Rostermania.  Teams are already breaking up, players are making deals, and rumors are flying fast over on the Team Beyond forums.  The League begins play on May 31st.
League Qualification Information
Here at ESS we can't speculate on any of the many, many rumored player trades and switches, but we can post a list of the confirmed team changes.
Here's a list of pro teams that could be in the ESL Halo Pro League (scroll down for rostermania changes), as listed on Halo's eSportsapedia Wiki and Team Beyond:
North America:
Counter Logic Gaming – Royal 2, SnakeBite, Frosty, LethuL
Evil Geniuses – Snip3down, Lunchbox, Roy, Suspector
Team EnVyUs – Mikwen, iGotUrPistola, Rayne, eL ToWn
OpTic Gaming – FlamesworD, MaNiaC, Naded, Ace
Enigma6 – Cratos, Huke, BubuDubu, Shooter
Renegades – Victory X, Ninja, Commonly, Penguin
eLevate – Penguin, Swiftkill, Calm
Denial eSports – ContrA, PreDevoNatoR
Team Liquid – Eco, APG, Heinz
Epsilon eSports – BUK 57, BUK 20, Jimbo, Snipedrone
Europe:
Epsilon eSports – BUK 57, BUK 20, Jimbo, Snipedrone
Millenium – Seifer, TaLic, Zankioh, SolaR 
Team Infused – Chalkie, TuFoxy, Ramirez, BlackJack
Team Vitality – Botinus, Hitaborg, Renox, Mephisto
Supremacy – Fragxr, PuniShR, SiLeNT, UnwiZe
The list of changes will be updated as official announcements are made:
4/15/16 Current list of notable free agents: OGRE2, Arkanum, Spartan, Stellur, Randa, Fearitself, Ryanoob, Hysteria, Assault, Danoxide,Cloud
4/11/16 Enigma6 (mostly known as a Call of Duty org) annnounces its Halo 5 roster:


We would like to welcome @carlosayalajr @HukeFPS @bubudubu @shooterhcs to Enigma6 Group! Halo here we come! #E6ARMY

— Enigma6 Group™ (@Enigma6Group) April 11, 2016

4/10/16 Ace joins OpTic Gaming
4/8/16 Rayne joins Team EnVyUs
4/8/16 eL Town joins Team EnVyUs
4/5/16 Naded joins OpTic Gaming
4/2/16 Stellur F/A, Spartan F/A
3/25/16 Spartan HCS, stellur, unlegit, eL Town form Team Allegiance
3/24/16 Chaser and Lifestyle announce they have been released by OpTic Gaming.  That leaves just Maniac and Flamesword on the team.
3/23/16 Naded tweets he is no long on Team Allegiance due to a disagreement with the team owner:
For his part, Team Allegiance GM Connor Hall took to Twitter in his defense, saying he was told by the players that could only keep one player after worlds because no one on the team wanted to stay together.  Hall says chose El Town to represent Team Allegiance in the future.  He plans to make a longer statement about the situation.
In a professional move, Evil Geniuses posted a press release to announce the addition of former Team Allegiance player Suspector who is replacing Commonly on the team.
"I'm super excited about having a fresh start in the next HCS season with EG. After receiving the offer I knew it wasn't something I could pass up. There is no doubt in my mind that if we put the time and effort into next season we will be able to come out on top and make all of the EG fans proud." -Suspector
Follow @eSports_Source on Twitter!