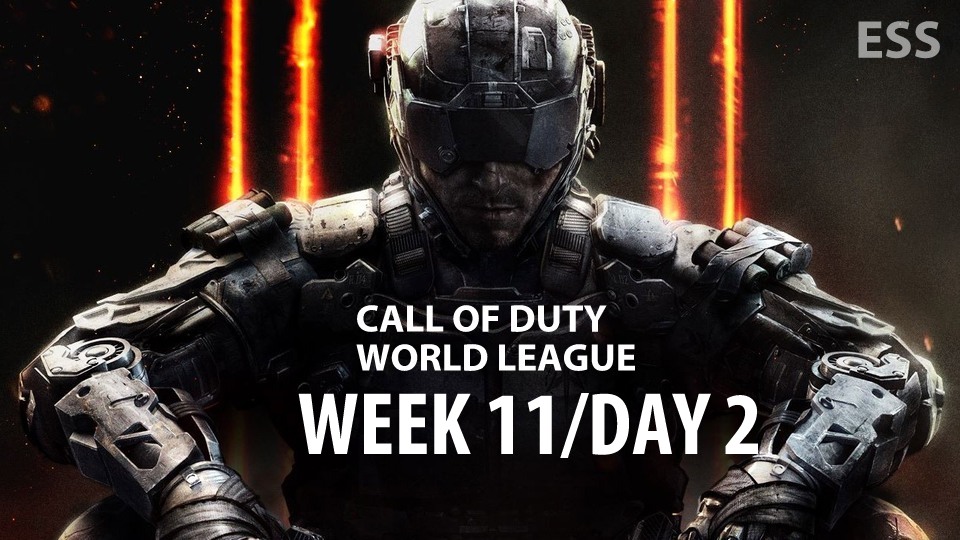 This is the last week of the first stage of the Call of Duty World League in North America.  We now know 8 of the teams that will be in the next stage of the League, and we also know the four teams that are facing relegation.  Tonight's matches will determine the seeding for the Stage 1 finals.
What We Learned
It's very much the end of the season, so weird things happen.
Like this:
…. @OpTic_DKarma#CODWorldLeaguehttps://t.co/L13053PUIM

— ESL Call of Duty (@ESLCoD) March 23, 2016
It's pretty clear that the guys on TSM and OG were just having a bit of fun for their final match.  After OpTic 100 point clubbed TSM on Hardpoint, it looked like the teams were content to just take it easy tonight.  OpTic went on to get their 20th win of the season.  Let's hope everyone gets serious again for Stage 1 Finals, since this loss means TSM will face number one seed OpTic Gaming in the first round.
Dream Team can get it done once they're relegated.  Maybe it's the lack of pressure.  Maybe it's the changing seasons.  Maybe it's the Bald Eagle.  Whatever Dream Team have been doing since they were relegated, they've been doing it well.  The team has won their last three matches and looked solid while doing so.  It stands to reason that if they can replicate this performance on LAN, we may see them back in the Call of Duty World League for Stage 2.
SCORES 
Counter Logic Gaming 1 – 3  Dream Team
compLexity Gaming 0 – 3 Rise Nation
OpTic Gaming 3 – 0 Team Solomid
Team Kaliber 3 – 1 Luminosity Gaming
H2K 0 – 3  Team EnVyUs
Team eLevate 1 – 3 FaZe Clan
STANDINGS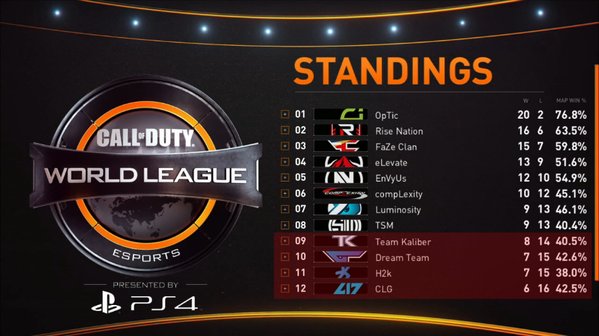 ---
PREVIEW
Top 8
OpTic Gaming
Rise Nation
FaZe Clan
eLevate
EnVyUs
compLexity
Luminosity
TSM
Relegation Teams
H2k
Team Kaliber
CLG
Dream Team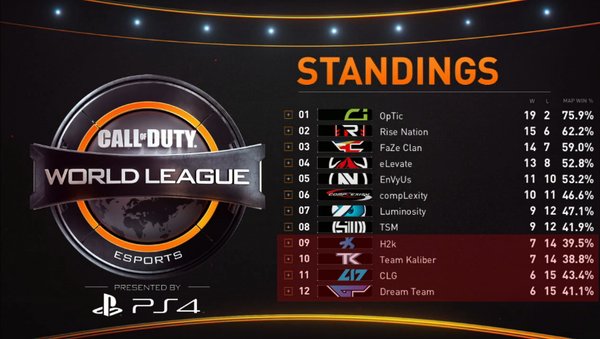 SCHEDULE
6pm EDT CLG v Dream Team
6pm EDT compLexity Gaming v Rise Nation
7:30pm EDT OpTic Gaming v Team Solomid
7:30pm EDT Team Kaliber v Luminosity Gaming
9pm EDT H2K v Team EnVyUs
10:30pm EDT Team eLevate v FaZe Clan