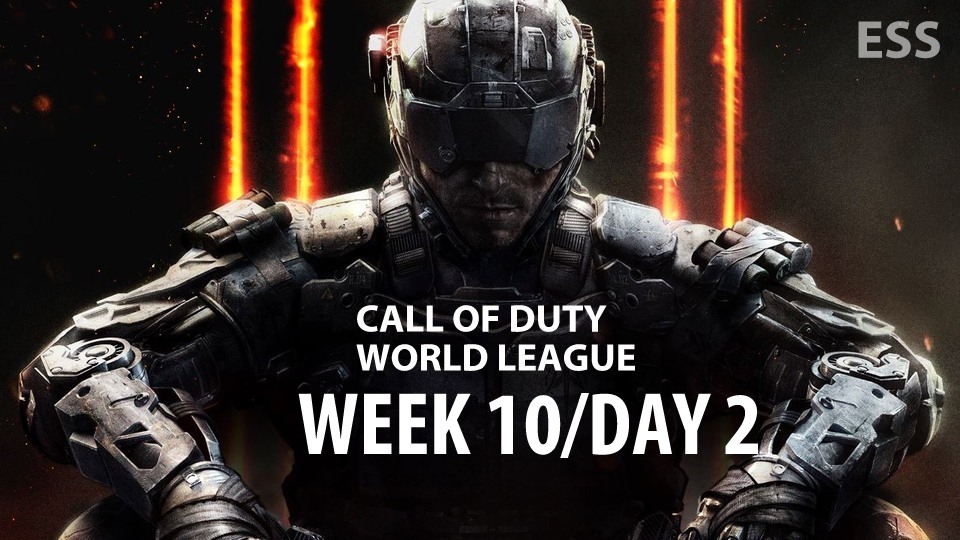 What We Learned
One man's loss is another's gain.
 A team within the relegation zone,
H2K
desperately needed a win tonight against
Rise Nation
– but it was not to be.  The team lost 0-3 to the
UMG South Carolina winning team
, and as a result,
compLexity Gaming
was able to cement their place as the 6th team that has qualified for the Stage 1 Finals.
The two teams who were just over the Relegation Zone line to start the week lost their matches.   TSM fell 3-0 to FaZe, and Luminosity lost a very close match to the relegated Dream Team.  This gives Team Kaliber and CLG a glimmer of hope to claw their way out of relegation if they win the remainder of their matches.
SCORES
Counter Logic Gaming 3-0 Team EnVyUs
Team SoloMid 0-3 FaZe Clan
Team eLevate 1-3 Team Kaliber
Dream Team 3-2 Luminosity Gaming
compLexity Gaming 2-3 OpTic Gaming
STANDINGS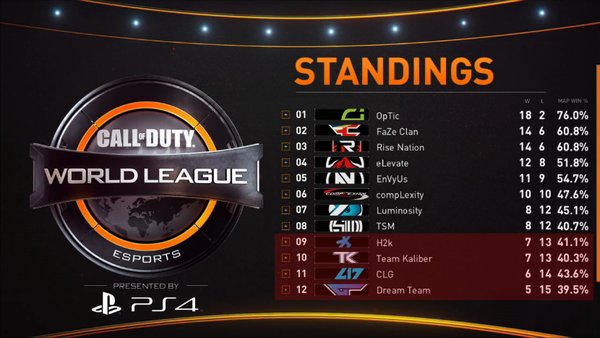 ---
PREVIEW
So far,
5 teams have qualified for the S1 Finals
(which is
open to spectators
) and one team has been relegated. Teams hovering just above the drop zone are pro league newcomers Luminosity and TeamSoloMid, who will want to beat the relegated Dream Team and second place FaZe respectively in order to make sure they stay up.
H2K, Team Kaliber, and CLG all have tough must-win matches tonight as well as they try to claw their way back into Finals contention.  If the teams remain in the relegation zone, they will have to earn their place back in the league for Stage 2 by playing in the relegation tournament against amateur teams.
STANDINGS (after Day 19)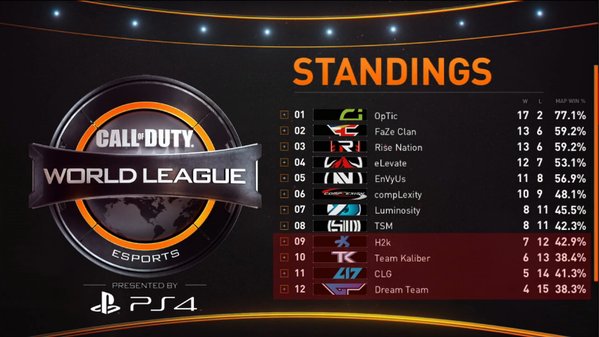 SCHEDULE
6:00 EST Counter Logic Gaming v Team EnVyUs
7:30PM EST Rise Nation v H2K
7:30PM EST Team SoloMid v FaZe Clan
9:00PM EST Team eLevate v Team Kaliber
9:00PM EST Dream Team v Luminosity Gaming
10:30PM EST compLexity Gaming v OpTic Gaming