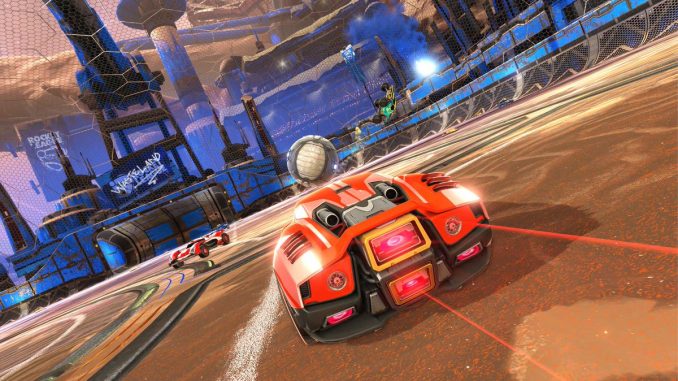 Universal Open Rocket League – FACEIT and NBC Sports Group's annual esports tournament – culminates this weekend at NBC Sports Group's International Broadcast Center in Stamford, Conn., as the top Rocket League players in the world compete in a 2v2 tournament for a $100,000 prize pool.
Coverage of the Universal Open Rocket League Grand Finals will stream live via Twitch and YouTube this Friday,
August 24th, through Sunday, beginning each day at noon ET. This marks the second consecutive season of Universal Open Rocket League, created by NBC Sports Group and industry-leading competitive gaming platform FACEIT, featuring Rocket League, the sports-action hit with a community of more than 49 million players developed and published by San Diego-based game studio, Psyonix.
The Universal Open Rocket League Grand Finals feature eight of the best Rocket League duos in the world – four European teams and four North American teams – that survived the gauntlet of qualifiers and regional finals to reach the Grand Finals. Three new duos will be representing Europe at the Grand Finals, with only Metsanauris and Mognus (Complexity) making a return appearance. The North American teams to qualify are highlighted by Jknaps and GarrettG (G2 Esports) and fan-favorites Squishymuffinz and Gimmick (Cloud9).
Following are the teams competing in the Universal Open Rocket League Grand Finals
North America – Cloud9 (Squishymuffinz and Gimmick), G2 Esports (JKnaps and GarrettG), Ghost (Lethamyr and Memory), and Selfless (Dappur and Mijo).

Europe – Double Trouble (RonakyRL and Tadpole), Complexity (Metsanauris and Mognus), Girls (Scrub Killa and gReazymeister), and Team Secret (Freakii and Killerno7).
NBCSN and NBC Sports Regional Networks will air 60-minute Grand Finals Preview and Grand Finals Highlights telecasts, and beginning with NBCSN's Grand Finals Preview program tonight at 7 p.m. ET, showcasing the teams' roads to the Grand Finals. Additionally, VOD highlights from the Grand Finals will live on the Universal Open YouTube Channel.
UNIVERSAL OPEN GRAND FINALS HIGHLIGHT TELECAST SCHEDULE

DATE

NETWORK

TIME (Local)

Thur., Aug. 30

NBC Sports Northwest

11 a.m.

SNY

6:30 p.m.

NBC Sports Philadelphia

7 p.m.

NBC Sports Chicago

11 p..m.

Fri., Aug. 31

NBC Sports California

2 a.m.

NBC Sports Washington

7 p.m.

Sat., Sept. 1

NBCSN

12 p.m.*

NBC Sports Boston

9 a.m.

NBC Sports Bay Area

8 p.m.
*ET
Veteran esports host and analyst Rachel "Seltzer" Quirico will anchor NBC Sports' Universal Open Rocket League coverage of the Grand Finals. She entered esports as a competitive gamer in 2006 and made the pivot to on-camera presenting in 2008, and has emceed numerous tournaments and international championships for StarCraft 2, League of Legends, Counter-Strike, and Overwatch.
Rocket League commentators Caleb "WavePunk" Simmons, Mike "Quinn Lobdell" Behrouzi, Joey "JorbyPls" Ahrens and James "JamesBot" Villar all return for the second consecutive season of Universal Open Rocket League to provide play-by-play and analysis for the Grand Finals. Larry Ridley (reporter) will provide player interviews.