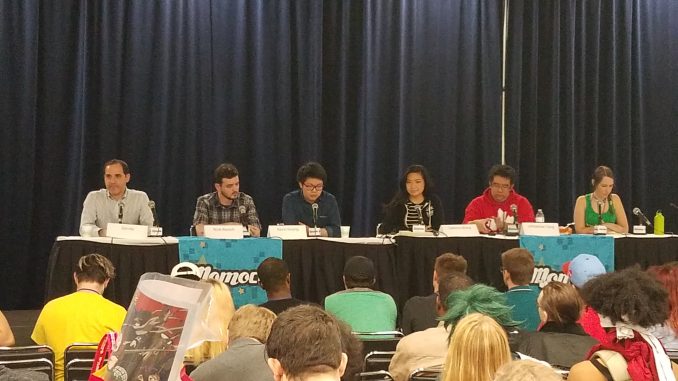 At MomoCon 2018, several esports industry members spoke at a panel entitled "Careers in Esports" and offered key advice and strategies for people seeking long-term work in this emerging field. Esports Source was at the panel and we have a list of things you can do today to jump-start your esports career.
Look for opportunities everywhere. Google your favorite companies and teams and find out what kind of openings they have on their staff. From there, look for ways you can apply your current skill-set to a job, any job, and then sell yourself with a solid portfolio and a persuasive cover letter. A long resume isn't needed for most esports jobs these days – it's about what problems you see that you can solve, or what's new that you can bring to a company or a team.
Kevin Hoang, a Partnerships Account Manager at Twitch said, "Take any job that's out there and do it. Do them all while you're young and you can figure out what you don't want to do."
Start small and start locally. Sabrina Wong currently works with the LA Valiant and Immortals, but she got her start in esports by organizing local tournaments while she was in college. She parlayed that experience into an internship at Blizzard, and then moved on to her current position working with esports players from around the world.
Any degree is the best degree for esports. What matters is what you actually *do* rather than what you studied other people doing while in school. Your degree doesn't have to hold you back!
"Don't look at what's being done. Look at what's not there yet", emphasized Mark "Garvey" Candella, the Director of Strategic Partnerships at Twitch. "Figure out how you can create something from nothing and put that in your cover letter. Show your story and show what you've actually done."
"There's no wasted time in this industry."-Garvey
Learn from every experience you have, whether it's volunteering for your local gaming convention or taking photos for a team at a tournament. Write down every experience you've had and keep track of it all in a journal or diary so that you don't forget it when it's time to apply for The Big Job. Sabrina Wong says, "Look up volunteer opportunities in your area. One or two hours a day will get you far."
"Your Network is your Net Worth"- Garvey
Market yourself to the right people using Targeted Networking. Before attending an event, figure out which industry people will be there and develop your 3 sentence "elevator pitch" about yourself. When you see someone you want to talk to, give them the pitch, and if they're interested they will continue the conversation with follow up questions. Know your value, be a good friend, have charisma – all of these things are necessary for forming a strong network in the esports industry. Hoang also recommended the book Never Eat Alone, which is available on Amazon.
Nick Ranish is the Director of Product and Partnerships at ELEAGUE but was a high level StarCraft player and commentator for years. He notes, "Pretty much every single game – you can play by yourself. You don't need a team. You can start on your own."
Esports is unique in that you can do most of the above on your own, today, without any special training or expensive degrees. Take the tips from the pros to heart and start your esports industry journey today.