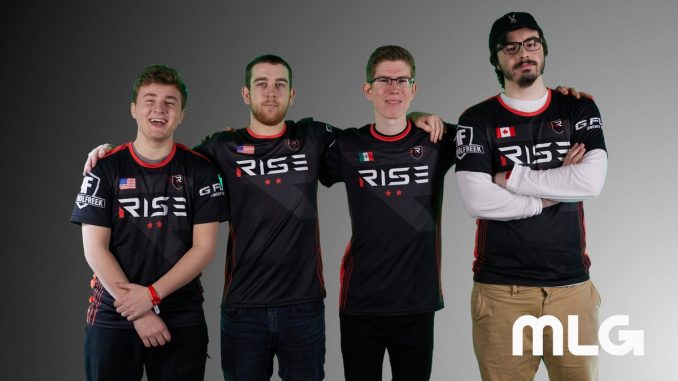 Final Top 8 Placements
| Place | Team | Cash |
| --- | --- | --- |
| 1st | Rise Nation | $80,000 |
| 2nd | Evil Geniuses | $48,000 |
| 3rd | eUnited | $32,000 |
| 4th | Echo Fox | $16,000 |
| 5th – 6th | Ghost Gaming, Team Kaliber | $8,000 |
| 7th – 8th | Red Reserve, Luminosity Gaming | $4,000 |
Looking for OpTic Gaming? You'll need to go a bit further down in the placements to find the current World Champions, who finished in 13th-16th place after being eliminated by Luminosity Gaming. Some of the players blamed each other on social media after their event, something rarely seen with a team that usually presents a pretty unified front. Is a team change in order after 3 years?
Other big name teams like FaZe Clan, Team EnVyUs, and compLexity also had relatively early exits this time around. A lot of new rosters were given a test drive at the Centurylink Field Event Center in Seattle over the weekend following a wild Rostermania period following Stage One of the 2018 Call of Duty World League.
One team to come out on top during the team switching is Evil Geniuses, who recently gained Assault and Silly to add to the Aches and Apathy combo. The changes paid off as the team made it to the Winners Final with relative ease, dismissing the likes of Team EnVyUs and Echo Fox along the way. This set up a battle between old teammates, as Silly faced a rejuvenated eUnited, and former teammate Clayster (eU) faced Aches (EG) for a trip to the Grand Final. Evil Geniuses won that match handily (3-0) as eUnited dropped down to the Loser's Bracket where they awaited the outcome of Rise Nation vs Echo Fox.
The combination of Slasher and Gunless on Rise Nation looked like a winning one as they dispatched EF with ease (3-1) to move on to the Loser's Bracket Final against eUnited. eU also made a recent change, taking in FeLoNy and dropping Silly. Rise looked the stronger of the two sides after a dominant Hardpoint performance, and eUnited seemed to fall apart during the Search and Destroy. Capture the Flag was eUnited's chance at a comeback, but it just wasn't in the cards – Rise took the map and gave eUnited the hot 3-0.
On to the Grand Final, as LB winners Rise Nation would have to take down Evil Geniuses in two matches to win the tournament. EG took the first HP 250-144 but despite going up 5-2 in the Search, EG fell to Rise 6-5. Rise continued to play well from behind, taking the CTF 2-1 in overtime despite EG carrying a lead for most of the map. Rise then went on force a second Best of 5 series by winning the Hardpoint 250-176.
In the second match, Rise came out hot, winning the HP 250-165 and the Search 6-1. Evil Geniuses looked thoroughly beaten by the time the CTF came around, and Rise won the map 7-0 and the series 3-1, 3-0, taking the CWL Seattle championship title.
Photo: Major League Gaming