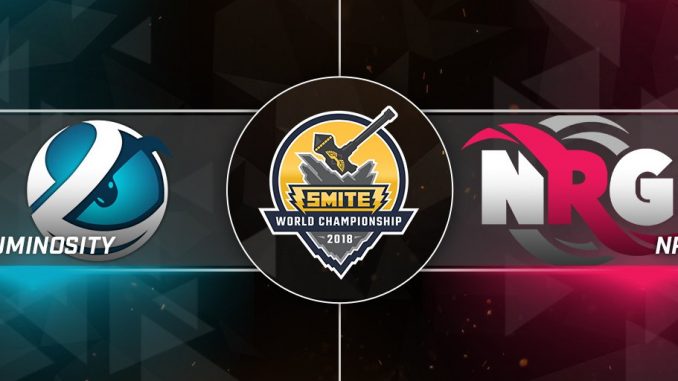 It's the knockout stages of the 2018 SMITE World Championship, and we're starting our live blogging adventure with a blockbuster of a match: fan favorites Luminosity against two time World Champions NRG Esports.
Will the champions go home early? Does North America have a chance in this competition? Strap in as I document the highs and lows from what is sure to be a memorable best-of-three games series.
You can join in the live blog action by tweeting to @esportssource with your comment.  It's your chance to be famous* on an esports blog, so take it while you can!
*the term "famous" is extremely subjective in this case.
Settling in now ahead of the big match! That was a breathless ending to that Rival match, and the second game was far closer than most people would have anticipated. Rival look tremendous, and their ability to adapt to nearly every situation quickly is what sets them apart from the other top teams here – thus the reason they're the top seed in the EU region.
As for this match – it's the big one of the day. Two teams with a core that has been intact for years, and two teams that are seen as favorites in their respective regions (North America and Europe): Luminosity and NRG.
The teams keep meeting up at SWC (this is the third time) but this time they are meeting in the quarterfinals rather than the semifinals – so one of these titans of the game will be heading home a big early after this short best of three series.