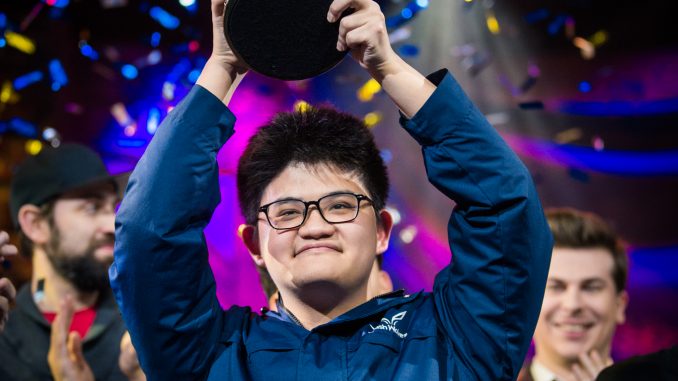 Chen "tom60229" Wei-Lin from Asia-Pacific is the 2017 Hearthstone Championship Tour (HCT) World Champion. tom60229 took out Frank "Fr0zen" Zhang in the Finals, 3-2, in a dramatic reverse sweep. Despite being put on the ropes early, tom60229's remarkable composure – and a massive 10/10 Edwin VanCleef, allowed him to claw back from a 0-2 deficit.
"It's been an honor to play against some of the best Hearthstone players in the world," said tom60229. "All the hard work I put in this year paid off – I feel I really deserved this win."
From January 18th to January 21st, sixteen professional players gathered at the iconic Beurs van Berlage in Amsterdam, Netherlands for the 2017 HCT World Championship.
With the title of World Champion and the lion's share of the tournament's $1 million prize pool up for grabs, the tournament was set up to showcase the most competitive and exciting Hearthstone matches of the year. The World Championship's competitors – the winners of each seasonal championship, and the Last Call qualifiers from every region – did not disappoint, delivering match after match of intense and cerebral action which drew more than 1,500 fans to attend live-in-person – and many more watching online – on the edge of their seats.
Tom60229 qualified for the World Championship through the HCT Asia-Pacific Last Call and made his way to the Quarter Finals through Group A, 2-1. He went 3-1 against Samuel "SamuelTsao" Tsao in the Quarter Finals, as well as Kim "Surrender" Jung Soo in the Semi-Finals, to earn a showdown with Fr0zen in the Finals.
Tom60229 will take home the grand prize of $250,000.
Place
Player(s)
Prizing (USD)
1st
Chen "tom60229" Wei-Lin (ASIA PACIFIC)
$250,000
2nd
Frank "Fr0zen" Zhang (AMERICAS)
$150,000
3rd – 4th
Kim "Surrender" Jung Soo (ASIA PACIFIC)

Jason "JasonZhou" Zhou (CHINA)

$100,000
5th – 8th
Thomas "Sintolol" Zimmer (EUROPE)

Samuel "SamuelTsao" Tsao (ASIA PACIFIC)

Julien "DocPwn" Bachand-Fleurent (AMERICAS)

Aleksei "ShtanUdachi" Barsukov (EUROPE)

$50,000
8th – 16th
Frederik "Hoej" Høj Nielsen (EUROPE)

Oleksandr "Kolento" Malsh (EUROPE)

Yevhenii "Neirea" Shumilin (EUROPE)

Anthony "Ant" Trevino (AMERICAS)

Zheng "OmegaZero" Lin (CHINA)

Jon "Orange" Westburg (EUROPE)

Ryan "Purple" Murphy-Root (AMERICAS)

Muzahidul "Muzzy" Islam (AMERICAS)

$25,000
The HCT will continue in 2018 with online and offline Tour Stops in major cities around the world, a new Challengers Program and seasonal championship events culminating in a World Championship in early 2019.
cTo learn more, please visit: https://playhearthstone.com/en-gb/blog/
Photo courtesy of Helena Kristiansson / Blizzard Entertainment