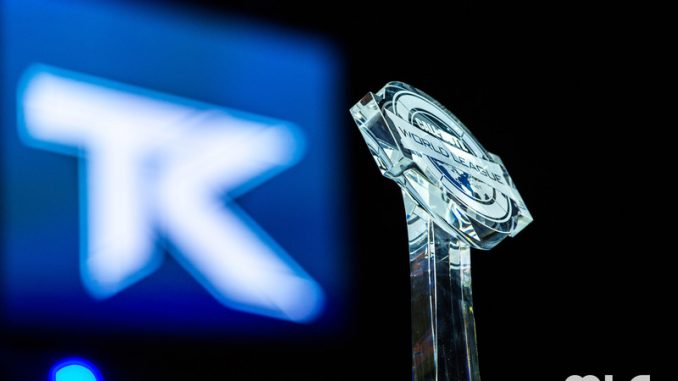 It was a wild weekend in New Orleans as the world's best Call of Duty: World War II teams duked it out for supremacy at the latest LAN championship run by Activision and MLG. Despite Team Kaliber's convincing win at the CWL Dallas Open in December, there were still several other teams that could feasibly make a run for the CWL New Orleans Open title.  In the end, it all came down to two teams who have been in the Call of Duty scene for years: Team Kaliber and Luminosity Gaming.
tK didn't even need to play all day; they breezed through pool play and the Winner's Bracket, taking out Rise Nation, EUnited, and Luminosity along the way before meeting LG again in the Grand Final. After dropping the first map, a now warmed-up Team Kaliber came alive on Search and Destroy winning 6 – 1 to even up the match. The team stumbled on the next two maps, losing the first match 3 – 1.  All hope was not lost, as Luminosity had to win a second best of 5 match to take the title. After winning the first map, the team traded maps with Luminosity to decide the entire tournament on a single game mode: Search and Destroy. In the end, tK managed to hold on for the 6 – 3 win, and take the title match 3 – 2.
Congratulations @TeamKaliber, your back-to-back #CWLPS4 Champions!

Watch the post show LIVE now on https://t.co/pUVEvOiNYf#CWLNOLA
https://t.co/HXkfgqS8Kj

— MLG (@MLG) January 15, 2018
Meanwhile, the players on the third place Rise Nation still have plenty to cheer about – this showing is the best for the organization since a 4th place finish at the World Championships, and the first big wins for a team that really came together in late December 2017.
Other stories from the weekend:
The Mystery of Red's Reserves
What have Red Reserve been keeping back this whole time? This top four finish is a far cry from the tepid performance that earned this squad a 9th-12th placing at CWL Dallas in December. That showing was the team's first since making a massive roster change that swapped out Urban, and Seany for the current lineup of Joee, Rated, Zer0, and Joshh.
The winning reaction as @RedReserve eliminates @OpTicGaming from #CWLNola in 9th/12th position. pic.twitter.com/DHsh5ctkmU

— Dexerto Call of Duty (@DexertoIntel) January 14, 2018

Video courtesy of Dexerto.com.
The team bounced OpTic Gaming from the tournament and then went on to dismiss FaZe with a dominant 3 – 0. Red's run finally came to an end when confronted with the resurgent Rise Nation, and they took fourth place with that 2 – 3 loss. New Orleans is the best placing for the organization since June of 2017 at the Sheffield Open. Red were also the only EU team in contention for much of Championship Sunday, as compatriots Splyce crashed out of the tournament early on.
OpTic Gaming can still look menacing, but the guard dogs of the top of the game have lost both their bark and their bite. Other teams aren't scared of OpTic and the Greenwall anymore – and it shows, as a rejuvenated Echo Fox dropped OpTic to the Loser's Bracket and breakout EU team Red Reserve bounced them from the tournament with a 1 – 3 loss.
The 9th – 12th place finish is OpTic's worst at a LAN since their 12th place finish at UMG Philadelphia in 2014. To win, OpTic need to win mind games again because in terms of playing skill and presence – other teams have caught up to the 2017 World Champions' level.
JKap's Consistency
One of the few remaining "old" pro players from that first generation of squads that played in hotel ballrooms using tv screens (2008), Jordan "JKap" Kaplan has been on top teams throughout his entire career without fail, and his current Luminosity squad looks tough.
Is this the team to bring Kap his third Call of Duty Championship ring? It's very early to tell that sort of thing, but the roster of Samuel "Octane" Larew, Johnathan "J0hn" Perez, JKap, and Josiah "Slacked" Berry is stacked with winning players, and one would be hard pressed to find replacement teammates in any position at this point.
Place
Pro Points
Prize
 Teams
1st
25,000
$80,000
 Team Kaliber
2nd
15,000
$48,000
 Luminosity Gaming
3rd
11,000
$32,000
 Rise Nation
4th
9,000
$16,000
 Red Reserve
5th – 6th
8,000
$8,000
 eUnited
 Echo Fox
7th – 8th
7,000
$4,000
 Evil Geniuses
 FaZe Clan
Featured photo courtesy of MLG.