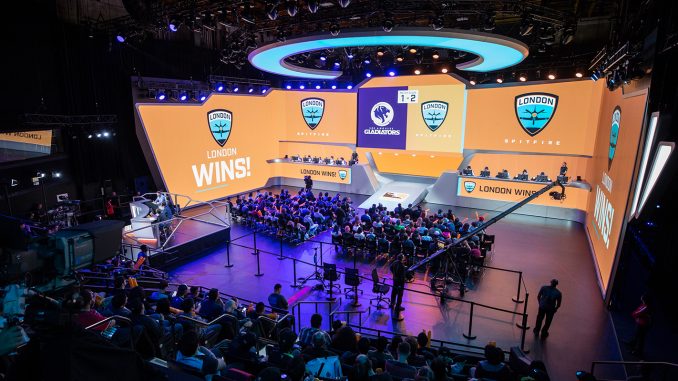 Overwatch League Teams Up With Twitch
Today the Overwatch League™ and social video service Twitch announced a media-rights partnership. The match between Los Angeles and San Francisco in the Overwatch League's inaugural season will be shown live on Twitch this Wednesday, January 10, on Twitch.tv/overwatchleague.
The two-year deal encompasses the entirety of the league's first two seasons. With the exception of China, Twitch will be the exclusive worldwide third-party digital provider for Overwatch League regular-season, playoffs, and championship matches, with streams in English, Korean, and French.
"Our fans love to engage with content on Twitch, and we wanted to drive significant viewership of the Overwatch League in its inaugural season and beyond," said Armin Zerza, COO of Blizzard Entertainment. "That's why this historic and ground-breaking partnership is perfectly suited for Activision Blizzard, for Twitch, and—most importantly—for our growing global fanbase."
"The Overwatch League is making a major impact on esports by reshaping the industry with city-based teams," said Kevin Lin, COO of Twitch. "Given Overwatch's consistent reign as a top-viewed game by our community, we look forward to offering their pioneering style of league play to a large and passionate fanbase that will be able to bond over not only their favorite plays, but hometown pride."
The first season of the Overwatch League will run until June, with playoffs and finals scheduled for July. For the inaugural season, all games will take place at Blizzard Arena Los Angeles, a live-event venue in Burbank, California, custom-renovated for Blizzard Entertainment esports events. Fans can purchase tickets to attend matches, which will be played each Wednesday, Thursday, Friday, and Saturday.
A full schedule and information about ticket sales can be found at OverwatchLeague.com, and all matches can be viewed live at Twitch.tv/overwatchleague.
Featured photo courtesy of Blizzard Entertainment
---
ELEAGUE Major: Boston
Today ELEAGUE announced the first matches and casters for its second Counter-Strike: Global Offensive Major Championship, The ELEAGUE Major: Boston. The $1 million showdown will begin with The New Challengers stage, Friday, January 12, at 10 a.m. ET with live Twitch coverage from ELEAGUE Arena in Atlanta.
The New Challengers stage will feature 16 teams including the bottom eight finishers from the previous Major against the Minor Champions and Runners Up, split into four pools: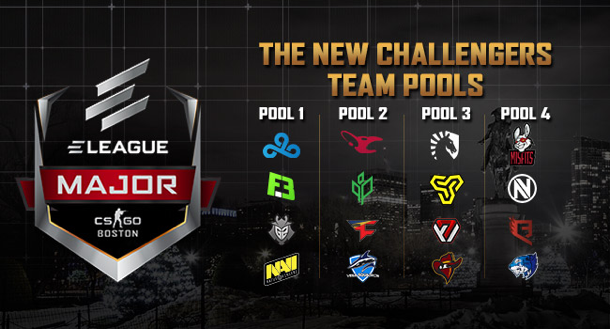 In the first round, each team from Pool One will play a best-of-one game against a randomly drawn team from Pool Four, while each team from Pool Two will play a best-of-one match against a randomly drawn team from Pool Three. In subsequent rounds, teams will be re-grouped based on their win-loss records, and will face a new opponent with the same record. Matches will continue in this format until each team either earns three wins and advances to the The New Legends stage, or loses three times and is eliminated.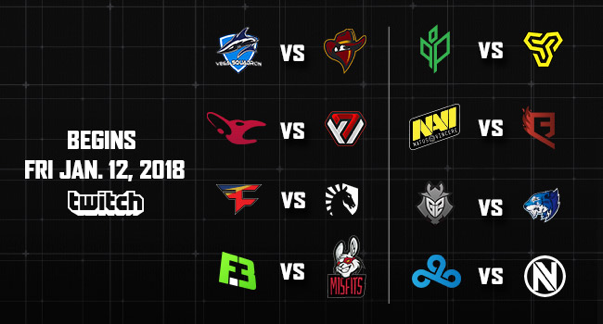 Graphics courtesy of ELEAGUE