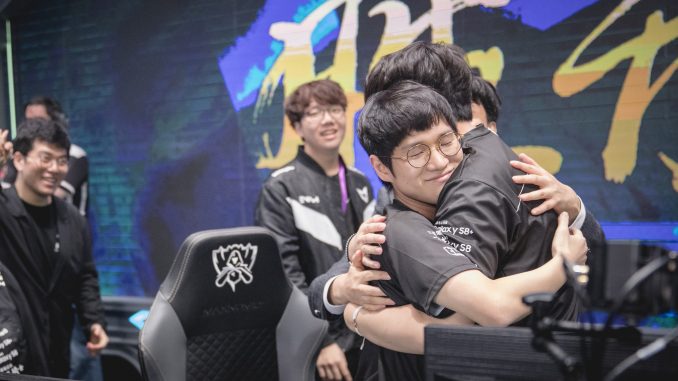 The 2017 League of Legends World Championship surprises continued Thursday as 2016 Worlds Runner-Up Samsung Galaxy dominated the defending LCK-champions and tournament favorite Longzhu Gaming in a 3-0 sweep, leaving viewers shocked and pick 'ems in ruin. Few favored SSG in this best-of-5 match due to SSG's weakness in during group play, but their superior teamwork, as well as targeted Jayce bans at LZ top-laner Kim "Khan" Dong-ha, limited LZ in an unprecedented fashion.
Game 1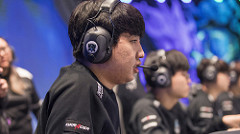 Top-lane was the focus for both teams and analysts to start the match. Khan's stellar Jayce play in the LCK finals was considered the main reason LZ entered Worlds as the #1 seed from Korea, and LZ aimed to win the game through him. LZ opted for the off-meta hypercarry pick of Jax for Khan, while SSG aimed to shut Khan down through their own unconventional top-lane Kennen pick. The two teams stayed neck-and-neck for most of the game, with neither able to earn more than a 2k gold lead. But SSG's Baron Nashor instincts kept them a step ahead of LZ – Samsung captured not one, but two uncontested Baron Nashors, allowing SSG to siege down inhibitors in all three lanes. With massive waves of super-minions charging into the LZ base, SSG took down the LZ nexus 44-minutes in to start the series 1-0.
Game 2
SSG has mastered a style of conservative play over the past two years, rarely risking any action early and instead hoping to win in the mid and late-game. This would not be the case in Game 2! SSG aggressively collapsed to outnumber LZ in the mid and bot-lane early, earning a 2k gold lead and a 4-1 kill lead. SSG mid-laner Lee "Crown" Min-ho seized control of the game with masterful Taliyah walls, leaving the LZ roster split to isolate hapless LZ carries.
.@Longzhu_ get the Dragon, but Samsung Galaxy answer with an ace and a Quadra Kill for Crown! #Worlds2017 pic.twitter.com/hjUGHU3dlt

— lolesports (@lolesports) October 19, 2017

SSG held all the cards, securing another uncontested Baron Nashor and flooding the LZ base with empowered minions. SSG stormed onto the nexus at the 29-minute mark and move to 2-0 in the series.
Game 3
Both teams were cautious early: SSG because the style is comfortable, LZ because of the stakes at hand.  But LZ jungler Moon "Cuzz" Woo-chan reached a little too far in the hopes of finding an advantage in the jungle and was caught by several SSG members for first blood. It was a single death, but the domino had fallen – SSG piled on kill after kill on misplaced LZ members and the gold lead ballooned out of control. LZ attempted a last ditch teamfight with their Worlds dreams alive, but SSG was ready to clean up the match.
The final teamfight in Samsung Galaxy's 3-0 Quarterfinal win against @Longzhu_! #Worlds2017 pic.twitter.com/hv8MnLbVvL

— lolesports (@lolesports) October 19, 2017

SSG closed out the 34-minute game to sweep the series 3-0 and advance as the first team to semi-finals.
It's a disappointing end for the promising LZ roster, particularly the bot-lane duo of Kim "Pray" Jong-in and Kang "GorillA" Beom-hyeon, who failed to meet the high expectations that follow LCK champions for the second year in a row. The rest of the roster is young and there is room for growth…but it's hard to see this as anything but a missed opportunity.
The quarterfinals continue Friday, October 20th at 1:00am (PT) as defending World Champions face off against Misfits Gaming.
Photos Courtesy of Riot Games