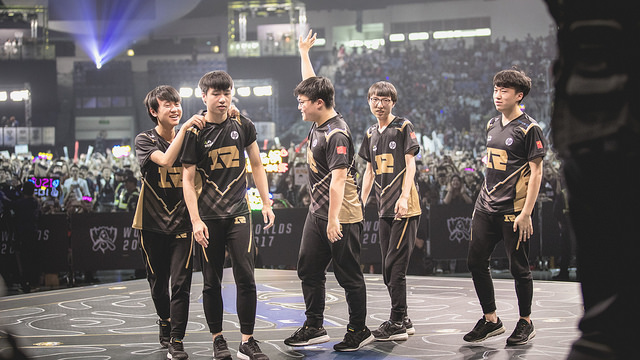 A new contender has arrived as Royal Never Give Up defeated Fnatic 3-1 in the quarterfinals of the 2017 World Championship on Saturday.
Fnatic showed an incredible level of determination to mount a comeback in game 3, but the ability of Chinese hero Jian "Uzi" Zi Hao to outplay aggressive opponents proved to be too much for the last European in the tournament. After RNG's decisive victory, many analysts have begun to favor them as the #1 contender for this year's World Championship.
Game One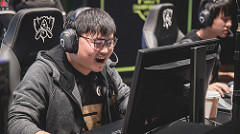 Fnatic abused the flat-footedness of the Soraka support pick to repeatedly punish RNG's duo in the bottom lane and start with an early 3-1 kill lead. RNG displayed strong mid-game instincts, narrowly winning teamfights in the middle lane that allowed them to take a Baron Nashor at the 25-minute mark.  Fnatic saw an opportunity to pick on the low-health RNG members in the Baron pit before Uzi put on the dancing shoes to evade the aggressive moves to leave four Fnatic members with the gray screen of death.
RNG won small skirmishes to secure 33-minute and 40-minute Baron Nashors and Fnatic was stuck defending against empowered minion pressure. The relentless pushing and incredible mechanics of Uzi proved too much for Fnatic, and RNG ended the 43-minute game to start the day with a win.
Game Two
Fnatic typically depends on the playmaking of EU all-star Martin "Rekkles" Larsson, and this faith was put on display by drafting him the unconventional hyper carry Vayne. His lane-opponent Uzi seemed particularly unphased.
Player cam:

How Uzi reacted to @RekklesLoL's Vayne pick pic.twitter.com/CQ4B68sewx

— lolesports (@lolesports) October 21, 2017

An early-gank by Fnatic jungler Mads "Broxah" Brock-Pedersen allowed Rekkles to capture First Blood, but Uzi used the turret-destroying talents of Tristana to capture the first turret and applied pressure to Fnatic around the map.
Unfortunately for RNG, some of their reckless habits were recognized and Fnatic won a series of mid-game team fights to take a 4k gold lead and a 26-minute Baron Nashor. Comfortably in the driver's seat, Fnatic captured objectives all over the map before going for a seemingly safe 33-minute Baron Nashor attempt. RNG jungler Liu "MLXG" Shi Yu made a spectacular play to steal the Baron and flip the game on its head!
Mlxg pulls off the clutch Baron Steal for RNG! #Worlds2017 pic.twitter.com/uuXFgn3FKc

— lolesports (@lolesports) October 21, 2017

Fnatic responded by capturing an Elder Dragon and limited RNG to a single turret destroyed during the Baron power play. Both teams slowed the pace of the game down until RNG decided on a decisive 41-minute Baron attempt that Fnatic was in no position to contest.
Fnatic struggled to face the waves empowered minions and could never get a hold of the nimble Uzi during sieges. RNG aggressively stormed the nexus to end the 44-minute game and move up 2-0 in the series.
Game Three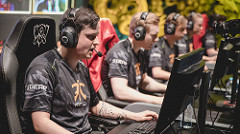 The two teams skirmished often in the early game, but neither could find a sizeable lead or distinct turret advantage. RNG built a team composition that revolved around Uzi becoming a monstrous Kog'maw in the later stages of the game, and Uzi reached a spike in power 20-minutes in to begin winning skirmishes and earn a 3k gold lead.
RNG parlayed this lead into a 25-minute Baron Nashor, and Uzi absolutely steamrolled two Fnatic members in the middle lane to leave the base exposed. A crucial flank by Paul "sOAZ" Boyer caught a surprised Uzi to save the game, and Fnatic began to show life.
RNG flattened four Fnatic members after yet another masterful teamfight, but Fnatic had already strategically managed minion waves to keep the pressure on RNG in every lane and RNG could not capture any objectives as a result. Fnatic surprised RNG with a 35-minute Baron Nashor, allowing Fnatic to split multiple lanes and pull the RNG squad apart. The confusion left the RNG backline exposed to a late-game Rekkles who obliterated Uzi and opened the door into the RNG base. Fnatic dismantled two inhibitors as well as an Elder Dragon before securing a 44-minute Baron Nashor. Fnatic flooded the RNG based with baron-empowered minions, but RNG members held off the first Fnatic attempt to destroy RNG's nexus.
SO CLOSE! Royal Never Give Up manage to defend their base! #Worlds2017 pic.twitter.com/C3oFYhf8n6

— lolesports (@lolesports) October 21, 2017
After a second failed attempt to take down the nexus, Fnatic attempted a 52-minute Baron in the hopes it would be enough for the final push into RNG's base. But MLXG returned to the scene of the crime, stealing yet another Baron Nashor in the face of Fnatic!
MLXG DOES IT AGAIN! #Worlds2017 pic.twitter.com/HlOT0yf1EA

— lolesports (@lolesports) October 21, 2017
But while RNG had Baron-empowered minions defending the nexus, they were missing the crucial two turrets required to keep Fnatic at bay. After surprising MLXG for a kill, Fnatic rushed at the indefensible nexus to narrowly win the game and push the series to a game 4!
WHAT A GAME! @FNATIC take down RNG's Nexus! #Worlds2017 pic.twitter.com/BU52QewDEL

— lolesports (@lolesports) October 21, 2017
Game Four
After finally finding a win, Fnatic looked rejuvenated and engaged around the map to start the game, taking a 4-1 kill lead in addition to the first turret. RNG stayed confident, combining key abilities of Shen and Corki for a long-range engage onto Fnatic to narrow Fnatic's lead down to 5-4.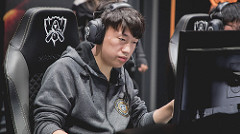 The game slowed to a crawl as both teams struggled to apply pressure in any lane. Fnatic eventually captured a risky Baron Nashor, but only lost one member in the process. RNG responded with an Elder Dragon of their own, and it appeared both teams were tired of stalling. A massive teamfight erupted in the Fnatic jungle. Fnatic appeared unkillable at first, but their composition lacked the carries required to take advantage of their favorable positioning. RNG mid-laner Li "Xiaohu" Yuan Hao pumped out endless amounts of damage on the Fnatic squad, and the aggressive Uzi flashed forward onto low health Fnatic members to finish them off. With only a support left to defend the Fnatic nexus, RNG swarmed to the Fnatic nexus to end the 40-minute game and take the series 3-1.
Fnatic Fall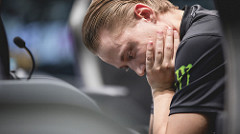 It has been a roller-coaster of a tournament for the resilient Fnatic. They were forced to enter the tournament through the Play-In Stage, where their struggles against minor regions raised doubt about the team's competitiveness. After an 0-3 start to the Group Stage, rumors and social media posts seemed to suggest some turmoil behind-the-scenes.
After a brilliant second week that included two tie-breaker matches allowed them to advance to the Quarterfinals Fnatic was seemingly resurrected. This quarterfinals series against the highly-favored RNG squad reminded fans why the Fnatic brand has been such a mainstay in the esports community, and while they leave disappointed, they exit having proved many doubters wrong. While esports may lose a legend if the veteran Rekkles decides to retire, only time will tell what his future holds.
#Legend pic.twitter.com/lw6mvX7i2D

— lolesports (@lolesports) October 21, 2017
RNG is displaying a level of strategy that few expected, and with the exit of LCK Champion Longzhu Gaming, RNG has become arguably the strongest contender for the World Championship. The AD Carry meta favors the elite mechanics of star-carry Uzi, and this may be the year that he breaks the "2nd place curse." More importantly, Xiaohu and MLXG have been playmakers in several of the team's wins during this tournament, meaning RNG has several paths to victory no matter the opponent. If this team can unseat defending champion SK Telecom T1 in the semi-finals next Saturday, it becomes hard to imagine them going home without a Summoner's Cup.
The final day of the quarterfinals takes place Sunday, October 22nd at 1:00am (PT) as North America's last hope Cloud9 faces off against Chinese powerhouse Team WE.
Photos courtesy of Riot Games.