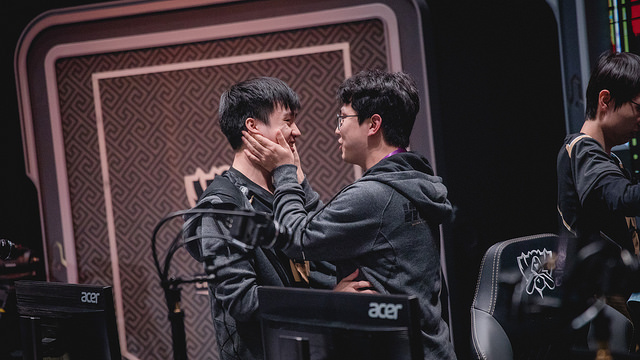 Two more teams have joined the 2017 League of Legends World Championship Knockout Stage as Royal Never Give Up and Samsung Galaxy advanced as the two seeds from Group C on Friday.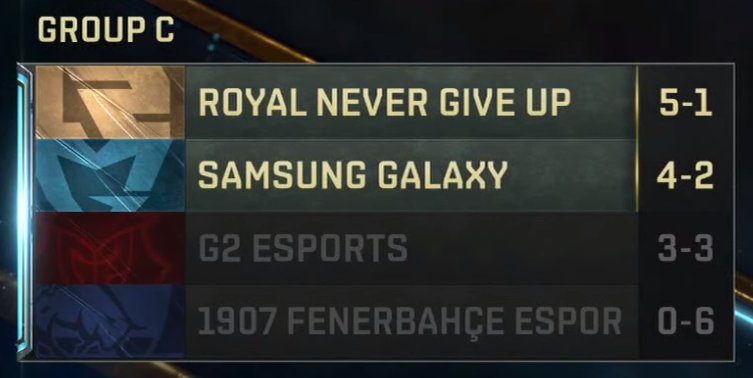 The day began with an impressive win by G2 Esports over the then undefeated RNG, leaving EU fans hopeful that G2 could replicate the Fnatic's upset from the previous day.  But while SSG had shown weakness during week 1, they quickly followed up with two wins over 1907 Fenerbahce Espor and G2 and dashed any chance of G2 or Fenerbahce exit.  G2's Luka "PerkZ" Perkovic's won over the crowd with exciting performances on Ryze and Yasuo, but his efforts were not enough to save the G2 squad.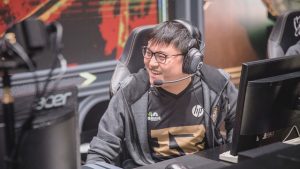 With the two seeds set, the last game of the day would decide the crucial #1 seed for Group C.  RNG put on a masterful display, surprising analysts once again by dismantling SSG in 32-minutes and sweeping the series with the Korean powerhouse.  Hometown hero Jian "Uzi" Zi-Hao continued to add to his Worlds reputation, padding his stats with a 4/0/4 statline that allowed his team to exit groups with the crucial #1 seed.
This RNG win will have massive implications for the remainder of the tournament.  Group C disrupted the trend of a Korean #1 seed, and while there are two groups yet to be decided, SSG will likely be much stronger than the other three #2 seeds in the knockout stage.  In other words, earning a #1 seed is now slightly less desirable than it was a day ago.
Unfortunately for G2, the future is unclear at this point.  Several reports have suggested that G2 Esports is attempting to enter the North American League Championship Series, and PerkZ himself tweeted that the team is unlikely to stick together.

Only time will tell what awaits the European squad.
The 2017 World Championship Group Stage resumes Friday, October 13th at 9:00pm (PT) where Group D teams will battle to break the current three-way tie for first place.
Photos courtesy of Riot Games.