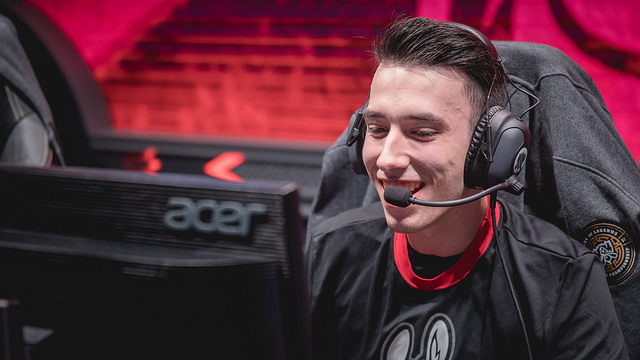 The 2017 League of Legends World Championship Group Stage continued Sunday as teams aimed to end the first week on a high note.
Here are the standings after week 1: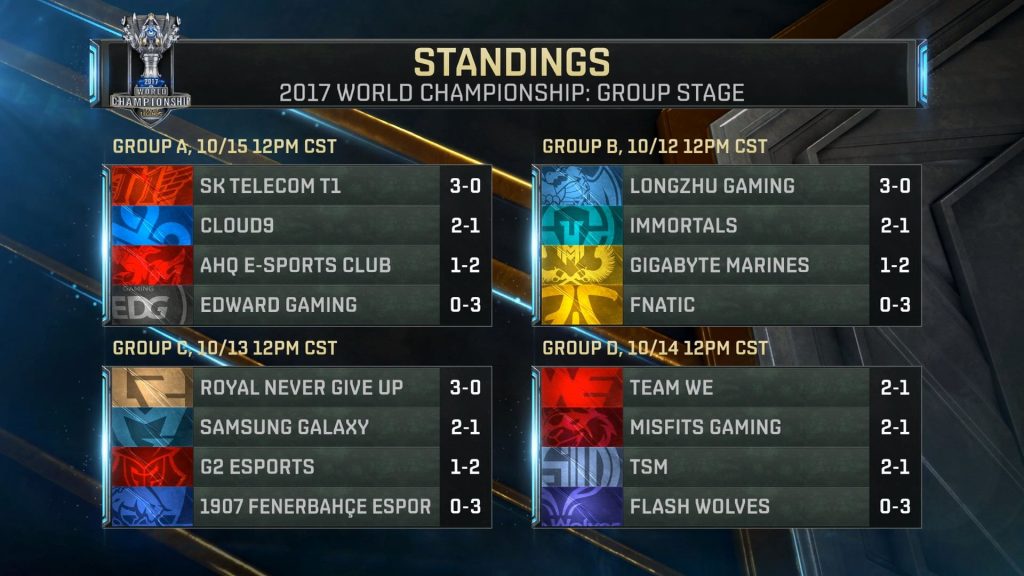 Team WE bounced back on Sunday to leave the stunned Flash Wolves 0-3 and looking up at the rest of their group.  Immortals cleaned up against a surprisingly predictable GIGABYTE Marines, and Longzhu Gaming clobbered the out-matched Fnatic squad in a perfect 20-minute steamroll that left the winless Fnatic kill-less as well.  Samsung Galaxy looked lost without in-game leader Kang "Ambition" Chan-yong but outlasted 1907 Fenerbahce Espor in a 47-minute nailbiter.  Royal Never Give Up ended the day with a decisive win over G2 Esports and is the only non-Korean team to start 3-0.
Misfits Gaming entered the tournament with a reputation as the best early-game team in EU, and their upset win versus Team SoloMid highlighted why.  The MSF squad masterfully coordinated early roams to dive hapless TSM members and MSF produced 4-0 kill lead within the first 8-minutes of the game.
.@Maxlorelol & @PowerOfEvilLoL with another roam bot and it's 4-0 in kills for @MisfitsGG! #Worlds2017 pic.twitter.com/8zMEJbu42J

— lolesports (@lolesports) October 8, 2017
MSF expanded upon this lead by applying heavy pressure to TSM's turrets, forcing TSM into desperate Baron Nashor calls in an attempt to keep the game close.  MSF punished TSM during one of these risky Baron attempts, leaving three TSM members dead and their nexus exposed.  MSF destroyed the TSM nexus after 45-minutes to earn a three-way tie in Group D for first place and keep Europe's Worlds hopes alive.
Week 2 of the 2017 World Championship will feature a slightly different schedule for the coming week.  Games will start 3 hours earlier and each day will feature only one group, with each team from a group playing two games.  As a result, each day will also decide which teams will advance to the Knockout Stage from a single group.
The action recommences Wednesday, October 11th at 9:00pm (PT) when the final standings of Group B will be decided.
Photos courtesy of Riot Games.