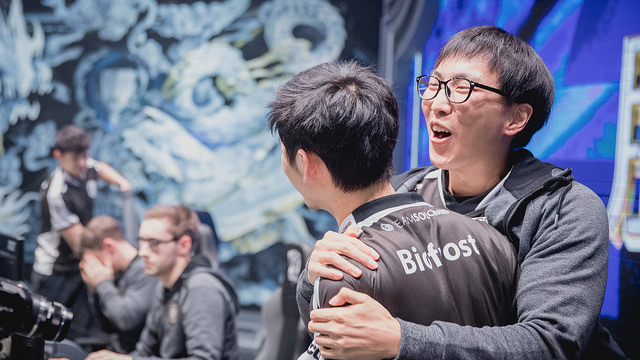 The 2017 League of Legends World Championship Group Stage resumed on Friday, with fans getting their first look at the teams in the highly competitive Group D.
Here are the standings after Day 2: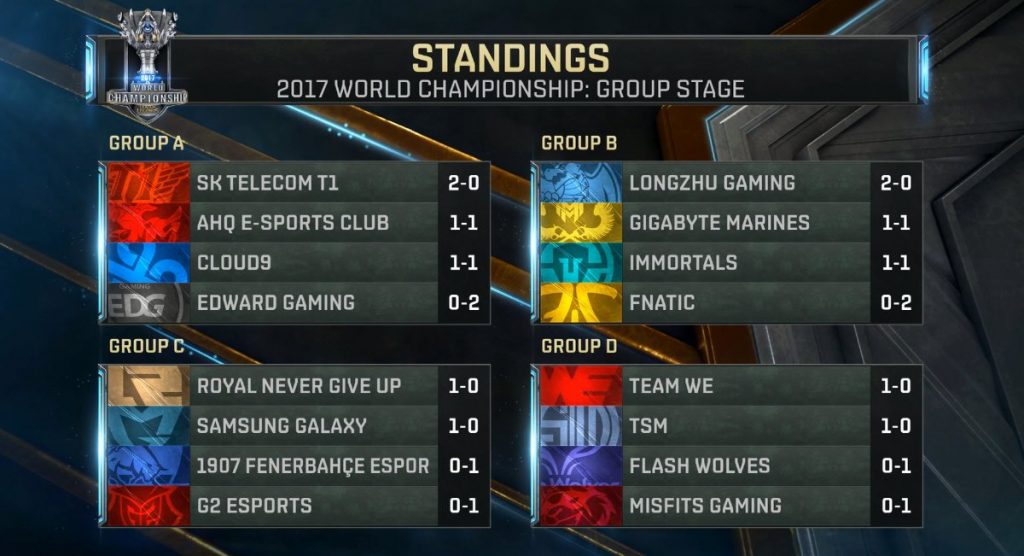 North American fans who stayed up late were rewarded with a 3-0 performance by their favorite teams.  Team SoloMid began the day with a 54-minute win over Flash Wolves after a nail-biting base race to end the game.  Immortals produced a second round of heart problems for NA fans before a rare mistake by Fnatic star Martin "Rekkles" Larsson led to a narrow IMT win.  Europe's troubles continued as Chinese #3 seed Team WE dismantled Misfits Gaming in 27-minutes before Cloud9 rounded out the NA rout with a dominating 32-minute win over Ahq E-Sports Club. 
Korea stayed undefeated in the tournament with two more victories, starting with Longzhu Gaming steamrolling the GIGABYTE Marines.  LZ flattened the formerly-unpredictable GAM squad in 24-minutes by anticipating a return to the lane-swap strategy that GAM had used on day one.  However, Korean-favorite SK Telecom T1's victory over hometown-heroes EDward Gaming was anything but predictable.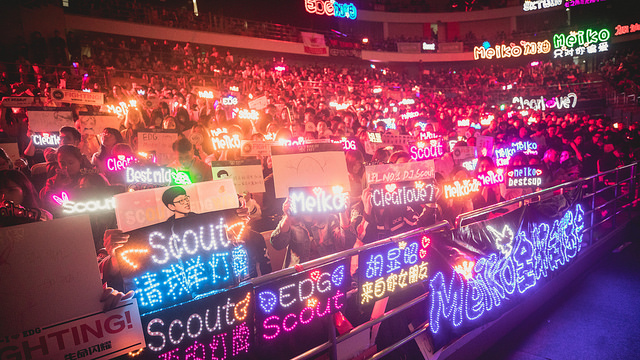 EDG's Ming "ClearLove" Kai had previously expressed his excitement at playing in his hometown, and the entire EDG squad reflected this to start the game.  They punished the defending world champions non-stop to start the game, earning a 10k gold lead, two dragons, and an inhibitor within 25-minutes – before SKT had failed to find even a single kill.  But as their three World Championships show, SKT is truly a team that can never be counted out.
The SKT WOMBO COMBO! #Worlds2017 pic.twitter.com/PmdFqgk98v

— lolesports (@lolesports) October 6, 2017

SKT surprised the EDG squad with four kills in the middle-lane, and the momentum was flipped.  The teams would trade both objectives and kills for another fifteen minutes, but fans and analysts alike knew how this story would end.  SKT finished the 44-minute game and secured one of the greatest comebacks in League of Legends history, adding another highlight to an already massive volume of World Championship feats.
You can catch the next day of Worlds action on Friday, October 5th at 12:00pm (PT), continuing into Saturday morning with a battle between Team WE and Team SoloMid for sole possession of first place in Group D.
Photos courtesy of Riot Games.