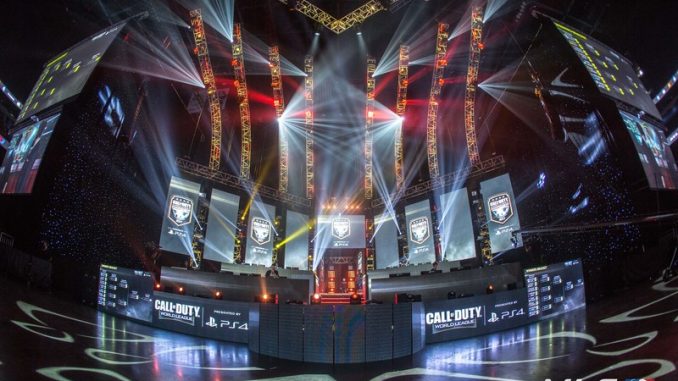 Before you can play the game you need to have a roster – or at least that's the assumed thinking behind the litany of team changes happening in the Call of Duty esports community. The private beta for Call of Duty: WWII ended just last weekend, but players have already begun hunting for new teams, beginning what may be one of the wildest series of pre-season roster swaps the community has seen in years.
The return to "boots on the ground" Call of Duty has already energized some parts of the community and leading a number of older players to announce their free agency, giving themselves another chance at glory with a more "traditional" Call of Duty game. On the flip side, some players who found considerable success during the "jetpack" era of Call of Duty are suddenly finding themselves out in the cold as the new game requires different movement and appears to rely more on communication and strategy than previous titles.
Despite the changes to gameplay, one would think professional teams would want to try out the game with their current teams first – especially if you're on a team that was just one match away from winning their second consecutive World Championship – but teams like EnVyUs still went their separate ways.  The resulting drops, pickups, swaps, and buyouts will undoubtedly have a major impact on the teams in the months leading up to the start of the new competitive Call of Duty season.
Teams choosing to stay together may have an edge on these new teams, something OpTic Gaming's three-time World Champion Damon 'Karma' Barlow says he counting on:
Team EnVyUs Finally Breaks Up
After winning a World Championship ring in 2016, the boys in blue never looked the same again, posting sub-par results throughout the 2017 season, even achieving the lowest placement in organization history at CWL Anaheim. Discord between teammates lead to public criticism on Twitter, and the team looked in disarray for most of the season until the week of the Call of Duty Championship.
For a few glorious days, Apathy, Slasher, JKap, and John looked like the world beaters of old, and they cruised into the final where they were stopped dead in their tracks by a determined OpTic Gaming team. The devastating defeat was the nail in the coffin for this team, and just weeks later it was announced only Slasher would remain on the team while former team captain JKap, along with John, and Apathy are available (with contract buyouts).
Slasher now has a historic Call of Duty organization backing him and the pick of talented free agents to choose. The Call of Duty wunderkind-turned-multi-FPS-pro Cuyler 'Huke' Garland may be available for the season and he's already a part of Team EnVyUs' Halo team. Another young player, Donny 'Temp' Laroda turned 18 in time for the Call of Duty: WWII season, and is rumored to be part of Slasher's plans for the squad.
Cloud9 Disbands, ACHES Finds New Team
Top-tier esports organization Cloud9 has persevered along with the CoD community for a few years now, with middling-to-poor results.  The team's 4th place finish at CWL Anaheim was something of an anomaly, as the team failed to place in the Top 8 in LAN tournaments for nearly seven months prior to claiming their $16,000 winnings.  The team finished top 16 at Call of Duty Championships, and the organization released the roster of Assault, ACHES, Priest and Xotic shortly after the tournament. As of press time C9 has not confirmed whether or not they will be staying in the Call of Duty scene going into 2018.
Team captain ACHES is revered for his time on the now-legendary compLexity team during Call of Duty: Black Ops II and Call of Duty: Ghosts, but has yet to find the same kind of success as many of his former teammates while playing with newer players. The outspoken player has been struggling (by his standards) over the past few years but a boots on the ground Call of Duty game may be the spark that can light up the dying embers of Patrick Price's competitive career.
On August 29th, he made this announcement:
Myself Apathy Nameless and Enable are committed to teaming. We are still weighing our options as of right now so the organization is TBD.

— PATTYP (@ACHES) August 30, 2017
The team of Apathy, ACHES, Nameless, and Enable is a team of strong veteran players, two with world championships under their belts.  ACHES will have to play aggressively on this team along with Apathy, but if the players can keep their communication going and get along, they have a strong chance at success if performance on previous BOTG titles is anything to go by (which appears to be the reasoning for this lineup). This team has tremendous potential on paper and there's little doubt a reputable organization will sponsor the squad.
FaZe Clan's Veterans Split
The core three of FaZe Clan have finally broken up, as Ian 'Enable' Wyatt joins ACHES' veteran team. The trio of Enable, Attach and ZooMaa weathered the storms of rostermania many times before famously dropping Clayster, picking up Gunless, and finding middling success at Call of Duty Championships. Enable has been with the FaZe Clan organization since 2015 when he was still sponsored by Red Bull and coming from success as a Halo player.
Attach and ZooMaa are still left on the team along with newcomer Gunless, who may be out just as soon as he got in if reddit rumors are to be believed.
The grass is always greener…
The free agent list is filled with old and familiar names like Dedo, Sharp and Stainville who have taken steps away from competitive Call of Duty but are looking around for new prospects ahead of the new game. There are also the names of players we see on nearly every free agent list in the off-season like Mboze or Doug 'Censor' Martin who are former Call of Duty pros who often announce their return to competition but rarely actually play during a season. Most interestingly, there are a number of players who aren't on the free agent list yet because they're currently playing another game: Halo.
The competitive Halo scene has seen better days. The prize pools are smaller, the venues aren't expansive, and the number of official LAN events is low. The game is a futuristic FPS, but it requires much slower movement than the "jetpack" Call of Duty titles.  While few Halo players have actually come out and said they are interested in making a switch to Call of Duty for the next season, there have been some envious looks shot in the direction of the infrastructure and prize pools offered to the Call of Duty scene by MLG/Activision.
— ? (@D_Randa) August 24, 2017
That said, the top of the Call of Duty community is difficult to get break into, even for long time competitors, so there is no guarantee that a player (other than Huke, who made his name in Call of Duty) will find themselves on a middle or top tier CoD organization before the season begins.
Destiny 2 is also coming out soon, and the similar movement and futuristic setting in another Activision published title may be more likely to lure Halo players away.
Photo courtesy of MLG/Activision