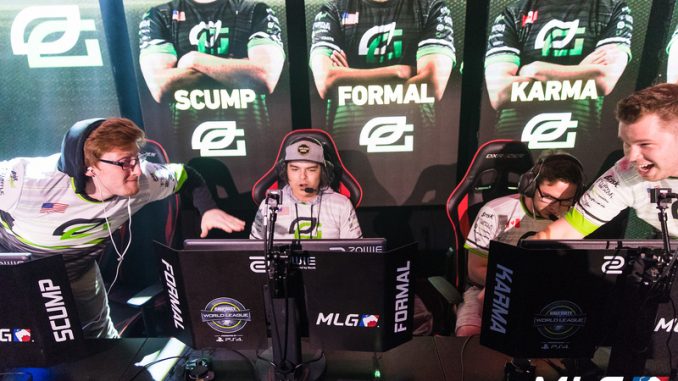 The best 32 teams in competitive Call of Duty are duking it out all weekend long for a coveted Championship ring and the lion's share of the eye-watering $1.5 million USD prize pool.  The competition comes on the heels of the Stage 2 Playoffs, in which the reigning World Champions Team EnVyUs failed to hold off a determined OpTic Gaming in two Grand Final matches.  The $500,000 Playoffs prize money along with the Champs prize pool are the final parts of the $4 million USD payout for the Call of Duty: Infinite Warfare season promised by Activision-Blizzard earlier this year.
For the first time in Call of Duty Championships history, the tournament is happening on the East Coast of the United States at the Amway Center in Orlando, Florida.  All of the past tournaments have been held in or around Los Angeles, California.
For some of the players at Champs, this is their first time competing on the biggest stage for the biggest prize.  Will the teams of veterans like OpTic, Team EnVyUs, Luminosity Gaming or Rise Nation prevail?  Or can the upstarts in the form of eUnited and Enigma6 hold them at bay?  Will European teams continue their breakout year by snagging some of the top placements?  Could an organization with deep roots in the CoD community like Team Kaliber finally make a serious run at a title after struggling to return to pro status?
There are a lot of questions going into the four day event, but the big one, the "who's the best team in Call of Duty?" one – that will be solved on Sunday evening.
Teams and Groups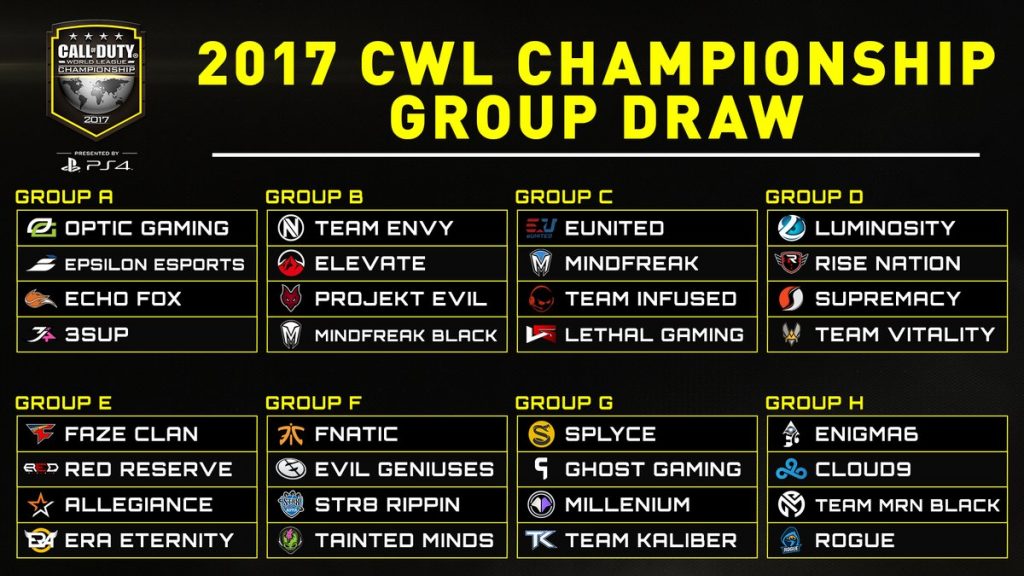 Click here for the Daily Match Schedule
Streams:
2017 CWL Championship – Prizes
1st Place: $600,000
2nd Place: $200,000
3rd Place: $100,000
4th Place: $80,000
5th & 6th Place: $55,000
7th & 8th Place: $35,000
9th, 10th, 11th, & 12th Place: $25,000
13th, 14th, 15th, & 16th Place: $15,000
17th, 18th, 19th, 20th, 21st, 22nd, 23rd, & 24th Place: $12,500
25th, 26th, 27th, 28th, 29th, 30th, 31st, & 32nd Place: $10,000
2017 CWL Championship – Pro Points
1stPlace: 50,000
2ndPlace: 30,000
3rdPlace: 22,000
4thPlace: 18,000
5th& 6th Place: 16,000
7th& 8th Place: 14,000
9th, 10th, 11th, & 12thPlace: 11,000
13th, 14th, 15th, & 16thPlace; 9,000
17th, 18th, 19th, 20th, 21st, 22nd, 23rd, & 24thPlace: 7,000
25th, 26th, 27th, 28th, 29th, 30th, 31st, & 32ndPlace: 5,000
Featured image courtesy of MLG.