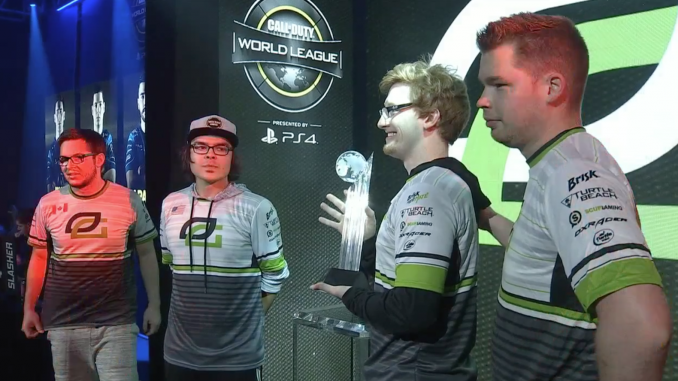 "OpTic Gaming's Still Got It"
After missing out on the big check from Stage One, and falling short at CWL Anaheim, some analysts (and fans) publicly wondered just how good OpTic are these days.  The team looked completely unfazed throughout the Stage Two Group Green, but would their style of play be enough to take on the other seven best teams in the league?
Um, yes.
OpTic are still one of the best teams in the world with four of the best players to ever play Call of Duty, and they know it:
Crazy @OpTicGaming reaction to beating eUnited.

— Dexerto Call of Duty (@DexertoIntel) July 30, 2017

(Courtesy of Dexerto.com)
When OpTic lose, it's often because the players are shooting themselves in their collective foot.  That notion was backed up by this weekend, and the team's acknowledged struggles with hardpoints, though OG is well known for their superior firepower.  A pattern emerged pretty quickly: OpTic has a slow start with a bad first hill, ties up or takes the lead to begin the second rotation, and then falls apart on the third rotation, as seen in these hill scores from their Sunday match against eUnited:
(Graphics courtesy of the /r/OpTicGaming subreddit)
The team crashed down to the Loser's Bracket on the back of a crushing 3 – 0 loss to eUnited, who sparked a little something in OpTic with their "3-0" hand signs to the crowd after their win.  OpTic proceeded to march through Loser's, dismissing both FaZe Clan and Luminosity, before meeting eUnited again in the Loser's Finals after their loss to Team EnVyUs.
OpTic was ready for them.  The team showed off their strong Search game and pulled no punches when it came to some trash talk on main stage:
The team ended up winning the match 3 – 2, and Scump had a little message for Clayster and Arcitys after the win:
Now for the question we have every year: can OpTic keep this momentum going into Call of Duty Championships? After playing 7th/8th for two years running, the team has even more pressure on them this year with so many very good teams at the top of the standings in Infinite Warfare.
Started From the Bottom…
8th seeded Team EnVyUs' rise back to the top of the scene has been both baffling and incredible, as the team of Jkap, Slasher, Apathy, and John have struggled mightily since winning Call of Duty Championships in 2016.Talent has never been the team's problem, but poor team chemistry has factored into their performances since Stage One.  According to various interviews with members of the team during this weekend's broadcast, the team knew they needed to get in gear after their T24 performance at CWL Anaheim, and they practiced hard to play up to their skill level.
An upset against FaZe Clan on Friday, a win versus Luminosity Gaming on Saturday, a Winner's Final match win against eUnited, and a valiant effort against OpTic Gaming in the Grand Final were what the team needed to look dangerous again.  A fired up nV team heading into Champs is a very scary thing, and though teams never really counted them out despite their below average performances this year, they will be especially wary of the Boys in Blue now.
Luminosity Lose (some of) Their Luster
With Splyce, Enigma6 and FaZe all booted out of the tournament on Saturday, it came down to Luminosity versus Fnatic for a chance at a spot in the top four.  A pretty standard Hardpoint victory for LG was followed up by a close Search and Destroy win.
.@CourageJD just lost full.

GG @Slacked… GG ?https://t.co/yg6J8iZEDc // #CWLPS4 https://t.co/NL2pC6b06T

— MLG (@MLG) July 30, 2017
The team then cruised to a 8-4 uplink win to take the series 3 – 0 and move on to a Sunday Loser's semifinal match against OpTic Gaming.Say what you want about OpTic, but the team has played together, stayed together, and won together for two years and while Luminosity has only been a major threat on the Call of Duty scene in recent months.  That experience showed in their Sunday match, as OG swept LG in business-like fashion, leaving Luminosity to settle for 4th place and $40,000.
Three Big Matches, One Big Disappointment
eUnited versus OpTic Gaming on Saturday was always going to be interesting.  eUnited had a much publicized team change and have always matched up well against OpTic Gaming this year.  As usual, Clayster provided a small amount of banter in his interview:
In the end, the game was a wash and eUnited made OpTic look practically free as they walked away with a 3 – 0 win.
The second big match of the day also had a somewhat unexpected outcome, as Team EnVyUs finally looked like the real deal with a 3-2 win over Luminosity, something that would have been unimaginable two months ago given their form at the time.  The reigning Call of Duty kings are coming into their own when it really counts (both financially with the larger prize pools at the end of the year, and historically with the big championships on the line).
FaZe's win over Splyce and OpTic's loss to eUnited set up one of the biggest tickets Saturday: FaZe v OpTic.  OpTic Gaming hopped out to an easy 2 – 0 lead, but bafflingly, they lost 4-2 on Uplink, one of their best game types of late.  Before Saturday, OpTic hadn't lost an uplink on LAN since Stage One.  You may remember, we noted OpTic was having serious trouble on the other respawn map type, Hardpoint, during the group stage last weekend.  This weekend a lot more money was on the line and the little mistakes that they were able to overcome in the groups would turn into a nightmare in the playoffs.
On that particular map (Retaliation Hardpoint) OpTic looked like they had good control of the hills, but Gunless showed his worth for FaZe Clan and broke through with ease.  The other members of FaZe all went negative as they appeared to be just playing around their newest teammate as he walked all over the fan favorites for a 27/19 K/D.
We are going to GAME 5 between @OpTicGaming & @FaZeClan!

Loser GOES HOME – https://t.co/yg6J8iZEDc#CWLPS4 https://t.co/qZpQYA6f3Q

— MLG (@MLG) July 29, 2017
Game 5's Throwback Search and Destroy was all that stood between a reverse sweep for FaZe and a long trip home for OpTic.  After two surprising and possibly demoralizing map losses, it would have been understandable to write off OpTic at this point, but the team is made up of four veteran players – and it showed.
After going down early, OpTic came back to win the map 6-3, and keep their Stage Two Championship hopes alive.For their part, FaZe never looked like they were in control of the match, and if not for a superb display by Gunless on Map 4 (along with some odd rotation decisions by OG), the final score would have been 3-1 instead of 3-2.  FaZe had a disappointing weekend after topping their group, beginning with their early loss to Team EnVyUs.
GG to everyone we played this weekend. SnD was our downfall, we gave up too many rounds. Felt like we threw away both series we lost.

— FaZe Enable (@Enable) July 29, 2017
The number one seed landed in 5th/6th place for Stage Two, which probably isn't where the team was hoping to be going into Champs next month.  The team prepared for the tournament by heading out to Columbus, OH a week early to get more practice playing on LAN, but it doesn't look like it was enough.  A lot of scrimmages and a lot of long talks without drama in the FaZe House will likely go a long way to getting this team "Champs Ready".
The Early Exits
Stage One Champions Splyce left the tournament with just one map win under their belts in the Stage Two Playoffs, and likely a few questions about what happened to them in recent weeks.  The team lost 3 – 0 to Luminosity on Friday, and then dropped out of the tournament with a Loser's bracket first round loss to FaZe Clan.
Dont know what to say, my bad to my team.

— Trei Morris (@TreiZer0) July 29, 2017
Meanwhile, Enigma6 lost in a pedestrian match against eUnited on Friday, and Saturday's 3 – 1 loss to Fnatic was disappointing but not unexpected given the team's current form. E6 began the match agains Fnatic with a disastrous Throwback Hardpoint as Proto went 19-40.  On the other side of the stage, Fnatic looked renewed and rejuvenated after dropping down to the loser's bracket, and quickly went up 2-0 against E6.
.@FNATIC are bringing energy and wins to their side, the 6-4 S&D give them a 2-0 series lead over @Enigma6Group! https://t.co/SMsIclXfZC pic.twitter.com/p09U4zv8M1

— CWL Stage 2 Playoffs (@CODWorldLeague) July 29, 2017
Enigma6 tried to put together a comeback, pulling off a close uplink, but attempting to come all the way back from being down 148-44 on the hardpoint was too big an ask, and the team settled for 7/8th place in the Stage 2 Playoffs.Fnatic's run in the playoffs lasted just a bit longer than their opponents as they ran into Luminosity in the Loser's semifinals and were sent packing.
Quick Thoughts
Arcitys is the standout player on eUnited's team.  He may not be the most famous or outspoken, but he consistently makes clutch plays and doesn't play selfishly in respawn gametypes.
EU teams didn't vastly underperform at this tournament, despite their placings.  Splyce looked a bit off this time around, but the NA teams they faced were really hitting their stride.  Fnatic fared a bit better, but still didn't play like they were comfortable against the North American teams.