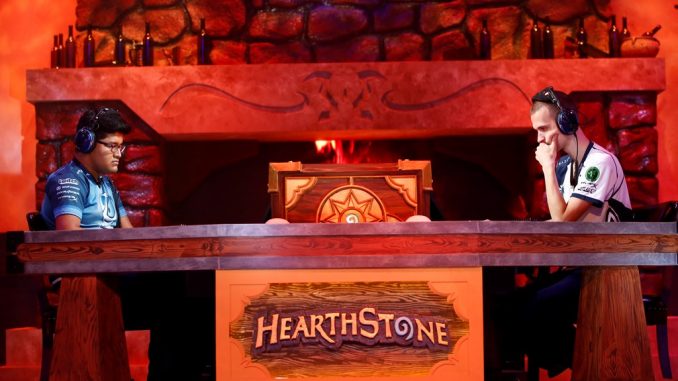 Today marks the start of the 2017 Hearthstone Championship Tour Spring Championship.  The next four players that will qualify for the Hearthstone World Championship will come from this event.  The HCT begins today (Friday) at 10am China Standard Time (7pm PDT) in Shanghai, China.
Players to watch
The 16 players competing are some of the best Hearthstone competitors in the world.  Yvehenni 'Neirea' Shumilin and XHope are making repeat appearances from the Winter Championship, and Neirea is joined by previous Hearthstone World Championship attendees Jason 'JasonZhou' Zhou, Aleksandr 'Kolento' Malsh, and Jun Hak 'Kranich' Park.
Neirea must redeem himself after losing the best-of-seven quarterfinal against eventual finalist Frank 'Fr0zen' Zhang in the seventh game at the Winter Championship – just one game shy of securing his berth at the World Championship.
Another player to watch is Mark Anthony "Ant" Trevino.  As a kid living in California he avoided death and violence on the streets by turning to gaming as a positive hobby.  He's now one of the top four players in the Americas region competing for his shot at worlds.
Ant's story:
Ant plans on crushing the competition at HCT Shanghai – but his story will crush your heart. Learn more at: https://t.co/HqSmUN6HX3 pic.twitter.com/Nlb1WVz4UZ

— Hearthstone (@PlayHearthstone) July 6, 2017
Schedule
July 7 at 10:00 a.m. China Standard Time (July 6 at 7:00 p.m. PDT)
July 8 at 10:00 a.m. China Standard Time (July 7 at 7:00 p.m. PDT)
July 9 at 10:00 a.m. China Standard Time (July 8 at 7:00 p.m.. PDT)
Stream: Twitch
For the full list of players and deck lists, visit the Hearthstone blog.
Featured photo courtesy of Blizzard Entertainment.