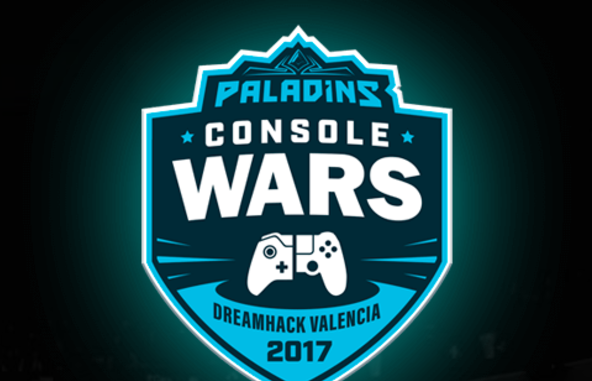 DreamHack Valencia is just one week away, and it will be host to the first ever Paladins Console Wars tournament.  The best Xbox and PlayStation players from around the world will compete for bragging rights and $50,000.  In addition to Console Wars, the conclusion of the SMITE Pro League Summer Split on PC and consoles, the Paladins Summer Premiere, and the Hand of the Gods Valencia Open will all take place over the weekend in Spain.
Viewers also get a prize in the form of an exclusive DreamHack skin for Paladins champion Maeve.  The skin will only be available via Twitch drops during DreamHack Valencia.
 All of the action will be broadcast on the Hi-Rez Studios' Twitch channel.
SMITE Pro League Summer Finals – $150,000 prize pool
Team Dignitas (EU)
Spacestation Gaming (NA)
Obey Alliance (EU)
Trifecta (NA)
NRG Esports (EU)
Luminosity (NA)
Team Rival (EU)
Black Dragons (Brazil)
SMITE Console League Summer Finals – $50,000 prize pool
Obey Alliance (NA)
SoaR Gaming (NA)
Team Rival (EU)
Astral Authority (NA)
Paladins Summer Premiere – $100,000 prize pool
GankStars (EU)
District69 (EU)
Kanga Esports (OCE)
Team Cryptik (NA)
Denial Esports (NA)
Nocturns Gaming (LATAM)
QG Craze (China)
FearUs (Southeast Asia)
Paladins Console Wars – $50,000 prize pool
Strictly Business – Xbox (NA)
Invigorate Gaming – PS4 (NA)
Team Cryptik – PS4 (EU)
GankStars – Xbox (EU)
Hand of the Gods Valencia Open – $7,500 prize pool
Chris "Macetodaface" Grabowski (NA)
Dekel "potpie" Starr (EU)
Open Qualifier 1
Open Qualifier 2