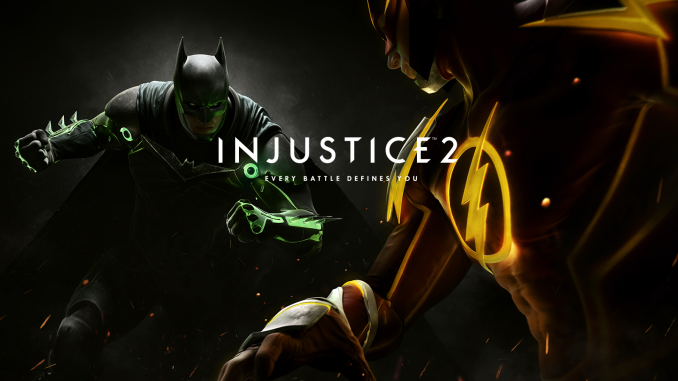 Looking for a new path to pro status?
Warner Bros Interactive has announced a number of new tournaments and a professional league for fighting game Injustice 2 in an effort to support the competitive scene.  The Injustice 2 Championship Series Presented by Playstation 4 will have a $600,000 USD prize pool, and will be supported by tournament runner ESL, the Gamelta esports Professional League, Gamestop, and Playstation, and the matches will be broadcast around the world on gaming juggernaut Twitch.
The league will allow both amateur and pro players in the NA, EU, and LatAm regions to compete in tournaments throughout the year, with the hopes of building a new fanbase and a new group of professional esports competitors.
Starting May 26th, the Injustice 2 Pro Series will have a four-month online and offline season that will be broadcast on Twitch.  The 16 finalists from across North America, Europe and Latin America will advance to the Injustice 2 Pro Series Finals on September 17th in Los Angeles.
Regional Tournaments
The best competitive options for North American players are the GameStop Hometown Heroes tournaments from ESL.  These online qualifiers begin on June 4th, and the finalists will be able to compete in one of eight regional tournaments at GameStop locations around North America  in August.  The GameStop Hometown Heroes Finals will be held at the 2017 GameStop Consumer Expo in Las Vega on August 27th.
European players will compete in the Path to Pro tournament, also operated by ESL.  The competition begins on May 20th for players in the Benelux Union, France, Germany, Nordic territories, Italy, Spain and U.K. who are not participating in the Injustice 2 Pro Series. The 12 finalists from the tournament will compete in the Path to Pro Finals, an online event.
Players from Argentina, Chile, Mexico and Peru can play in Liga Latina, which will be put on by Gamelta esports Professional League.  The finals for the league will be on August 13th.  Brazilian players will have their own regional tournament, but the details have not been announced.
All tournaments will be played on the PS4 console.  Learn more about Injustice 2 esports here.
The Game
Injustice 2 is a fighting game featuring DC characters.  As the title suggests, it's a sequel to Injustice: Gods Among Us.
The involvement by Warner Bros. to help coordinate and fund these tournaments is a welcome sight for FGC fans, who have struggled with developer and publisher support from Nintendo for their intellectual properties, leading to smaller prize pools and community funded and organized events.