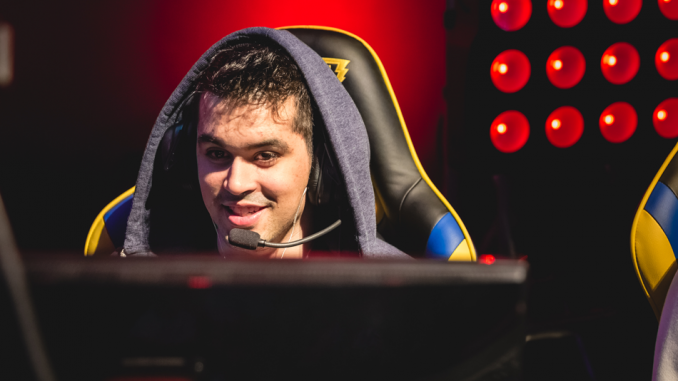 Former SMITE professional player and caster David "Allied" Hance is dead at age 25 after a battle with an aggressive form of cancer.  According to his sister, the New York native and former EnVyUs and Luminosity player passed away this week.  The 2016 XBox One Invitational winner known for his big personality and infectious laugh retired from competitive SMITE in February of 2016 and announced his cancer diagnosis in April of that year.
It was never going to be an easy journey, but when David "Allied" Hance announced he had cancer, he spoke of fighting the supposed death sentence with the ferocity of his favorite SMITE god, Hun Batz, pouncing on an enemy in the jungle.  After months of chemotherapy and other treatments, Allied began to stream again and worked as an entertainer and substitute for top NA team Luminosity until his final, terminal diagnosis.
Allied was one of the first professional SMITE players, turning to the game after leaving the Smash and StarCraft II scenes in 2013.  He took second place at the PAX East tournament that year representing ROOT Gaming alongside Mattypocket, Lassiz, Shing, and Jerb.
Allied played on top teams throughout his SMITE career but he also knew how to win when the odds were against him.  Team EnVyUs failed to qualify for the 2016 SMITE World Championships, so in the weeks leading up to the qualifier for the console Invitational at the event, Allied and his teammates learned how to play the game on a completely different platform – and took first place at the tournament.  Allied retired after the event and began working as an entertainer on Twitch and a caster for Hi-Rez.
In one of his last streams, Allied had some words of advice for his friends and SMITE family:
The SMITE community is a close-knit one, and news of Allied's passing hit hard.  At the 2016 Spring Fling, SMITE fans raised over $100,000 in donations for Allied's cancer treatment.  Today, those same fans (including players and fans from the wider esports community) are flooding the SMITE subreddit, Allied's Twitch channel and Twitter with messages of support for Allied's family and friends and tributes in his memory.

This was back in Nov. I remember even though you were scared of how little time you had left, you'd still be silly with me. I miss this alot pic.twitter.com/GYQq8iDfPP

— michelle (@chelleastro) May 2, 2017
I was 10x more hype for this play than any other, because it was my brother doing it. I was biased as fuck. https://t.co/hk5pn6ej1J

— dmbrandon!! (@juiceDiem) May 2, 2017
"If anyone can succeed in smash it's you man. I have faith in you."

I love you man with all my heart. Thanks for everything. pic.twitter.com/hxc3MpfDBn
— Atomsk#AlliedStrong (@Atomsk92) May 2, 2017
Allied was one of the few persons who gave me the best first lan in smite when i was 16, such a great guy, life sucks… #AlliedStrong 🙁

— Jeppe trix Gylling (@TrixtankGG) May 2, 2017
Allied was always a positive dude who shone bright and made those around him laugh and feel better. Hoped today wouldn't come. #AlliedStrong

— HiRezPonPon (@PonPonSmite) May 2, 2017
Our hearts & prayers are with @AlliieD tonight as he battles cancer.
Purchase his jersey & donate to @CancerResearchhttps://t.co/YvpFM885Ll pic.twitter.com/P0BhL9pV3j

— Luminosity Gaming (@Luminosity) May 2, 2017
I spent some time reflecting on my brief moments with Allied. I wrote a short piece: #AlliedStrong https://t.co/X495zIBlYe

— (sad) Spiff (@SpiffSinister) May 2, 2017
He showed us all how to fight and stay positive at the same time. We'll always think of you as one of the #BoysInBlue @AlliieD pic.twitter.com/SLSKJNB86l

— Team EnVyUs (@TeamEnVyUs) May 2, 2017
After the first SWC, I went up to hug @AlliieD at the analyst desk and our hug snapped this trophy in half. We laughed and got a new one. pic.twitter.com/2y1axOtFRk

— Brett Felley (@MLC__st3alth) May 2, 2017
"You beat cancer by how you live, why you live, and in the manner in which you live."

He beat it.
Love you forever, man.#AlliedStrong pic.twitter.com/HFVvElS3nG

— Burley ? (@AmNyxxy) May 2, 2017
#Alliedstrong pic.twitter.com/Bo07CatatR

— SmitePro (@SmitePro) May 2, 2017
Finally, a look back at Allied's 2015 SMITE player profile: