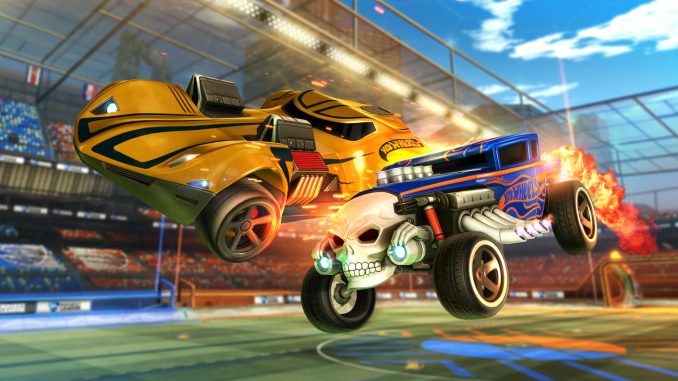 Rocket League is picking up a boost in the form of a partnership with the WWE (World Wrestling Entertainment).  Psyonix made the announcement this week, and it will bring more visibility for an esports community that has been working for the past year to raise its profile.
Various WWE pay-per-view events will be presented in partnership with Rocket League, including SummerSlam on August 20th.  Rocket League promos will also air during WWE broadcasts like "Monday Night Raw" and "Smackdown Live".  WWE star and avid gamer Xavier Woods will also be presenting a six episode series about Rocket League on UpUpDownDown, WWE's YouTube gaming channel.
---

Over the past two weekends, Hearthstone players around the world have been playing at local events to try to make it to the regional Tavern Hero playoffs to compete for a chance at the to play in July's Spring Championship in Shanghai.
Hearthstone Tavern Playoffs
Europe:
Nuno "Ignite" Pinho (Portugal)
Thomas "tomof" Cavaliere (France)
Simon "DenimBlue7" Van De Sand (Germany)
Giacomo "Paffolo" Chiulli (Italy)
Guille "shockstate" Bonafonte Pardas (Spain)
Амир "Riko" Мусаиров (Ukraine)
Коля "rilox" Глебов (Russia)
Александр "SkyFrosty" Грушко (Russia
Americas:
Timothy "Anamor" Burkhart (USA)
Tianying "Wtybill" Wu (USA)
Christian "Chrisw" Wen (Canada)
Noah "noahLTG" Long (Canada)
Aaron "cheesee10" Garfinkle (USA)
Michael "Luker" Luker (Canada)
Dwayne "RealTerror" Da Silva (Canada)
Guillermo "k3nny" Tamez (Mexico)
Asia-Pacific:
Noriyuki "grish" Matsumae (Japan)
Hendry "Joth703" Handisurya (Indonesia)
Hiroki "Moso" Ichikawa (Japan)
Bek "Byz" YaoZhong (Singapore)
井上 英輔 "WhoBlie" (Japan)
Kalani  Asp "Wottawa" (New Zealand)
圭佑 村上 "u728557b" (Japan)
Kazuki "NanoSecond" Tsujita (Japan)
Hearthstone Championship Tour European Playoffs
In addition to the Tavern action, the first regional playoff of the Spring HCT season kicks off this weekend – the Europe Spring Playoffs, take place May 20–21 beginning at 1 a.m. PDT each day.  The European Playoffs will determine the four European positions to be filled at the HCT Spring Championship, to be held in Shanghai, China this July.
When:
o   Saturday, May 20 – Beginning at 1:00 a..m. PDT
o   Sunday, May 21 – Beginning at 1:00 a.m.. PDT
---
The second World of Warcraft Arena Cup in North America concluded this weekend.  Players battled for points which will determine which teams make it to the North American Regional later this year.
Results:
o   1st – Tempo Storm – 160 points
o   2nd  – Panda Global – 80 points
o   3rd – Splyce – 36 points
o   4th – Method Reborn – 20 points
o   5th & 6th – Your Name Here, Union – 12 Points
---
Global StarCraft II League Season 2 Code S
The final group matches of stage one of the Global StarCraft II League were played last week.  Neither of the foreign hopefuls, Scarlett (Canada) and SpeCIal (formerly known as MajoR from Mexico), could make it out of their group.  Classic and Stats advanced from group G, while ByuN and herO moved on from Group H.
StarCraft II StarLeague Season 1 2017 – Premier
Round robin play is over, and Solar, Stats, ByuL, and INnoVation will battle it out in the playoffs for the lion's share of the prize pool and WCS Korea points.  The first playoff match will be on May 29th between Solar and Stats.
In 5th place, aLive keeps his spot in SSL Premier, while sOs and Zest have been relegated to Challenge level by finishing in 9th and 10th.   The remaining players – Dark, Maru, and Patience, must all play matches against top Challenge level finishers to retain their spots in Premier, or face relegation themselves.