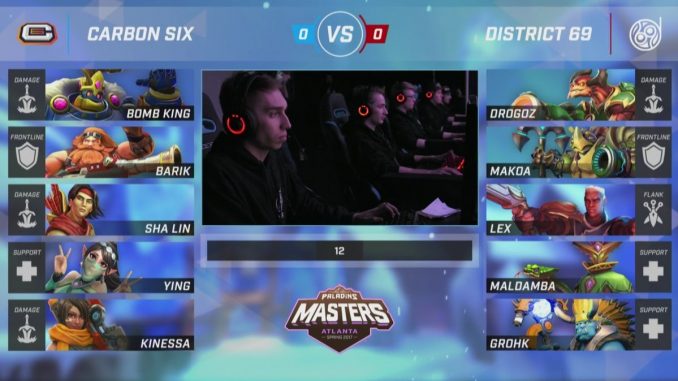 Embattled Carbon 6 team takes runner's up in 4-1 match
by Kim Newsome, EIC
There's a new team at the top, as District 69 won the Paladins Masters LAN tournament at the Hi-Rez Arena in Alpharetta, Georgia.  The squad faced Carbon Six, a team with an uncertain future after a slew of organizational ownership drama, dismantled them in the final, winning 4-1.
Carbon Six came into the tournament amid a flurry of distractions, most in the form of instability within their own organization.  Players and other team owners allege Carbon Six owner Christopher James Castle left the organization high and dry by attempting to sell his teams to Most Wanted, and eventually dissolving the organization completely, leaving the SMITE and Paladins teams without sponsorship for the weekend's tournaments.  This isn't the first time an esports team have been the victims in an allegedly predatory deal, but the very public manner in which this restructuring was handled is unusual.  Carbon Six' Paladins team decided to keep the team name and logo for the duration of the tournament, and they are currently seeking new sponsorship.
Despite their troubles, Carbon Six looked focused as they made their way through the early rounds, and a close 3 – 2 win over Kanga secured their place in the Grand Final.  For their part, District 69 survived an early round scare against Kanga, winning 3-2 in their best of 5 series, and didn't look troubled by opposition beyond that match.
In the final, Carbon Six came out hot, winning the first map, Frozen Guard, 3-4.   Another close match for Game Two on Serpeant Beach, but this time District 69 came out on top and rode that momentum through the rest of the best of seven series, eventually winning the match 4-1.
2017 Paladins Masters Final Placements
| | |
| --- | --- |
| 1st District 69 | $25,000 |
| 2nd Carbon 6 | $15,000 |
| 3rd Astral Authority | $8,000 |
| 3rd  Kanga Esports | $8,000 |
| 5th Team Eager | $4,000 |
| 5th  WASD Sports | $4,000 |
| 7th  CUBE | $4,000 |
| 7th  Nocturns Gaming | $4,000 |
| 9th Team AGG | 3,000 |
In the AVGL Collegiate Final, Rowan University took down Davenport University in a 3-0 sweep.
| AVGL Finals | Prize |
| --- | --- |
| 1st  Rowan | $6,000 |
| 2nd Davenport | $4,000 |