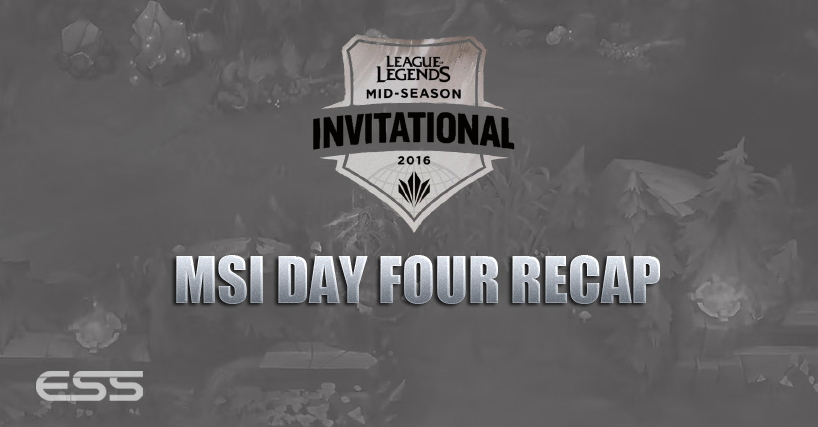 It's Day 4 of the second annual Mid-Season Invitational in Shanghai, China.
We're currently still in the group stages but remember, the two teams with the lowest record will be eliminated and the remaining four teams will move on to the knockout stage, which runs May 13th – 15th.
Missed out on today's action and want to know what happened? Read below, where I'll also share my updated Power Rankings.
---
Game One – G2 Esports (Win) v SuperMassive (Loss)
Day 4 of MSI kicked off with the two lowest ranked teams in the competition facing off against each other.
It was 'Naru' who managed to give SuperMassive first blood and an early lead, 1v1'ing Rookie of the European Split MVP, 'Perkz'.
Both teams then continued to trade kills in the early game, going 3-3. But the game swung on a team fight in the top lane as G2 were able to collapse quicker than SuperMassive. 'Trick' and 'Perkz' picked up the kills and G2 were able to slowly suffocate SuperMassive of their resources.
G2 have in the last couple of games looked like a team that's progressing and they showed that throughout this game with a similar performance to that which was consistent throughout the Spring Split. They didn't tilt when they gave up first blood and when they had a gold lead they made the right decisions, unlike the start of the tournament when they went over-aggressive due to over-confidence.
G2 Esports continued to catch out SuperMassive throughout and were able to easily secure the Baron in the 29th-minute. They pushed top lane with the Baron buff and recorded their second win of the tournament, their second win over SuperMassive.
 Game Two – Royal Never Give Up (Win) v Flash Wolves (Loss)
As opposed to our first game, RNG and Flash Wolves came into this game as the two teams with the best records. RNG was undefeated at 6-0 whilst the Flash Wolves had a 4-2 record.
The two teams got off to a slow methodical match with both teams focusing on macro play rather than making plays. The first blood didn't occur until the 12th-minute in fact when RNG's jungler, 'mlxg', caught out Flash Wolves' support near the Dragon pit.
Then, 6 minutes later, a team fight exploded in the bot lane. RNG, who have shown team fighting prowess throughout the tournament, was the quicker at reacting to the situation with all members collapsing on the bot lane. The Chinese champions were able to pick up 3 kills and further extend their gold lead.
From there on out the Chinese showed their dominance and why they are now highly regarded to go on and win this competition. The constant ability to pick off Flash Wolves' poor positioning accumulated to RNG steamrolling a Flash Wolves team that came into this game high on confidence.
They pushed in to record a 29-minute win with a 15k gold lead.
Game Three – SKT (Win) v Counter Logic Gaming (Loss)
SKT come into this game off the back of 4 straight losses and aimed to stop the rot leading into the playoff stages.
CLG, who recorded an impressive victory over SKT yesterday, were looking to continue their remarkable run of performances that saw them come into this game joint second in the table with Flash Wolves.
The game started off even and CLG were able to pick up the first blood as 'Huhi', on Aurelion Sol, was able to roam bottom.
The game remained till the latter stages of the game and it looked like CLG may have found the upper edge when they secured Baron in the 29th-minute of the game. It, in fact, proved to have the opposite effect. SKT managed to pick off 3 members of CLG as the North American team retreated from the Baron pit. SKT pushed on to grab an inhibitor turret too and it led to the gold lead swinging in their favour.
With Baron buff still available on 2 members of CLG they tried to recuperate some of that gold lead that they had lost. They pushed down bot lane and tried to catch out SKT. SKT showed immaculate team fighting ability though, they wiped aside CLG and recorded their first win in 4 games.
A super close game with only 3K gold separating the teams.
Game Four – Flash Wolves (Win) v G2 Esports (Loss)
G2 Esports were aiming to make it back-to-back victories for the first time in the tournament heading into this game, but they faced a Flash Wolves side that was looking to keep itself closely behind RNG at the top of the standings.
It started off well for the Europeans as they managed to stay even during the early laning phase of the game, grabbing first blood onto 'FL'. The Flash Wolves responded almost instantly, diving 'Kikis' in the top lane to even up the kills early on.The game followed in the same fashion till the mid-game, with each teams trading kills from team fight to team fight.
The turning point, however, was a sneak Baron by Flash Wolves. Level on gold at the 23rd-minute mark, the Flash Wolves were ale to sneak a Baron to establish a gold lead and map dominance. By the time next Baron had come about, the Flash Wolves were 4K gold in the lead.
Flash Wolves managed to secure their second Baron of the game and minutes later initiated a homeguard teleport to catch out the retreating G2 Esports. Flash Wolves cleanly aced G2 and pushed on to win.
Game Five – Counter Logic Gaming (Win) v Royal Never Give Up (Loss)
Royal Never Give Up aimed to end Day 4 with an 8-0 record but faced a CLG side that has impressed many in this tournament so far.
The Chinese got off to a great start though when 'mlxg' and 'xiaohu' combined in the mid lane to take down 'Huhi' within the first 3-minutes. By the 10th-minute RNG looked well in control. They had established a near 2k gold lead and had 2 kills onto their jungler and AD carry.
CLG were able to respond and shorten that 2k gold lead after they were able to catch out 2 members of RNG who had stayed longer than they were welcome.
The game carried on in this sporadic fashion with both teams single blows across the map. By the time the first proper team fight occurred RNG had a small 1k gold lead. A huge Ekko stun by 'Looper' allowed the rest of RNG to collapse onto the immobile CLG. They picked up 2 kills and catapulted to a 4k gold lead.
Things appeared to be going from bad to worse for CLG in the 22nd-minute when RNG expertly snuck a Baron from under CLG's noses.
RNG went on to secure gold all over the map but in all truth made very little use of the Baron buff in terms of tower kills – only securing 2 towers during the Baron buff time. They instead decided to fight and it allowed CLG back in the game. RNG's 'xiaohu' engaged with his Zed onto 'Stixxay' but the botlane's support, 'Aphromoo', was able to combine with his ADC to take down the assassin. Following on from this the rest of CLG took down another RNG member in the mid lane.
Growing in confidence CLG believed they could make a play. They grouped in their red side jungle and engaged upon 3 members of RNG. Their target selection was all wrong though and RNG swept them aside with ease, grabbing an ace.
By the 33rd-minute RNG started to push down onto the jugular of CLG. They pressed inhibitors and had ballooned their gold lead to 17K over CLG.
Game over? Somehow not. Despite being behind a significant amount of gold, Stixxay and Aphromoo remained relevant. The Kalista, who had reached near full build, was dealing tons of damage and allowed CLG to pick up two kills and push back RNG for the time being. From there CLG pushed on to grab Baron and suddenly, out of nowhere, there was a chance back into the game.
With the Baron buff CLG pushed on to RNG's inhibitor turrets – they'd managed to cut the gold deficit to just 8k by the 41st-minute and CLG knew the longer the game progressed the better chance they'd stand with this late game team composition.
With their backs on the line, RNG felt like they needed to engage on the overextended CLG. 'Looper' looked to take advantage of the over extension of CLG and  teleported in behind them, attempting to cut off their escape route in the process. But, due to excellent teamwork communication on who they should be focusing, CLG were able to beat RNG at their own game – the team fighting which had seen RNG go undefeated in the competition so far suddenly failed them. CLG took down RNG with a clean ace and pushed on to hand RNG their first defeat of the competition, much to the caster Sam 'Kobe' Hartman-Kenzle's delight.
Game Six – SuperMassive (Loss) v SKT (Win) 
SKT looked to build on their win against CLG by defeating bottom-placed team SuperMassive, who they previously demolished back in Day 1.
Things started off positively for SuperMassive when they were able to collapse on SKT's jungler 'Blank', who had found himself caught out in the opposition jungle. 'Blank' and SKT were able to eventually respond in the 14th-minute when they took down SuperMassive top laner 'fabFabulous'.
SuperMassive, to their credit, kept up with SKT during these early game stages and even dictated the tempo of the game on most parts. But, due to lack of vision and map control, SKT were able to consistently catch out lone members which catapulted them to victory.
Team fight after team fight, SKT came out on top. Faker finally had an impactful performance on this Azir, laying down tons of magic damage onto SuperMassive members during bunched up team fights. When SKT secured Baron buff they pushed on to secure a 27-minute win.
---
Updated Power Rankings
1 – Royal Never Give Up: Despite throwing a huge lead to CLG, RNG still top the power rankings. It was their first loss of the tournament and every team has had these sort of hiccups.
2 – SKT: Finally, it looks like their blip might be over. A 2-0 day for SKT and surely they'll push on again from here. Days 2 and 3 for me will not happen again. Heading into the playoffs they'll still be the favourites in best of 5's against most teams.
3. Counter Logic Gaming: CLG is countering logic. They put in a solid performance against SKT, but just fall short and then go ahead and beat the then undefeated team, Royal Never Give Up. Incredible performance to turn it around in that RNG game.
4. Flash Wolves: Should have put in a better performance against RNG, they got swept aside. Responded well against an improving G2 though.
5. G2 Esports: Well, they're improving. They yet again show they're not the worst team in the tournament but are still yet to reach their heights that they showed in the regular season – especially individual performances from Perkz and Trick.
6. SuperMassive: SuperMassive continue to actually do okay in the early game – keeping up with both SKT and G2 today. They're late game needs work though, they're teamfighting is very far below par compared to the rest of the competition.