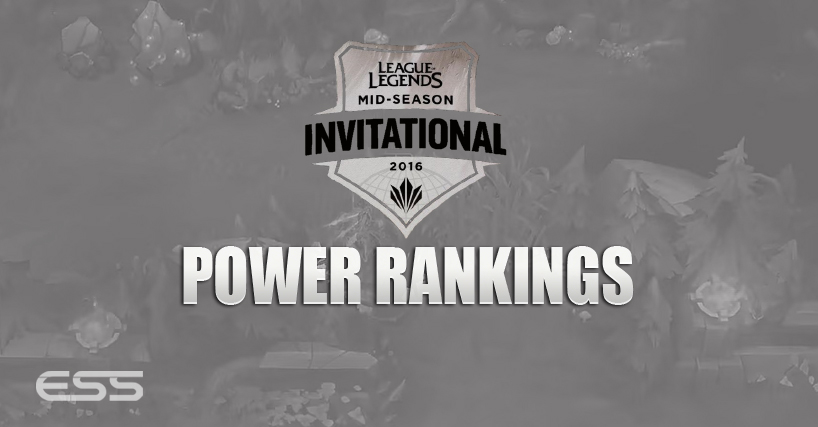 The Mid-Season Invitational gets underway on Wednesday, 4th May at the Shanghai Oriental Sports Center in China.  It consists of 6 teams, with 1 team representing each region.
Check out the schedule and team list here
Here are my Power Rankings to get you set for this exciting week.
——-
#1 – SKT Telecom T1
The 2014 World Champions are back to being at their best and come into this tournament as the favourites having dominated the South Korean gauntlet to win the Split.
SKT pose matchup problems for any team – possessing arguably the best talents in 3 out of the 5 positions. With Lee 'Faker' Sang-hyeok, arguably the greatest player in the history of League of Legends, they'll be a tough test for anyone at MSI.
Having gone out to EDG last year in a thrilling 5 game final, SKT will be seeking revenge and will be hoping to add the MSI  trophy to their already packed cabinet.
#2 –  Royal Never Give Up
Representing China at the Mid-Season Invitational is Royal Never Give Up. RNG qualified for MSI after an impressive Split, they finished atop of their group and overcame 2015 MSI Champions, EDG (Edward Gaming), with a dominant 3-1 win in the playoff final.
Boasting an equally impressive roster to that of SKT, with the experience of Cho 'Mata' Se-hyeong and Jang 'Looper' Hyeong-seok, RNG will be hoping to bring the MSI title back to its region.
#3 – G2 ESports
Having come into the Spring Split as rookies, G2 ESports took the European scene by storm. They finished top of the regular-season standings and powered their way through the playoffs, beating European juggernauts Fnatic and Origen along the way.
Standout performances from mid-laner Luka 'PerkZ' Perkovic and jungler Kang-yoon 'Trick' Kim will need to be repeated if they stand a chance against the Chinese and Korean teams – and it could be said that their lack of experience will hamper their ability to adapt to the international scene.
It'll be exciting to see, though. Their team fighting prowess and early macro gameplay will see them be a tough challenge for any side in this competition.
#4 – Flash Wolves
Representing Taiwan at MSI is the Flash Wolves. Flash Wolves have already grabbed people's attention before at international tournaments, having competed at the 2015 World Championship.
They come into this year's international competition full of confidence, having beat top seed AHQ in the finals with a clean 3-0 victory.
Having only made one change from the team that impressed at the World Championships, Flash Wolves will be looking for star mid-laner, Maple, to carry the way with his impressive assassin playstyle.
#5 – Counter Logic Gaming
Counter Logic Gaming (CLG) had yet another impressive split in North America. Coming into the playoffs as the Number 2 seed, CLG (without their star ADC from last split, Doublelift), were able to retain their crown as NALCS Champions beating fierce rivals TSM 3-2 in the final.
Although their achievement was impressive, I believe that their roster simply doesn't match up to the rest of the international scene. In a competition that is stacked with great mid-lane and bot-lane talent (CLG's weakness'), they will find it much harder than in North America to perform their 'rotation' style play that works so well for them.
#6 – SuperMassive eSports
The Turkish squad had an impressive wildcard run and will certainly be hoping to use MSI as a foundation to build upon in their attempt to make it to the World Championship later on this year.
Their roster is far inferior to the other regions, but it'll be interesting to see if they can ruffle the feathers of CLG.
We'll have daily match recaps throughout the tournament, and you can watch it all live on the Riot Games stream.