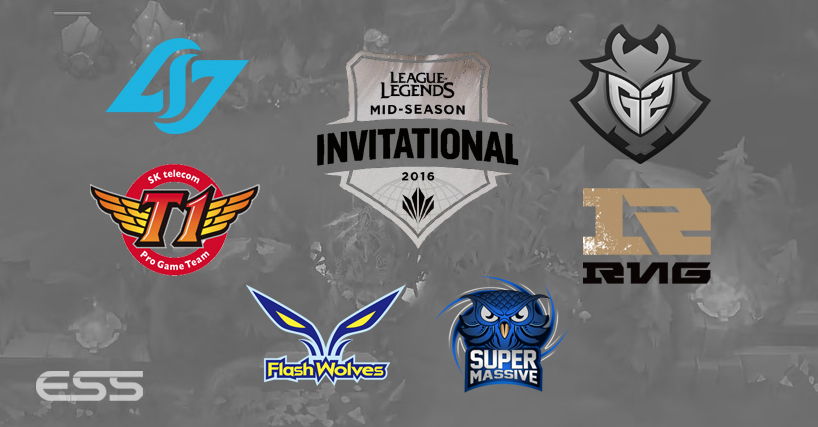 The last of the six teams attending the 2016 Mid-Season Invitational has been decided: SuperMassive is the wild card representative.  The Turkish team will join CLG, Flash Wolves, G2 Esports, RNG, and SK Telecom T1 at the Shanghai Oriental Sports Center in China on May 4th-8th.  The teams will compete in a rigorous format, playing against a team from each region twice to make it to the Knockout Rounds on May 13th-15th to compete for the $450,000 prize pool ($250,000/$100,000/$50,000).
There's a change this year to the way MSI results will be weighed regarding the World Championships: the four teams who get through the very long group stage will earn a top four regional seed at Worlds.  The two teams that do not advance to the Knockout Stage at MSI will have a lowered placement at Worlds.
"In previous years, seeding has been subjective; we tried to place teams based on historical precedent, but that wasn't responsive enough to their current strength. By using the most recent international tournament (MSI) to influence the group seeding, this process should be a lot more meritocratic and transparent. This will hopefully lead to more accurate seeding at Worlds and ultimately means a more compelling tournament that's fun to watch.

Additionally, regional seeding implications raise the stakes for teams as representatives of their regions.  Teams will not only be fighting for their own success, but the competitive standing of their region and the pride of their fans. No team will want to let down the fans of their region, which should mean even more meaningful and impactful games." – Riot Games
This year, the teams invited to MSI were the Spring Split winners from NA LCS, EU LCS, LPL, LCK, and LMS.  SuperMassive had to defeat Hard Random in the International Wild Card Invitational Grand Final in Mexico.  SM won the match 3-1.  Their first MSI match will be against SK Telecom T1 on May 4th.
Group Stage Schedule*
Note: All dates and times are in Shanghai local time or China Standard Time (CST). Match times listed below are estimates pending previous game length.
Day 1 – Wednesday, May 4:
Start of show and opening ceremony – 13:30
RNG vs. CLG – 14:00
G2 Esports vs. Flash Wolves – 15:00
SK Telecom T1 vs. SuperMassive – 16:00
CLG vs. Flash Wolves – 17:00
G2 Esports vs. SK Telecom T1 – 18:00
SuperMassive vs. RNG – 19:00
Day 2 – Thursday, May 5:
CLG vs. G2 Esports – 13:30
SK Telecom T1 vs. RNG – 14:30
Flash Wolves vs. SuperMassive – 15:30
RNG vs. G2 Esports – 16:30
SuperMassive vs. CLG – 17:30
SK Telecom T1 vs. Flash Wolves – 18:30
Day 3 – Friday, May 6:
Flash Wolves vs. RNG – 13:30
CLG vs. SK Telecom T1 – 14:30
SuperMassive vs. G2 Esports – 15:30
Flash Wolves vs. SK Telecom T1 – 16:30
CLG vs. SuperMassive – 17:30
G2 Esports vs. RNG – 18:30
Day 4 – Saturday, May 7:
G2 Esports vs. SuperMassive – 13:30
RNG vs. Flash Wolves – 14:30
SK Telecom T1 vs. CLG- 15:30
Flash Wolves vs. G2 Esports – 16:30
CLG vs. RNG – 17:30
SuperMassive vs. SK Telecom T1 – 18:30
Day 5 – Sunday, May 8:
RNG vs. SuperMassive – 11:30
Flash Wolves vs. CLG  – 12:30
SK Telecom T1 vs. G2 Esports – 13:30
SuperMassive vs. Flash Wolves – 14:30
G2 Esports vs. CLG – 15:30
RNG vs. SK Telecom T1 – 16:30
*From lolesports.com