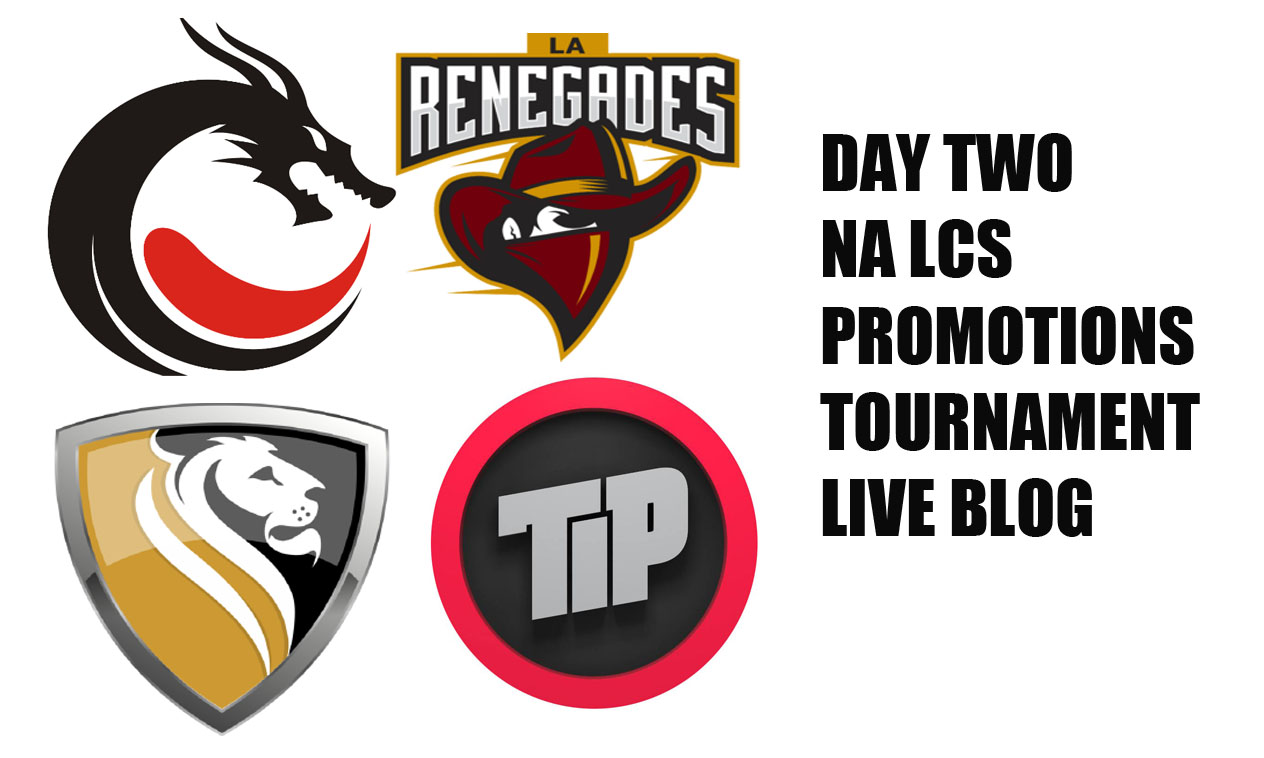 Welcome to Day Two of the North American Promotion Tournament for the League of Legends Championship Series.  I'll be bringing you play-by-play of the remainder of the tournament's matches.  The live blog should auto refresh right before your eyes, but feel free to refresh the page yourself for the latest updates.
The tournament, held at LCS Studios in Los Angeles, California, consists of the 3 lowest placed LCS teams and the 2 highest placed Challenger teams throughout the Spring Split. The 5 teams will battle it out to gain entry to the LCS Summer Split.
PLAYOFF BRACKET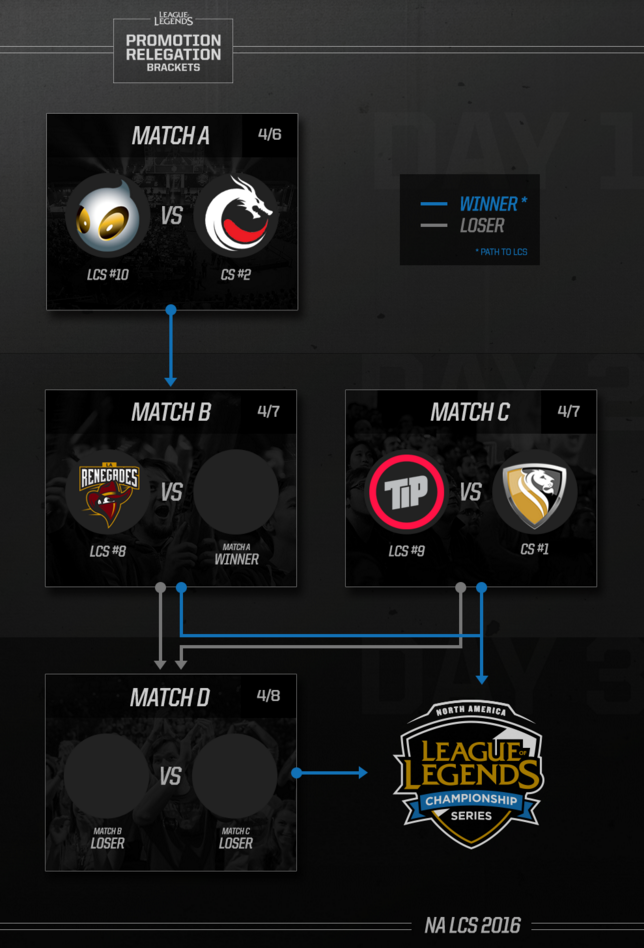 -Bracket determined by seeding
SCHEDULE
| | | | | |
| --- | --- | --- | --- | --- |
| Day 1 | April 6 | | Match A (Team Dignitas vs. Team Dragon Knights) | TDK WIN |
| Day 2 | April 7 | | Match B (Renegades vs Team Dragon Knights) | TBD |
| Day 2 | April 7 | | Match C (Team Impulse vs. Apex) | TBD |
| Day 3 | April 8 | | Match D (Match 2 loser vs. Match 3 loser) | TBD |
---
Day Two
Team Dragon Knights, who finished 2nd in the Challenger series, will be hoping to replicate the same performance they displayed yesterday against LCS team Dignitas. The 3-0 victory by TDK over Dignitas, eliminated the former LCS team from the Promotion tournament and ultimately knocked them out of the LCS Summer Split.
The later game, starting after the Renegades v TDK match, sees the top Challenger seed Apex face off against Team Impulse.
The winner of both games will guarantee themselves a spot in the LCS Summer split, whilst the losers will face each other tomorrow to see who will grab the last LCS spot.
DAY TWO LIVE BLOG (refreshes automatically):
Here we go then, Day 2 is about to start.
The first game of the day involves Renegades (Blue side start) and Team Dragon Knights (Red side start).
TDK, who won yesterday against Team Dignitas, will be hoping to carry on the momentum gained but will have to overcome a resurgent Renegades, who won 5 of their last 7 games in the LCS.


Picks and bans to come shortly.