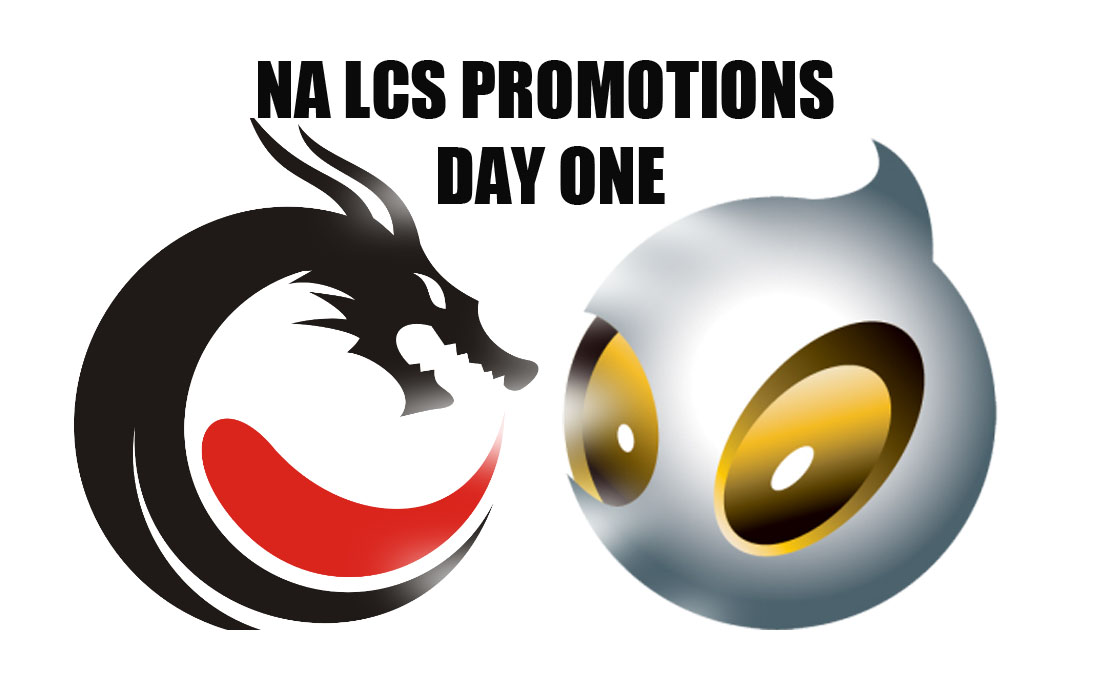 The North American promotion tournament consists of the 3 lowest placed LCS teams and the 2 highest placed Challenger teams throughout the Spring Split. The 5 teams will battle it out to gain entry to the LCS Summer Split.
PLAYOFF BRACKET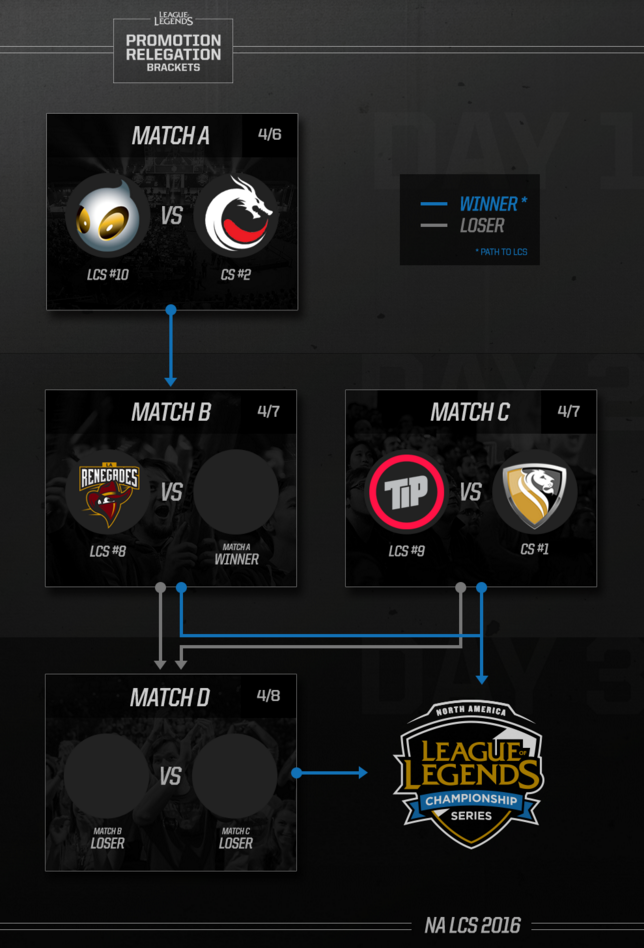 -Bracket determined by seeding
SCHEDULE
| | | | | |
| --- | --- | --- | --- | --- |
| Day 1 | April 6 | | Match A (Team Dignitas vs. Team Dragon Knights) | TDK WIN |
| Day 2 | April 7 | | Match B (Renegades vs Team Dragon Knights | TBD |
| Day 2 | April 7 | | Match C (Team Impulse vs. Apex) | TBD |
| Day 3 | April 8 | | Match D (Match 2 loser vs. Match 3 loser) | TBD |
Day 1: Team Dignitas (LCS) v TDK (Challenger)
The lowest ranked seed in the LCS Team Dignitas, who finished with a 4-14 record, face off against a TDK team who is looking to return to the LCS. TDK came 2nd in the Challenger series behind leaders Apex, and will be hoping their star marksman 'OHQ' will be able to lead them to victory.
Game 1: Picks and Bans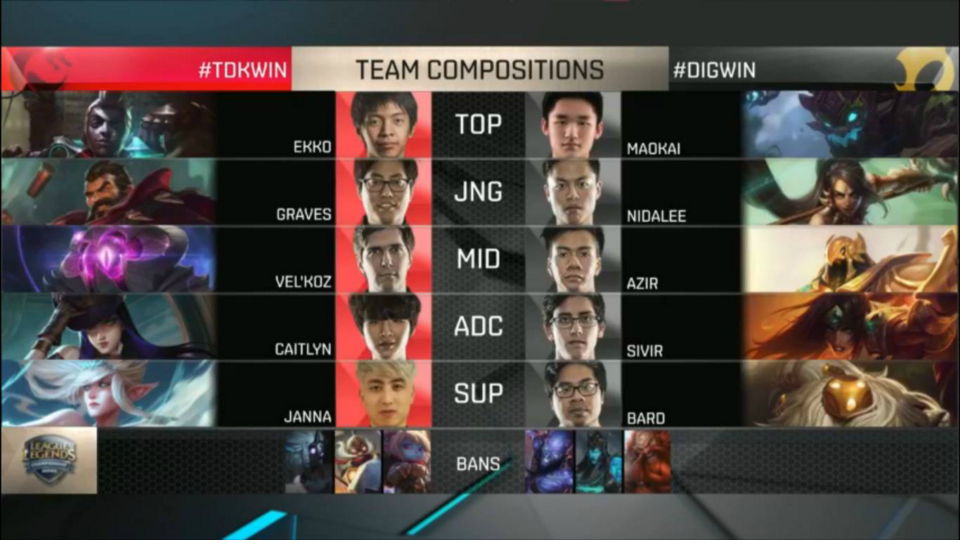 Game 1 Recap
Challenger team TDK came out strong in the pick and ban phase. The team's composition heavily countered that of Team Dignitas and a successful lane swap saw them capitalize upon the ADC range advantage that OHQ's Caitlyn had over Apollo's Sivir pick.
The early and mid-game management by TDK saw them control every inch of the game. The tactical approach to the game allowed them to snatch a 4th dragon by the 29th minute of the game. Team Dignitas look scared to fight and allowed TDK to suffocate gold income.
A momentary lapse in ward control and communication momentarily allowed Dignitas back into the game. They were able to seize the Baron 33 minutes into the game. However, 2 minutes later, with Baron buff still present on members of Team Dignitas, they lost a team fight at dragon pit – losing all momentum that the baron had brought them, and allowed TDK to take 5th dragon and snowball from there.
Game 1 Winners: TDK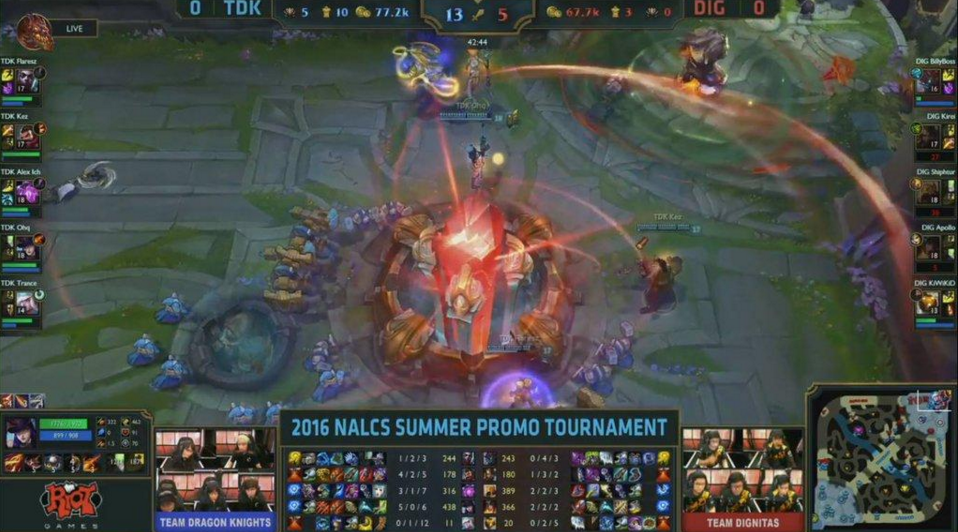 Game 2: Pick and Bans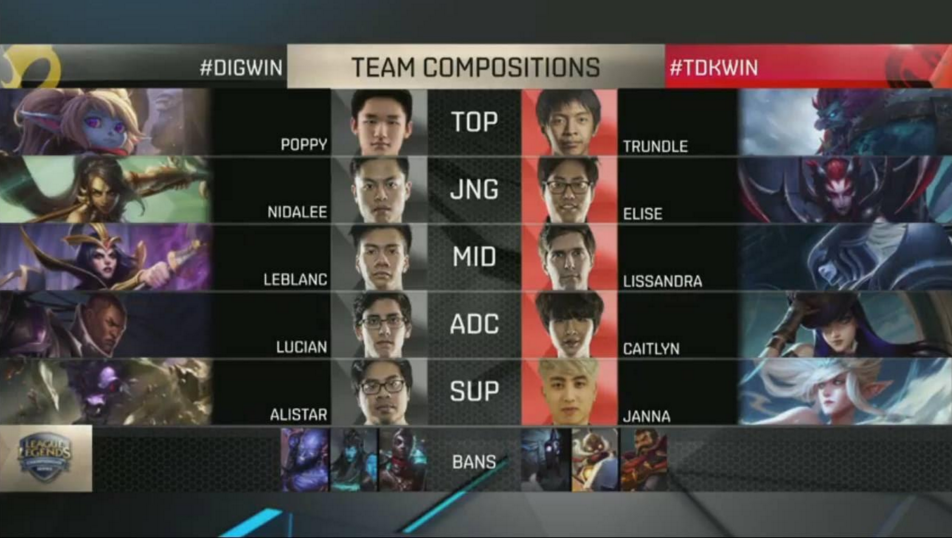 Game 2 Recap
Dignitas needed to get off to a quick start in Game 2 to regain any ounce of confidence they may have had, but failed to do so. Dignitas granted TDK two early kills and a failed tower dive top in retaliation saw them lose 2 players for the price of 1.
Despite racking up deaths, the game remained even throughout the early game. Dignitas showed some good game management throughout the early stages, picking up an early inhibitor tower after a base race looked likely to occur.
But, as the mid game came into full swing, the cracks in Team Dignitas' play began to show. As Dignitas flirted with Baron, TDK pounced upon a failed engage by 'KiwiKid' and 'Shiphtur' to dismantle Dignitas and take the Baron for themselves.
TDK continued to press with Baron buff and, in desperation, Dignitas tried to pounce on some poor positioning by a lone TDK member – but it resulted in 'Alexich' exploding ADC 'Apollo' in the backline, allowing TDK to push in and take the win.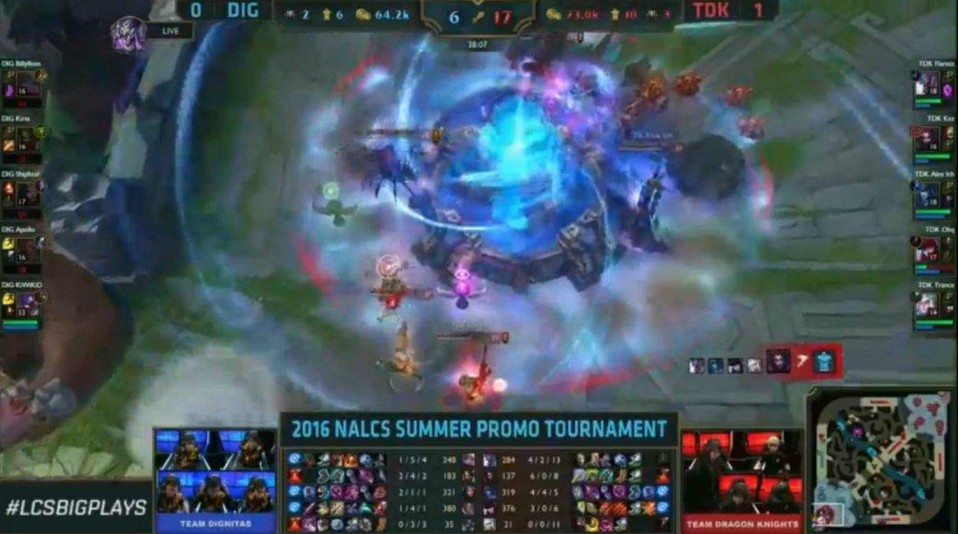 Game 2 Winners: TDK
Game 3: Pick and Bans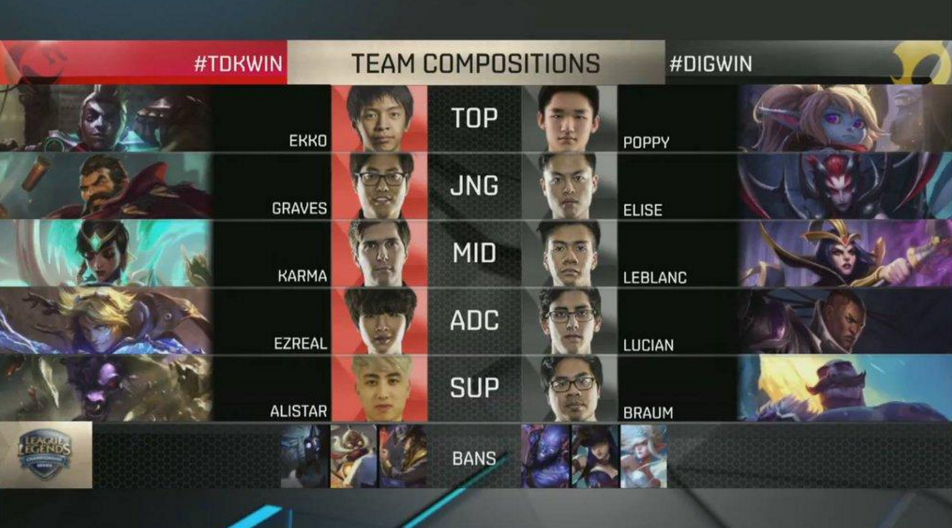 Game 3 Recap
With elimination from the LCS on the line, Dignitas needed to win the next 3 games to progress.
With TDK finally letting Elise through pick and bans, Dignitas were finally about to get 'Kirei' on his favoured champion. It worked too. The jungler, who had played Nidalee the first 2 games, had been rather passive – but in Game 3 him and the bot lane duo communicated extremely well to coordinate 2 successful tower dives on MVP of the series 'OHQ'.
It was key to shut 'OHQ' down in this game. The ADC would take some time to get going – and would have to wait till the mid-game to reach any sort of power due to the gold that Blue build Ezreal demands to reach its potential.
But, as was the case in every game in this series, communication would be Dignitas' undoing. Slow rotations and communication errors saw Dignitas out-rotated by TDK, and resulted in them losing dragon control and a 2 tier outer turret.
TDK began to shine in the mid-game, especially when 'OHQ' had recovered from the early game bullying he had received. A Baron dance ensued and TDK was able to capitalise – killing 4 members of Team Dignitas and securing Baron.  TDK would push on to win the game moments later.
TDK win a massive team fight in the mid lane and pick up four kills! #NALCS https://t.co/5orF6X1V9u

— lolesports (@lolesports) April 7, 2016
Game 3 Winner: TDK
FINAL SCORE: TDK 3 – 0 Dignitas
---